We provide information and advice

We help millions of people to know their rights and make the best choices for later life.
How we spend our money
We spent £11.1 million in 2016/17
We provide information and advice that covers every facet of later life, from benefits to care options. We do this on the phone through Age UK Advice, online through the Age UK website, and through guides available in our shops, GP surgeries and other community settings. Local Age UKs provide face-to-face information and advice, for which we provide restricted funding in some cases.
Delivering the Age UK Advice line
This year, our national telephone advice line, Age UK Advice, responded to 242,412 enquiries. We have invested in Age UK Advice by recruiting more staff to respond to increased demand and reducing the amount of time it takes to answer calls. On average, callers now wait an average of 50 seconds, compared to 114 seconds at the start of 2016/17.
Find out more about the Age UK Advice Line
Delivering information and advice online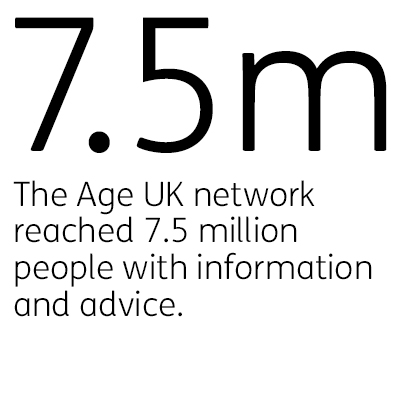 In 2016/17, we provided information and advice through www.ageuk.org.uk to more people than ever before. Our visitors looked at 4.9 million pages this year, up 500,000 from 2015/16. We spent much of the year developing and testing a new virtual assistant, which we launched in April 2017. It enables our visitors to ask questions and get answers in an intuitive way. The early response has been positive.
We improved our online benefits calculator to make it easier to use and find. This year nearly 100,000 people used it to calculate the benefits they might be entitled to.
Find out what benefits you're entitled to claim by using our online benefits calculator
Providing and supporting benefits advice
Age UK, together with our national and local partners, helps older people find out about the benefits they are entitled to. Supported by Age UK funding, the Age UK network identified £218 million in unclaimed benefits this year, 21% above our target.
Supporting local Age UKs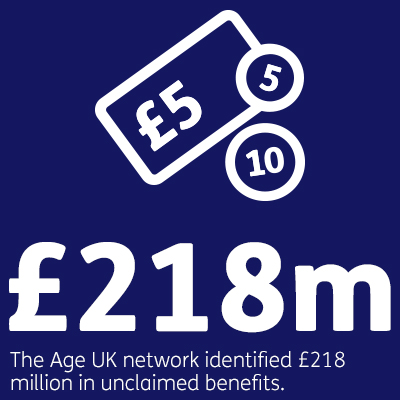 Age UK supports local Age UKs to deliver information and advice by providing training, funding, guidance and support. This year we provided £2.1 million in restricted funding for information and advice, delivered by 116 local Age UKs and local Age Cymru partners. Some of this was for our Ambitions for Later Life programme, funded by Santander. It provides one-on-one support for older people who are coping with a significant life change, such as a bereavement. This year, the programme helped 1,837 older people.
We provided tailored support to 114 local Age UKs to help improve the quality of their information and advice and to work towards meeting the standards of the Age UK Information and Advice Quality Programme. The standards ensure that older people can get consistent, relevant and effective advice from a well-run, impartial service. It is a condition of our new Brand Partner Agreement with local Age UKs that they must meet the standards by 2021.
Annual report
For more information about our work, download Age UK's Report of Trustees and Annual Accounts for 2016/17.