Age International, Age UK's international charity, delivers our work in some of the poorest countries around the world. It is the UK member of the HelpAge global network, through which it delivers most of its work overseas. Age International is also a member of the DEC (Disasters Emergency Committee), and the only charity in the UK dedicated to the needs and rights of older people in developing countries.
Go to the Age International website
How we spend our money
We spent £17.8 million in 2016/17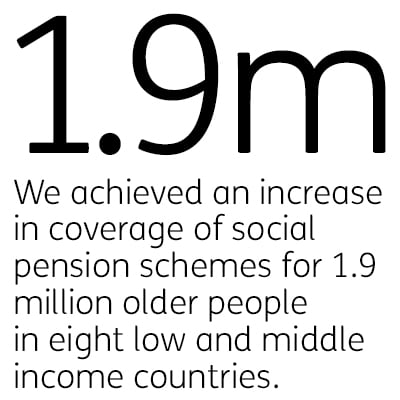 We deliver long-term development programmes and emergency relief in over 30 developing countries, as well as influencing and advocating on behalf of older people to challenge age discrimination and help them claim their rights.
Reducing poverty
We ensured that 60,000 older people in eight countries benefited from community-based income and food security projects. This includes our Big Lottery funded micro-credit programme in Pakistan, which has helped 5,000 older people set up small businesses. We also helped ensure that pensions were introduced or improved in eight countries.
How Age International helps older people out of poverty
Improving health
We helped ensure that essential health and care services were provided to 517,000 older people and their families in 21 low and middle-income countries. Thanks to funding from the Department for International Development (DFID), our Better Health programme improved access to health, HIV and care services for over 360,000 poor older people in four African countries.
How Age International is transforming health
Responding to emergencies
Age International helped 276,000 people to recover from humanitarian emergencies in 13 countries. We engaged 36,000 older people in 11 countries with disaster risk reduction projects. Humanitarian crises in Yemen and East Africa left millions on the brink of starvation. Following our own emergency appeal, and funding from the DEC, Age International was able to provide cash grants for food, plus provide livestock, seeds and water to help older people and their families to recover.
Age International's work during emergencies
Protecting and promoting rights
Working as part of the HelpAge global network, and with DFID, Age International worked to ensure that other governments recognise the importance of aggregating data by age, as part of its work on the UN's new Sustainable Development Goals (SDGs). Age International continued to build support in the UK and internationally for a UN convention on the rights of older people: the UK Government has engaged constructively in those debates. Age International also engaged with the UN's Commission on the Status of Women about the economic role older people play in families, communities and society.
How Age International protects older people's rights
Annual report
For more information about our work, download Age UK's Report of Trustees and Annual Accounts for 2016/17.