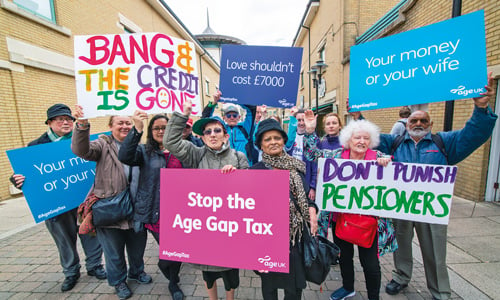 At Age UK we're only able to make later life better for older people because we act together with others. Here's how, with your support, we're helping more of the older people who need us the most.
Read the full report
Read the full Report of the Trustees and Annual Accounts 2018/19 online, or download it as a PDF.

Our three-year objective: We'll make the most difference to the most disadvantaged older people through effective campaigning and influencing, underpinned by policy work and research.
What we achieved last year
630,000+ campaigners signed our petition calling for the Government to take back responsibility for the TV licence

concession for the over 75s.

Our calls for a much

needed reform of social

care led to 873 stories in

the national media.

We helped develop a new code of

conduct for banks to reimburse

scam victims.
Fighting for social care reform
Influencing the NHS Long Term Plan
Stopping the TV switch off for over 75s
Campaigning against the age gap tax
Ending painful journeys
What we spent
£8.7 million
Where we can improve
Our priority for 2019/20 is to get better at identifying, understanding and giving a voice to the older people who need us most, and to do more to show how we have helped them, working together with other organisations that share our aims.

Our three-year objective: We'll reach out to older people, their carers and their families, to support them with the impartial, personalised and expert information and advice they need.
What we achieved last year
We responded to over 200,000 enquiries through the Age UK Advice Line.
We provided information to 5.6 million people through our website.

With the Age UK network, we identified £197 million in unclaimed benefits.
Running the Age UK Advice Line
Providing information online
Helping the Age UK network provide high quality information and advice
What we spent
£9.3 million
Where we can improve
The Age UK Advice Line is now taking out-of-hours calls from 81 local Age UKs, extending the availability of our shared service, and we're continuing to work on a technical solution to booking call-backs – the technological challenges have been more significant than we anticipated but we expect to get call-backs running again in 2019/20.

Our three-year objective: We'll enable older people to have access to high quality, locally available services that address their health and care needs, provided by the Age UK network.
What we achieved last year
Our Person-Centred Integrated Care programme saw an 8% increase in the wellbeing of participants.

96% of local Age UK registered health and care

services are rated 'Good' or 'Outstanding', significantly

above the national average of 79%.

Through our Experts by Experience - people who have used health and social care services in the past - we supported 772 Care Quality Commission inspections.
Demonstrating the impact of Person-Centred Integrated Care
Improving the quality of local Age UK regulated services
Delivering dementia services
Improving discharge from hospital in winter
What we spent
£2.2 million
Where we can improve
Age UK and the wider Age UK network are continuously evaluating the work that we do to support older people. However, we don't always use this cumulative knowledge, evidence and learning to the full as we don't always share what we've learned effectively. We will work with the Age UK network to get better at sharing knowledge in 2019/20.
We also want to focus more of our support on enabling our local partners to sustain, grow and continuously improve the valued services they provide locally and, in doing so, reach more of the older people who need us most.

Our three-year objective: We'll deliver wellbeing programmes that have a big impact on wellbeing and provide long-term benefit to the Age UK network's services.
What we achieved last year
We helped 21,886 older veterans get the information, advice and support they need.

We supported 23,049 older people

to stay warm and well in winter.

We trained 101 volunteers to deliver

physical activity sessions and

recruited 293 digital champion

volunteers to help people develop

basic digital skills.
Joining Forces
One Digital
Get Active, Feel Great
Winter warmth programmes
What we spent
£11.4 million
Where we can improve
We'll increase the range of activities delivered through our programmes to better cater for the differing needs of older people.
We want to help more of the older people are the most isolated and seldom heard, who may not know what we can do to help them. We need to ensure we have the resources and expertise to reach those people better and measure our success in doing so, helping us to improve. One example of this is our No place like homeproject, trialling the delivery of holistic support for older people who are homeless or at risk of homelessness.

Our three-year objective: We'll secure a strong and enduring local presence of Age UKs and other community organisations to deliver the support and opportunities that local older people need.
What we achieved last year
We secured £4.3 million in funding by supporting local Age UKs to win tender bids.

We gave financial governance and management support to 95 local Age UKs.

We supported 86 local and national partners to be externally assessed and accredited against the Age UK Charity Quality Standard.
Supporting income generation
Improving financial governance and management
Improving quality and effectiveness
What we spent
£12.8 million
Where we can improve
Local Age UKs told us that they're good at engaging older people in shaping their services but want to do more to engage older people in shaping their strategies. They also told us that they're good at listening to older people and understanding what's important to them but would like to provide a more 'joined up' experience for people who use their services. We'll be working to support the Age UK network to achieve these goals and share best practice across the network to drive improvement.

Our three-year objective: We'll achieve a step change in the quality and scale of our humanitarian work and we'll influence other agencies to ensure that older people are included and protected when emergencies happen.
What we achieved last year
1 million older people in 8 countries received a social pension for the first time, thanks to the work of Age International and its partner HelpAge.

900,000 older people were newly

able to access existing health and

care services.

45,000 older women and men in 11 countries were given humanitarian aid (water, food, shelter, healthcare and emotional support) during emergencies.
Responding to emergencies
Strengthening Ageing Networks
Improving diabetes care in Central Asia
Calling for a UN Convention on the rights of older people
What we spent
£13 million
Where we can improve
We want to get better at reflecting on and learning from our work so that we can improve the quality of what we do and the programmes that we fund. One example of how we will improve this in future is to streamline our processes to ensure that funds and aid get to beneficiaries quicker. We also want to strengthen our understanding of gender, and integrate this understanding throughout our work.