At Age UK we're only able to make later life better for older people because we act together with others. Here's how, with your support, we're helping more of the older people who need us the most.
Read the full report
Read the full Report of the Trustees and Annual Accounts 2019/20 online, or download it as a PDF.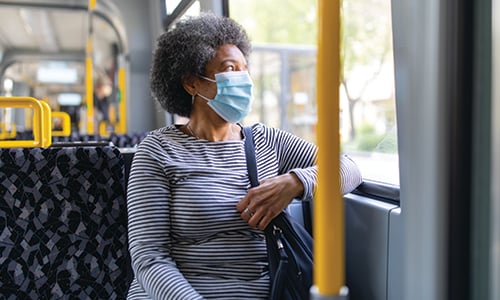 Responding to the coronavirus pandemic
While this page and our annual report document our work in 2019/20, we cannot but reflect on the catastrophic effects the coronavirus pandemic has had on older people's lives, and its consequences for Age UK and its partners in the UK and internationally. You will find a small explanation of how our work has adapted under each key area.

Our three-year objective: We'll make the most difference to the most disadvantaged older people through effective campaigning and influencing, underpinned by policy work and research.
What we achieved last year
General election

We used the snap General Election in December 2019 to get older people's voices heard and put their issues firmly back on the list of political priorities. We helped over 11,000 campaigners get their questions to political leaders and more than 300 older people joined our London rally. Our manifesto challenged every political party to set out policies to help our ever-growing older population, especially those in the greatest need. Over 100 MPs stood with us and pledged to be Age Champions, joining our call for urgent and significant change, especially to the broken care system.
Switched Off campaign

We kept the pressure on the BBC and the Government to reverse the BBC's decision to scrap the free TV licence for over 75s, except for those receiving Pension Credit. Our Switched Off campaign is our most supported campaign ever with over 600,000 people signing our petition, 37,000 writing letters to the Government, supporting statements from celebrities including Dame Helen Mirren, Ben Fogle and Ricky Tomlinson, headlines in every newspaper, and 16 occasions when it was debated or raised as a question in Parliament.
Make Care Fair campaign

Our Make Care Fair campaign continued our calls for a new national system that is free at the point of use and available to everyone when they need it. Our Make Care Fair petition, which reached over 100,000 signatures, called for Boris Johnson to keep to one of his (welcome) early promises as PM to 'fix' social care. The pandemic has had a catastrophic impact on social care and on the older people who rely on it, so this issue too remains a top priority.
We Are Undefeatable

Age UK was pleased to deliver the Sport England funded 'We Are Undefeatable' campaign on behalf of the Richmond Group of Charities, a collaboration of leading health and social care organisations in the voluntary sector. The campaign aims to encourage the 19 million people in England with one or more long-term health conditions to build physical activity into their daily lives. Encouragingly, 57% of the people who were aware of the campaign and responded to our survey have taken steps to do so. Our TV, radio and social media campaigns have been seen by 93% of our target audience. Thanks to the campaign's success, Sport England is funding the campaign for a further year to April 2021.
The 2020 pandemic
The research is clear: older people have been medically and societally affected by the pandemic in a disproportionate way. We have been lobbying the Government on a whole range of issues including getting PPE to care homes and social care providers, financial support for the voluntary sector during the pandemic, a furlough-style scheme to protect at-risk older workers, COVID-19 testing in care homes, providing help with food shopping, safeguarding issues, and digital exclusion.
What we spent
£14.1 million
Our strategy to 2021 and beyond
The pandemic has exposed and deepened the impact of a whole host of inequalities. Age UK will redouble our efforts to work with older people and make sure their voices are heard and their best interests are protected.

Our three-year objective: We'll reach out to older people, their carers and their families, to support them with the impartial, personalised and expert information and advice they need.
What we achieved last year
Reaching older people

Local Age UKs provide information and advice face-to-face and by phone to older people, handling 711,000 enquiries last year. The face-toface support they provide is especially welcomed by older people who have more complex needs.


The Age UK Advice Line responded to 233,332 telephone and written enquiries.

6.6 million people visited our website for information and signposting, including 772,869 looking for information about services available close to home through their local Age UK.

We distributed 1.2 million printed factsheets and guides via our shops, local Age UKs and other community settings, including GP surgeries.
Benefits advice

A staggering £3 billion of Pension Credit and Housing Benefit goes unclaimed by older people each year. Our online benefits calculator helped over 200,000 people identify benefits they were entitled to, and local Age UKs helped older people claim nearly £200 million in unclaimed benefits.
Supporting local Age UKs with their information and advice

We make sure all the information and advice provided by the local Age UK network is of a good standard by offering training to local colleagues. In 2019/20, we helped 108 Age UKs work towards their Information and Advice Quality Programme IAQP assessment. This year, 30 local Age UKs were assessed, with 24 meeting the IAQP criteria. In total, 72 local Age UKs attained the IAQP by March 2020.
The 2020 pandemic
We were able to move our advice line quickly and effectively to our advisers' homes without interruption. Keeping the line running was essential as there was exceptionally high demand, with over 3,500 extra calls answered in March. Visits to our website were unprecedented too, with 1.3 million visitors to our new coronavirus hub and related content from the beginning of March to the end of lockdown at the beginning of July. As the pandemic continues and older people continue to navigate our 'new normal', demand for our information and advice services remains strong.
What we spent
£7.7 million
Our strategy to 2021 and beyond
The pandemic has shown how vital information and advice is to people, especially telephone advice if face-to-face becomes impossible. We are accelerating our work and in 2020/21 will collaborate with local Age UKs to test out new approaches and expand the Age UK Advice Line so we can help more older people.
Our three-year objective: We'll enable older people to have access to high quality, locally available services that address their health and care needs, provided by the Age UK network.
What we achieved last year
Shifting our strategy

We are shifting our strategy away from our long-standing and successful Person-Centred Integrated Care programme to supporting local Age UKs to directly provide high-quality and sustainable services that address their communities' unique health and care needs. Much of our work this year has been on preparing the ground for this in close discussion with local Age UKs across the country, and designing new service models.
Dementia services

Following the success of our Dementia Maintenance Cognitive Stimulation Therapy (MCST) pilot, we are exploring how it can be rolled out across the Age UK network. This forms part of a bigger ambition to develop and deliver a network-wide shared dementia strategy to strengthen, improve and increase awareness of the dementia services provided by local Age UKs.
Ensuring high quality

87.5% of local Age UK's regulated services have been awarded a good or outstanding rating by the CQC.

This year's Good Age UK self-assessment, part of our on-going Age UK Quality Standards, focused on 'building valued relationships' and saw local Age UKs identify and share what they were doing to ensure their customers, clients and people who use their services, have a good experience. We also developed and piloted with 5 local Age UKs a new services quality assurance framework to help them measure in real-time their service quality and address any problems quickly.
Easing winter pressures

We were again pleased to be invited by NHS England (NHSE), alongside the British Red Cross and St John's Ambulance, to help ease the pressure on hospital beds during the extremely busy winter months and provide better outcomes for older patients by supporting them when they got home. We targeted our support to the most underpressure trusts across the country, many of which are in more deprived areas. Thanks to over £800,000 in funding from NHSE, 17 local Age UKs helped 3,829 older people.

Because we were already mobilised to provide this support, we were well placed to increase capacity to respond to the pandemic, providing extra vehicles in some areas and scaling up food and meal delivery, wellbeing support, and befriending calls.
The 2020 pandemic
Social distancing meant many of the vital services provided by local Age UKs were forced to adapt or close, just when they were needed most by older people. We provided support and guidance to the network who mobilised immediately to do all that it could to support local communities, from shopping and medication deliveries, to food parcels and befriending. We'll keep providing the Age UK network with the support it needs.
What we spent
£3.7 million
Our strategy to 2021 and beyond
The pandemic has changed the landscape of the services provided by local Age UKs. The financial consequences of the lockdown have put under serious threat some pre-pandemic services and, in the worst cases, local Age UK charities. This could be devastating for local communities at a time when these services are most needed. We are doing what we can to help them find funding sources and improve their viability.



Our three-year objective: We'll deliver wellbeing programmes that have a big impact on wellbeing and provide long-term benefit to the Age UK network's services.
What we achieved last year
Joining Forces

In 2017, we launched Joining Forces in partnership with SSAFA, the Armed Forces charity. Running until 2020, Joining Forces funded projects in 12 communities to improve the quality of life and wellbeing of older veterans. 16 local Age UKs (4 of which worked in a consortium) provided a range of services such as benefits advice, lunch clubs, and day trips, and connected older veterans with SSAFA services, including assistance with mobility needs, and financial support such as access to domestic appliances. We reached 62,146 older veterans and 49,910 family and carers over 3 years, 138% and 438% (respectively) above our original targets of 45,000 (veterans) and 11,400 (family and carers). Our research has shown that participants' mental health, wellbeing, and overall quality of life have improved in a small but significant way.
One Digital

Age UK is part of the One Digital partnership alongside Digital Unite, Citizens Online, SCVO and Clarion Futures. Funded by the Big Lottery Fund, One Digital is an innovative partnership that helps people make the most from being online. Age UK is supporting older people in areas where there is high digital exclusion to get online or develop their basic digital skills with help from Digital Champions, local volunteers trained to provide one-to-one support. Many of the older people use the skills they learn to: keep in touch with people through messaging tools, social media, and video calling; do online shopping; and pursue hobbies online. In recognition of its success, One Digital won the Digital Skills Award at the Connected Britain Awards 2019. This year, 7 local Age UK partners supported 872 older people and recruited 100 Digital Champions.
No Place Like Home

This year we launched a new pilot project funded by Santander to support 118 older people who were homeless or threatened with homelessness. We funded 4 local Age UKs to provide in-depth advice on housing options, rights, entitlements to adaptations and repairs, as well as support to maximise people's income. Our partners also ran group sessions for 292 people to raise awareness of financial and other support to make home improvements. The pilot ended early because the pandemic meant we couldn't continue visiting people's homes, but we learned a lot in a short time and are looking at when and how we can restart.
Winter warmth programmes

Our winter warmth programmes supported 18,887 older people this year. Over 80 local Age UKs and Age Cymru partners visited 3,857 homes to carry out energy checks and 24,436 benefit checks, identifying £45.3 million in unclaimed benefits. It is the ninth year of our Warm Homes programme with E.ON, Age UK's longest strategic corporate partnership which has helped over 135,000 older people in total. We were delighted when the partnership won the Charity Partnership, Utilities and Services Award at the 2020 Third Sector Business Awards.
The Silver Line

On 1 October 2019, The Silver Line joined the Age UK family. The Silver Line is best known for its 24/7 helpline which provides emotional support for lonely and isolated older people, and for its Telephone Friendship Services which, like Age UK's service, matches older people with volunteer telephone befrienders. From October 2019 to March 2020, the Silver Line Helpline answered 109,086 calls. We worked to integrate the best elements of Age UK's and The Silver Line's Telephone Friendship Services, and the systems we use to deliver them, which in 2019/20 supported over 90,000 friendship calls between volunteers and older people.
The 2020 pandemic
The pandemic has profoundly affected the wellbeing of many older people. The Silver Line, which recently joined Age UK, has been a lifeline for thousands of older people. Their callers were lonely and anxious before the pandemic, lockdown, and shielding but are now more unsure of the world and overwhelmed by what's happening. At its peak, the number of people calling the helpline went up by 63% to 1,899 calls in one day. As with the Age UK Advice Line, we supported our staff to work from home so they could continue this vital service. The Silver Line's, and Age UK's, Telephone Friendship Services have also experienced unprecedented demand, with a 289% surge in the number of requests. In total, by the end of August 2020, we're now supporting 2,948 friendships supported by 2,842 volunteers. No matter what comes next, our incredible staff and volunteers will be there to provide emotional support and friendship.
What we spent
£12.1 million
Our strategy to 2021 and beyond
We've been planning how to get our wellbeing programmes running again in a way that is safe for older people, staff and volunteers. Our programmes that relied upon visiting older people's homes will become phone-based from the autumn. We are also exploring the delivery of services online where this is possible and hope to test online group activities.

Our three-year objective: We'll secure a strong and enduring local presence of Age UKs and other community organisations to deliver the support and opportunities that local older people need.
What we achieved last year
Funding the Age UK network

In 2019/20, the Age UK network received £12.1 million in funding from Age UK. This included a payment made to every member of the Age UK network (called the Partner Payment to local Age UKs in England, with separate payments made to our national partners), grants to specific partners to fund programmes, service improvements and organisational support, and commission earned by local partner Trading Alliance Members (TAMs) that offered Age Co financial services and independent living solutions for sale. See page 39 about the closure of the TAM network on 31 January 2020.
Financial advice and support

We held our annual Financial Governance Conference, attended by 80 Chief Officers, Finance Directors and trustees of local Age UKs, to discuss and provide support to address some of the biggest challenges facing charities including building financial resilience, understanding business models, building reserves, managing income pipelines, income diversification, and leading change. Separately, we ran two workshops for partners in the South East and South West on improving financial governance, management information, and systems, and provided in-depth financial management support to 61 partners. In total, we helped 95 local Age UKs this year to manage their finances.
Supporting mergers and collaboration

We supported 8 local Age UKs and Age Cymrus with their mergers and shared what we learned from these mergers to help partners considering a merger understand the key considerations and issues, alongside practical tools to help decisionmaking at each stage of the process.
Infrastructure programme

Over the last few years, we've been doing some exploratory work with small groups of partners to review the systems and processes they use to run their organisations and services and see if they can be more efficient, effective or operated at a lower cost. We will scale-up this work next year.
The 2020 pandemic
The Age UK network mobilised immediately to respond to older people's needs during the crisis, quickly adapting their services and introducing new ways to support people. But the sobering reality is that the pandemic has affected our partners' finances, in some cases, very seriously: forcing service closures, staff redundancies, and in a few cases, the closing of local Age UK doors for good. Throughout the pandemic, we've been working with the network to help them respond. While short-term success is vital, so too is an enduring presence of local support for older people, so we've re-started our work on co-creating a 10-year shared strategy that has our beneficiaries at its heart.
What we spent
£11.6 million
Our strategy to 2021 and beyond
We launched 'The Big Conversation' in January 2019 to develop a shared vision and strategy for the whole network for the next decade. We were making strong progress - then the pandemic hit. Rather than proceed with the next phase, we pressed pause, recognising that we all needed to focus our attention and efforts on helping older people. However, when the scale and duration of the pandemic became clear we realised that the network's long-term support for older people was under threat. We have re-started and hope to accelerate our discussions, within a radically changed operating environment where our social impact and future success are perhaps more important than ever.

Our three-year objective: We'll achieve a step change in the quality and scale of our humanitarian work and we'll influence other agencies to ensure that older people are included and protected when emergencies happen.
What we achieved last year
Responding to disasters and emergencies

In recent years we have been very active in the aftermath of natural disasters, providing aid and assistance to hundreds of thousands of people older who lost their homes and livelihoods. In 2019/20, our work meant that 183,000 older people (63% of whom were women) in 30 countries were given humanitarian aid (water, food, shelter, healthcare, and emotional support) during emergencies.
Cyclone Idai

In March 2019, Cyclone Idai, one of the worst tropical cyclones on record devastated Malawi, Mozambique, and Zimbabwe, three already poor African countries. We immediately launched an appeal with the Disaster Emergency Committee (DEC), and the funding enabled us to deliver clean water, food, clothes, and hygiene kits to over 31,000 older people. Mobile medical teams provided vital health and care support by deploying nurses, social workers, and trained volunteers to meet the needs of older people affected by the disaster but who couldn't travel to aid points. With our partner HelpAge, we set up 9 water purification stations, producing 12,000 litres of clean water per day, essential to combat cholera outbreaks. Since then, we've been helping older people in Malawi, Mozambique, and Zimbabwe rebuild their lives, supporting communities by distributing seeds to enable older people to resume farming to have a steady source of income and food.
Working in Tanzania

Burundian refugees and asylum seekers have fled conflict and travelled hundreds of miles to safety in Kibondo, Tanzania. Some refugees have been there for five years but it's still not safe to return home. Age International has been supporting work in Nduta camp and other locations in Tanzania since 2015, assisting those most in need – older people, disabled people, and people with chronic health conditions. We focus on giving access to physical rehabilitation, supplying mobile aids, such as walking sticks and wheelchairs, and providing psychosocial support. We work alongside other organisations based in the camp to ensure that older peoples' voices are heard, and their needs met.
Improving health and care services

In 2019/20, 225,784 older people in 17 countries received better health and care services or support because of our work with our partners – the majority of whom were older women (62%). One example is our support of work with the Myanmar Ministry of Health and the EU to improve health systems for non-communicable chronic diseases (NCDs) for older people living in remote parts of Myanmar. The main NCDs affecting older people are heart attacks, stroke, cancers, chronic respiratory diseases, and diabetes. We established clinics that specialise in identifying, monitoring, and treating NCDs and offer free screening, medication, and treatment. These clinics closer to people's homes, increased access for older people and ensured the opportunity for early prevention. Through the programme, we trained more than 1,500 health staff on essential early treatments for chronic diseases, helping to transform patient wellbeing and disease management in the area.
The 2020 pandemic
The coronavirus is a global pandemic. In low-and middle-income countries, health systems are weak and older people with pre-existing conditions are most at risk of getting COVID-19. By the beginning of April, we had quickly adapted most of our programmes to respond to the new needs created by COVID-19. We have been supporting work in 30 countries with the most marginalised older people and those with disabilities. In some countries we are providing hygiene kits; soap, disinfectant, gloves and masks; in others, we are raising awareness through public messaging tailored for older people; and elsewhere we are training frontline staff and volunteers so they can deliver the best support possible.
What we spent
£14.4 million
Our strategy to 2021 and beyond
The future looks dramatically different for many older people in low to middle income countries due to the pandemic. We are reviewing what specifically we need to do to continue to adapt to the current circumstances and to help older people, especially those most at risk. However, our strategy remains sound.