We deliver and transform wellbeing services

We tackle loneliness, get older people active and support people to stay independent for longer.
How we spend our money
We spent £8.8 million in 2016/17
Much of our wellbeing work involves supporting local Age UKs to deliver community services such as fitness classes, befriending, and helping older people get online. We fund some local Age UK services through restricted grants. Age UK runs Call in Time, our national telephone friendship service and our Gifted Housing Scheme.
Delivering winter warmth programmes

This year, thanks to £3.1 million funding from British Gas Energy Trust, E.ON, First Utility and npower, Age UK has worked in partnership with over 100 local Age UKs to deliver winter warmth programmes. In total, Age UK's winter warmth programmes supported more than 21,709 older people.
We offered comprehensive advice on things like switching energy supplier, applying for replacement boilers, and managing fuel debt. Local Age UK Handy People installed free energy efficiency equipment in 4,278 older people's homes and local Age UKs provided free benefits checks to maximise 14,160 older peoples' income.
Expanding our Call in Time service
Our national telephone friendship service, Call in Time, helps tackle loneliness by matching lonely older people with a volunteer for weekly friendship calls. This year we supported 2,175 older people, up 38% on 2015/16. For many years the service has been supported by volunteers from over 20 employers (who also provide funding). This year, as part of our 'No one should have no one at Christmas campaign', we asked the public to sign-up as volunteers. By the end of March 2017, 2,663 people had signed up to volunteer with Call in Time.
Find out more about Call in Time
Testing services to tackle loneliness
Since 2015, our 'Testing promising approaches to loneliness' programme has been discovering the best ways for local Age UKs to reach lonely older people. Over 1,000 older people have participated so far. Of those who told us they were lonely when they joined the programme, 88% said that they were less lonely following support from their local Age UK.
Delivering and promoting active ageing services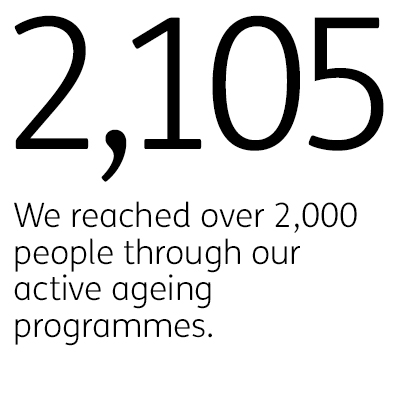 This year we've run three programmes to test different ways of getting older people active:
Get going together (supported by GSK: £1.8 million);
Get set for community action (supported by the Big Lottery: £75,000)
and Inspire and include (supported by Sport England: £700,000).
The programmes, which were delivered by 31 local Age UKs and Age Cymrus reached 2,105 older people in 2016/17.
22 local Age UK and Age Cymrus worked to deliver projects embodying the Olympic and Paralympic values to improve the lives of older people and the wider community. In total, it reached 1,169 older people (585% of target), supported by 357 young volunteers (179% of target).
Developing digital inclusion services
We worked with Age UK Leicestershire and Age UK Oxfordshire to sign up 182 digital champions (121% of target) who supported 1,274 older people to learn new digital skills (182% of target).
Annual report
For more information about our work, download Age UK's Report of Trustees and Annual Accounts for 2016/17.