Welcome to the allotment owned by Age UK Herefordshire & Worcestershire. Located in Pershore, this plot provides ample space for older people to indulge their love of gardening and the great outdoors, while getting some exercise, socialising and growing delicious fruit and veg.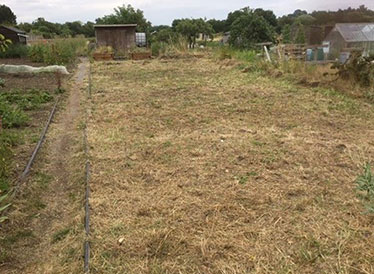 A big transformation
"If you'd seen it two years ago you'd have got a very different picture," says Olivia who oversees this project. "We've got an amazing group of volunteers to help us maintain the plot."
One of these volunteers is Bridget. "Initially it was a question of getting the allotment into some sort of working order," she explains of the large area of dry grass that used to be here. "We've gradually got more volunteers that have made it the productive little unit it is at the moment."
The benefits of the allotment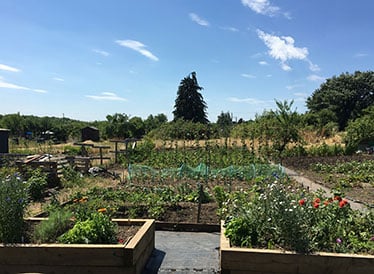 "One of the really big benefits is the social side of it," explains Olivia. "It's being together and having a chat. We find that when people get older they get slightly more isolated – from their community, from their friends, from their family. [This] gives them the opportunity to come down and be a part of something."
Olivia continues: "In terms of keeping fit and healthy, it's really great. Being outside can have such a positive effect [on older people] and give them a massive boost in confidence."
"We call it the green gym," says Bridget, who has some words of encouragement for those in the local area looking to exercise their green fingers. "It's a lovely community and there is always a job for everybody. We'd be delighted to see some new faces!"
Allotment Gardening Group
Do you enjoy gardening but no longer have your own? Age UK Herefordshire & Worcestershire are looking for older people to enjoy growing and gardening in Pershore.