The Alzheimer's Show recently opened its doors at the Business Design Centre in London. Age UK was there to hear from people living with dementia and their families, to provide them with information and advice, and to learn about new developments in the area.
First impressions
Although Age UK had exhibited at the Alzheimer's Show several times before, it was the first time I'd been, having only joined the charity last summer. I was nervous, as it was the first time I'd be meeting people using the information and advice content I help to create.
The ongoing impact of the coronavirus pandemic was apparent at the event. Throughout the two days, many people commented on the contrast between this year's event and previous ones – including a reduction in the number of exhibitors and attendees.
Despite the smaller scale, I was struck by the variety of innovative products and services on offer for people living with dementia: soft, sensory dolls with heartbeats and weighted limbs, designed to soothe the person holding them; clothes that could be worn either way round and done up without complex fastenings or having to go over the wearer's head; bespoke films combining photographs, interviews and music to stimulate memories.
There were things I wished I'd been able to see before my grandparents were diagnosed with dementia. A virtual reality experience run by Alzheimer's Research UK offered an immersive view of day-to-day life with dementia, which shed new light on some of the behaviours I'd found so bewildering at the time.
Overall, the atmosphere was hopeful – realistic but forward-looking – and I was excited to learn more in the programme of talks and our conversations with visitors to the Age UK stand.
Living well with dementia
The concept of 'living well with dementia' came up throughout the event. In a talk on how we define this and how we can take steps to achieve it, Simon Wheeler from Alzheimer's Society suggested that 'living well with dementia' isn't so different from 'living well' – regardless of health, we all want to do the things we enjoy in a way that works for us.
Peter Berry, who was diagnosed with Alzheimer's in 2015, agrees. A keen cyclist – wearing a bike-patterned shirt to prove it – he explained that his hobby keeps him rooted in his identity. Out on his bike, he doesn't feel defined by his condition: he's 'Peter the cyclist' rather than 'Peter the man with dementia'.
And there's no one-size-fits-all; what's important is focusing on the things that matter most to us personally. "It can be cycling, it can be fishing… it can be a cup of coffee and a slice of cake with friends," Peter went on, "It doesn't have to be complicated."
Our conversations at the Age UK stand reflected this. While our trio of dementia-specific guides – At home with dementia, Living with dementia and Caring for someone with dementia – proved particularly popular, so did Adapting your home and In the driving seat, for instance. People weren't only interested in information to help them live with dementia – but to live well, finding new ways to keep doing the things that mattered most to them.
Of course, living on our own terms means something different for everyone. Gordon Malcolm from Dementia Adventure recounted the story of an ex-sailor whose ambition for his holiday was to re-live tying up the sails on a boat. Sam Cox from Alzheimer's Society recalled someone else who, when asked about her future wishes, firmly requested, "No bingo!"
The right information at the right time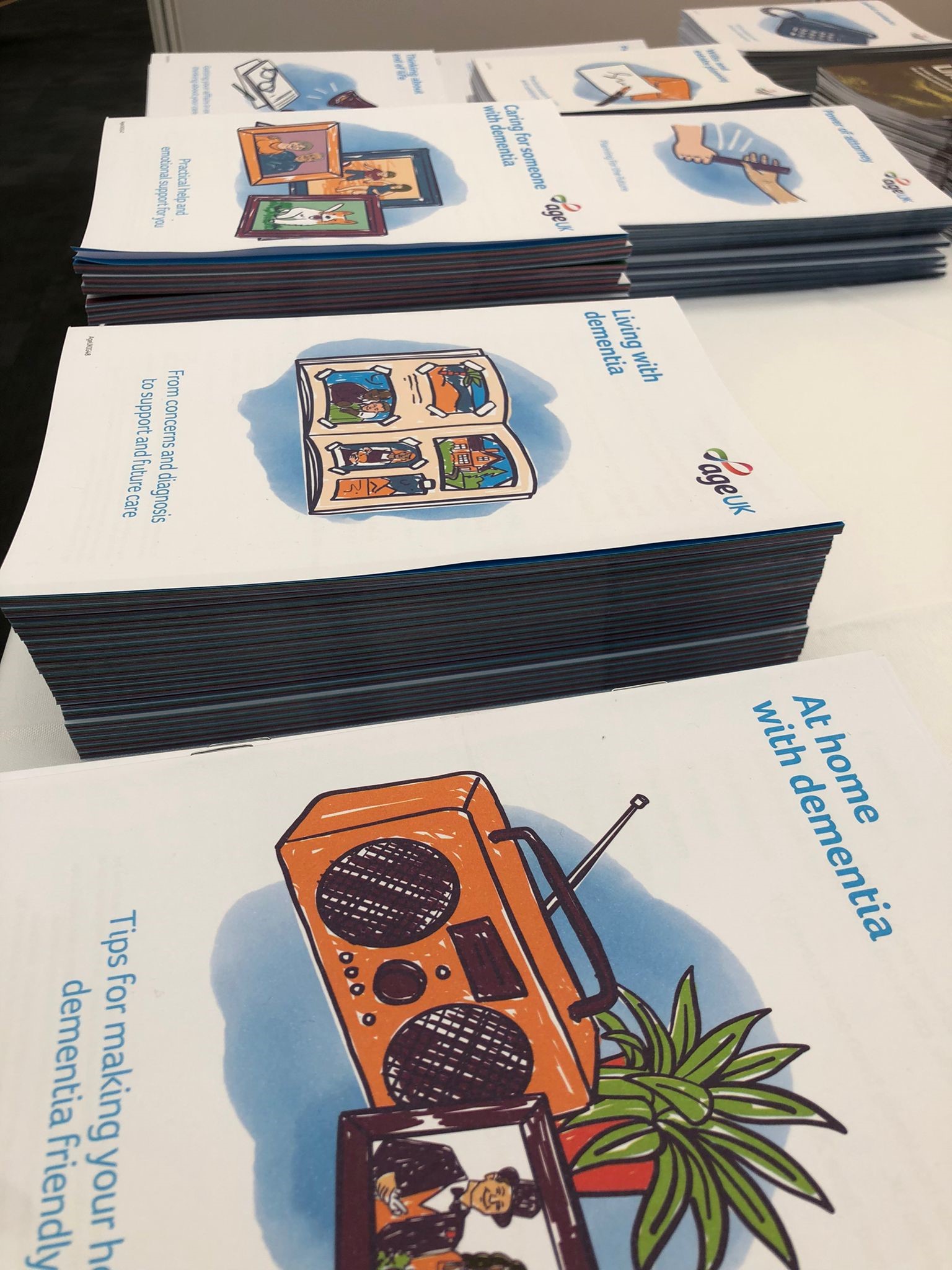 A striking number of visitors to the Age UK stand picked up guides covering end of life issues. While we received a couple of light-hearted comments about not wanting to tempt fate, the majority commented on how important they thought it was that we have these difficult conversations – and make these difficult choices – even if we might not want to.
Speaking to people about the different situations they were in brought home to me how critical it is for Age UK to get its information and advice content right. As part of the team responsible for it, I was glad we were there, as it was a key opportunity to receive feedback. While we already develop our guides with input from older people, their families and carers, as well as expert peer reviewers, conversations with people who've used them to navigate real life situations can highlight where we need to add or amend something – whether they intend to provide feedback or they just mention something illuminating in passing.
We heard about local services that had been forced to close or change their approach following the pressures of the past two years, leaving people feeling unsure of where to turn. One person told us about her efforts to build up her dementia ward's offering of information resources after it had been re-purposed as a coronavirus ward during the pandemic. Overall, our conversations made clear the need for free, reliable information and advice.
And while attending the Alzheimer's Show demonstrated more than ever that no single resource can speak to the many and varied ways in which dementia affects people's lives, I came away newly inspired to make our content as helpful as possible for the people using it. And I'm already looking forward to being back next year.
Living well with dementia
A diagnosis of dementia doesn't necessarily mean you have to stop doing things you enjoy. We've put together some tips to help you to continue enjoying life and stay as independent as possible.