With news of coronavirus infections increasing, as well as two fast-spreading new variants, it's natural to have some questions and concerns.
At the end of May the proportion of people in the population with coronavirus was lower than it had been during 2022. Just before the Jubilee weekend, though, cases started increasing. Although the percentage of the population testing positive for coronavirus still isn't as high as in the previous peaks of Omicron earlier in 2022, this is the first time since December 2021 that COVID infections have been rising so fast from such a low level.
As well as the proportions of people in the population with coronavirus increasing, the numbers of people in hospital with coronavirus have been rising steadily since the beginning of June.
This recent surge in cases and hospitalisations is due to two new variants – BA.4 and BA.5 – both of which were named as variants of concern by the UK Health Security Agency (UKHSA) in the middle of May.
Does vaccination protect me?
The UKHSA, which is carefully scrutinising the evidence, says that it seems vaccination against coronavirus protects us as well from BA.4 and BA.5 as it has against other recent variants.
Does having had coronavirus before offer me protection?
People catching coronavirus now are both those who've never had it before and people who have. Current evidence suggests that infection with previous variants does not prevent infection with BA.4 and BA.5.
Do the new variants spread quicker?
The UKHSA has evidence to show that both new variants spread faster than previous variants.
Are the new variants more likely to make me more unwell?
It's uncertain whether these new variants lead to a greater risk of needing to go to hospital with coronavirus than previous variants. This is something that the UKHSA are continuing to investigate.
With all this in mind, what should I do?
Get vaccinated or boosted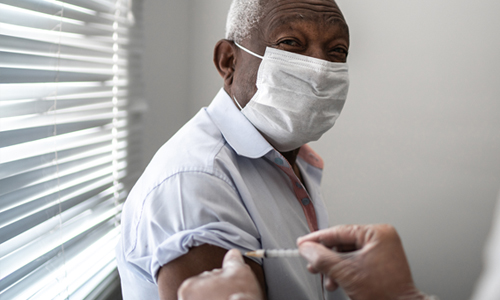 Everyone aged 5 and older is eligible for a COVID-19 vaccination, and it is never too late if you haven't had your first dose yet. People aged 75 and older and those who have some health conditions are currently eligible for spring booster vaccinations. Most people in this age group have already come forward, but if you're eligible and have not, you can book online, find a walk in centre, or get in touch with your local coronavirus vaccination service to organise a booster jab which can be given 3 months after your last dose. It is likely that a wider group of people who could be severely affected by coronavirus will be invited for further booster vaccinations in the autumn.
Make the most of the summer
Take advantage of the warmer weather and meet outdoors where you can, and keep windows open so that your home is well ventilated, particularly when you have visitors. If it makes you feel more comfortable to wear a mask when you're in crowded places although this isn't required anymore you should feel free to do so.
If you think you might have coronavirus
You may want to do a test to check if you have coronavirus. Most people have to buy tests now, but there are some groups who can get tests free. If you have caught coronavirus you are no longer legally required to self-isolate, but it's still a good idea to do what you can to avoid passing it on. Try to stay at home and minimise contact with other people. In particular, avoid spending time with people who would be vulnerable if they were to catch coronavirus – older people, people who have not been vaccinated and those whose immune systems are suppressed.