Stories about the amazing older people in our lives are coming in thick and fast as part of our Donate Your Words campaign. They've made us laugh, cry and feel inspired. Have a read of a few of the stories below.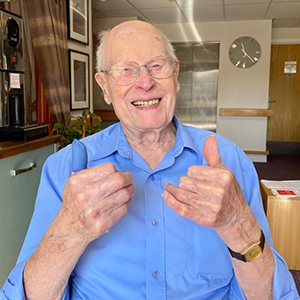 "I am positive that we will come out of this stronger than ever."
John has shared his positive outlook on life, even whilst we're in the middle of a global pandemic. His experiences have given him a fresh outlook on life.
"I was a child when the UK experienced their last pandemic in 1918. I was born 7th June 1913 and I am the oldest man in Warwickshire.
I experienced World War 1 from 1914 - 1918 in London, which I remember very well. When the Spanish Flu began in 1918, I was 4 years old (about to be 5) and it finished when I was 7 years old in 1920.
100 years later, I now understand how much this would have affected my parents at the time. I have now experienced two severe pandemics and two World Wars in my lifetime, and I have to say I am positive that we will come out of this stronger than ever and more unified. Stay positive!"
Share your story
You could win a hamper of Cadbury chocolate! It's quick and simple to share a story of an older person you know using our online form.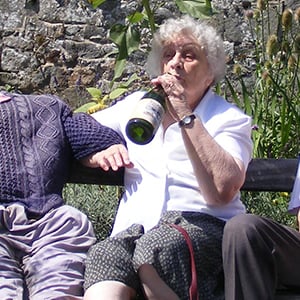 "So, I have a royal bottom?"
Kathryn's nan, Kathleen, has always been a huge fan of the royal family. After a small blunder on a visit to St James' Palace, Kathleen got more than she bargained for!
"My nan got dementia in later life, so I loved that I was able to tell her some of the stories she used to tell me when I was growing up, and see her reaction to them.
When my mom was in high school, she completed the Duke of Edinburgh Gold award and was invited to St James' Palace in London for her presentation. She was allowed to bring one guest with her and, as my nan loved royalty, there was only one clear person she could take.
I believe the presentation was held in the throne room, so as my mom and my nan we're walking through room after room, taking in all the magnificent decor and belongings, they came to an area and were asked politely to wait. While waiting, my nan took it upon herself to rest her feet at the nearest available chair.
As the gentleman came back, sheer shock engulfed his face as he spotted my nan. He quickly ran over and ushered my nan onto her feet with panic in his voice. Not quite understanding what all the commotion was about, my mom then came to the realisation that my nan had sat in one of the thrones! I think for the rest of the presentation and tour, they were seen as the "ones to watch out for".
Every time I told my nan this story, she would suddenly exclaim "So I have a royal bottom?", which was a wonderful thing to hear (and makes a good story to chuckle at now!)"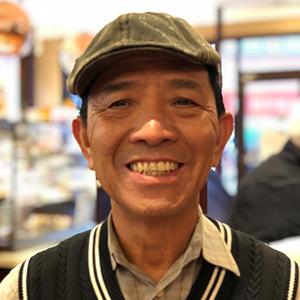 "He told me to be true to myself and my cultural identity."
Thanh-Bich has always been there for his family, encouraging them to be their true selves. His daughter, Thùy-vy, shares what her dad's support has meant for her throughout her life.
"My father is the most resilient and strong individual I know. He grew up in South Vietnam - known as Saigon before transition in government after the US-Vietnam war in 1975. The years after the war were filled with fear and confusion. So many South Vietnamese people wanted to leave the country.
At the time, my dad had learned to master sailing, so he was trusted to lead a boat that takes people out to the international water line (often referred to as boat people). However, on the day of leaving, my mother did not want to go because she wanted to stay with her family. My dad stayed for her.
Dad is a feminist at heart. He was a cheerleader for my mom when mom became chairwoman for a jacket manufacturing coop in the early 1990s. He was always there for my mother, supporting her through all the challenges she faced being one of the few women leaders in her profession.
My parents have three girls - my sisters and me. Despite our culture favouring boys, my father has never felt pressured by that and always supported us to pursue our goals. He always encouraged me to learn and supported me in all school projects or curiosities that I had. When he sent me to the United States to study, he told me to be true to myself and my cultural identity. I have kept his advice to heart to this day, and I now work as an Assistant Professor at Durham University."
"There are no barriers in life you can't overcome if you believe in yourself."
Patricia Ann has passed on a wealth of wonderful life advice to her daughter, Kirsten. Here, Kirsten explains just one of the ways in which her mum was one of the kindest and most compassionate people.
"I was born in 1967. My new friend at high school had never been invited to a birthday party due to having food allergies. My mum researched about her food intolerances and made sure ALL the party food, including my birthday cake, were safe for her to eat.
When it was time for the party, my best friend burst into tears as never before had someone shown such consideration towards her needs.
From an early age, my mum taught me there are no barriers in life you can't overcome if you believe in yourself and have the determination to try. I love you mom!"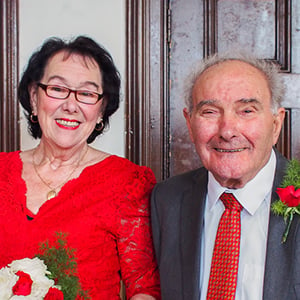 "We are so thankful to the basket of eggs that got him onto the train!"
Jennifer's father, Alfonso, was the eldest child of a large family in post war Sicily. After seeing an opportunity to work in Britain in the coal fields, he had to make a deal with just a basket of eggs to make the journey over.
"As the eldest child of a large family in post war Sicily, it fell to my father to provide for them. He was a shepherd for a local farmer and, from Monday to Friday, dad walked the fields and hillsides during the day and slept with the sheep to protect them at night. When he returned to the farm each Friday he was paid with a sack of flour. This was used to feed the family bread and pasta for the week.
Once my grandfather returned from fighting with the partisans in the Yugoslav Civil War, my father worked with him in a sulphur mine gaining valuable mining experience. This meant he was amongst the most suitable responding to the British Government's call for workers to support post war Britain in the coal fields. My Sicilian Nana had other ideas…
No way was her eldest son going to abandon the family to live in a foreign land! She hid all the paperwork as it arrived. Dad did not know deadlines were approaching. He needed to be on the train to Milan! Through friends he discovered the plan and, at the very last minute, made it onto the train. But he had no tickets… A basket of eggs was all it took to persuade the local mayor to re-issue his ticket!
Dad eventually arrived in Stoke-on-Trent via Milan, Belgium and Mexborough, where he met Mum! Four children, twelve grandchildren and seven great-grandchildren later, they renewed their wedding vows at the very chapel where they married. This month they celebrate 61 years of marriage. We are so blessed to have our parents still and so thankful to that basket of eggs that got him onto the train!"
Our work is only possible with your support
Without kind donations from people like you, we wouldn't be able to provide vital help and support to the hundreds of thousands of older people who rely on us each year.