Social connections and the brain

Keeping up our ties to friends and family and taking part in social activities may help us stay sharp as we age, according to the Global Council on Brain Health. This summary is part of our Staying Sharp series.
Our advice
Stay connected with friends and family as this may help maintain thinking skills as we age.
It's not unusual for social networks to shrink as we age, but there are things we can do to improve the quality of relationships.
Join a club, class or social group to meet new people. Focus on relationships or activities that you enjoy.
If you have lost connections, take small steps to start rebuilding.
Computer-based communication can be useful to help expand your social world, as well as to maintain existing contacts.
People vary in the degree to which they seek out the company of other people but we share the fundamental need to interact with others. A wealth of evidence shows that positive relationships and shared activities contribute to our wellbeing. Conversely, loneliness and social isolation increase health risks in older people. Various life events, such as retirement, bereavement and ill health, can reduce social networks and make it harder to stay active socially.
We have reviewed the evidence from a brain health perspective, asking whether older people who have larger social networks and are more socially engaged tend to have better thinking skills.
People experience relationships and interactions differently, and not all of them will be positive or meaningful. For this review, we refer to social engagement as meaning interactions with other people that are pleasing and meaningful, and that have positive outcomes for those taking part such as emotional or practical support.
---
Close ties support brain health
Research suggests that having close ties to friends and family, and participating in meaningful social activities, may help people maintain their thinking skills better in later life and slow down cognitive decline. People who are socially engaged seem to have a lower risk of dementia, but the evidence is not yet strong enough to draw firm conclusions.
The evidence has limitations because of the difficulties of designing studies on the effect of social engagement on brain health in people, but it indicates that the numbers of social connections, and the type, quality and purpose of relationships, can affect brain function. So it seems that better social engagement is good for brain health. There is also evidence that loneliness increases the risk of loss of thinking skills in older people.
We don't yet understand how a higher level of social engagement enhances brain health, but it may be that meaningful interactions with others provide a buffer against more harmful impacts such as stress. It could also be that changes in thinking skills that are happening for other reasons affect social engagement levels, rather than the other way round
Overall, we recommend social engagement for people as they age because, even though the evidence on its impact on brain health is limited for now, there is good evidence of other benefits of social interactions for wellbeing and quality of life in later life.
Quick connection
The idea that social connections might buffer our brain health is within the concept of 'cognitive reserve'. This suggests that people develop a reserve of thinking abilities during their lives, and that this protects them against losses and harms in later life.
Social interactions are thought to contribute to cognitive reserve.
---
Make connections, stay connected
We explored how different activities, such as having a pet or technology, can help optimise and promote social engagement in later life. Here are some examples of what people could do:
Join a club, class or social group to meet new people, focussing on relationships or activities you enjoy.
If you have no one around who can help you to engage socially, turn to professionals – for example, telephone hotlines, a local drop-in centre or local religious leaders – who you can ask for help to get out to places to meet people.
Make a point of regular contact with friends, family members and neighbours who are important to you and you to them.
Digital contacts, for example through email or Facebook, count as well as seeing people in person or talking on the phone. By using computer-based communication, you can expand your social world, for example by joining online communities, as well as maintaining existing contacts.
Help others, either informally or formally through organisations and volunteering opportunities.
If possible, cultivate connections with people of different ages, for example by staying in touch with grandchildren, or volunteering at a school or community centre. Think about skills you have that you could share, teaching them to other people.
Consider having a pet; caring for a cat, dog or bird can help give structure to the day and be a catalyst to social interaction.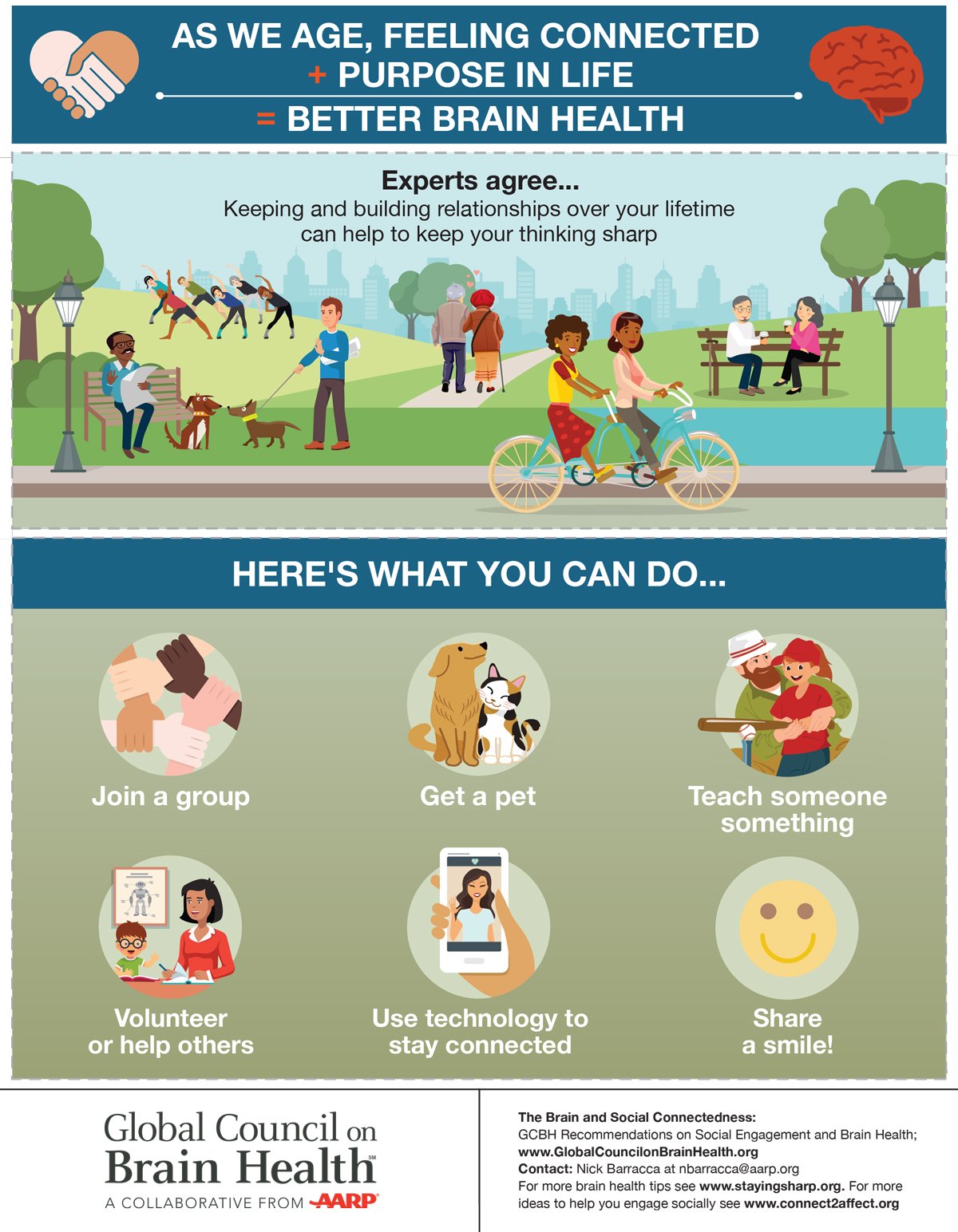 Infographic: Global Council on Brain Ageing Recommendations on Social Engagement (PDF 1.3 MB)
While the evidence suggests that interacting with others may slow cognitive decline, there is still much that isn't clear about the impact of social engagement on brain function.
As research continues to explore this area, there is anyway good reason to keep engaged with other people as social connections and meaningful activities are important to quality of life and wellbeing.
---
Understanding the brain and social connectedness

About the Global Council of Brain Health
The Global Council on Brain Health (GCBH) was established in 2015 by AARP in the US, with support from Age UK. AARP is the leading US not-for-profit organisation for people aged 50+. The GCBH is an independent collaborative of scientists, health professionals, scholars and policy experts from around the world working in areas of brain health related to human cognitive function.
For more information call the Age UK Advice Line on 0800 678 1602.
We're open 8am to 7pm, every day of the year.