Our Love Later Life Hero – Katalin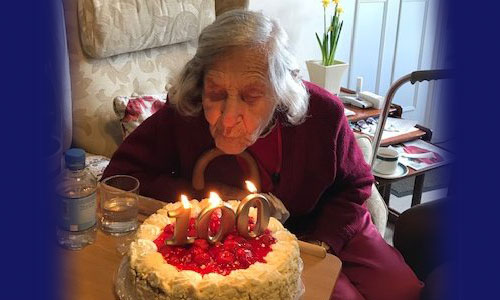 This edition's Love Later Life Hero is Katalin Shirley-Smith, a former Age UK volunteer who celebrated her 100th birthday in February.
Katalin was a volunteer at Age UK Somerset for 16 years, into her 90s, helping over 100 people during her time there. Her befriender, Jenny, still visits her through the local befriending scheme and describes her as 'a bright and switched on lady'.
Katalin, who was a translator during the war, grew up in occupied Europe and has lived an exceptionally full life, going on to work as a radiographer.
Her milestone birthday party included her 2 sons, 5 grandchildren and many great grandchildren. Jenny was also delighted to be a guest at the party: 'She hides a light – such an amazing lady.'
We agree! Congratulations and thank you, Katalin, you're a true Love Later Life Hero.
Do you know a Love Later Life Hero? Why not nominate them so we can celebrate their achievements. To nominate a Love Later Life Hero, email newsletter@ageuk.org.uk.
Return to Your May Update