What if, after a lifetime of dedication to pets, you're no longer able to take care of them? How would you get to spend time with animals? A cafe in Shrewsbury has the answer, providing local residents, including older people, with the chance to enjoy coffee and cake or watch a film with some furry friends for company.
Paws for thoughtfulness
Paws Cafe is Shropshire's first cat cafe and a 10-minute walk from Shrewsbury train station. It's owned by couple Katie Fields and James Radnor, who left their jobs – one was a teacher and the other an engineer – to set up the cafe, which opened in January.
"It's really nice for us to see it's helping other people," says Katie, with particular focus on older people. "If, for example, you lose your partner or spouse and have to go into residential care or into a nursing home...people don't realise you may have to give up your pets [too]. That, ultimately, is another loss for you."
Creature comforts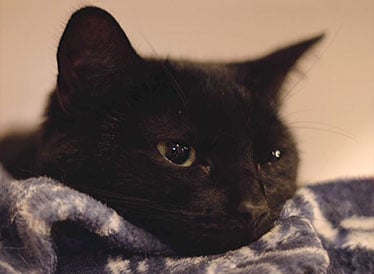 That's why the cafe is working with the neighbouring Age UK Shropshire, Telford & Wrekin to provide local older people with opportunities to spend time in the company of the 11 cats that call the cafe home.
"People come to us for lots or reasons, but often people are lonely," explains Heather Osborne, Chief Executive of Age UK Shropshire, Telford & Wrekin. "They're looking for some contact or companionship or something to do."
Smiles from Sheila
Sheila, an enthusiastic visitor, explains the benefits the cafe brings her when she's brought along by a friendly neighbour. "I thought it was marvellous," she recalls of her first visit. "[It was] overwhelming. I haven't been able to have a cat for quite a time because of my health. It was wonderful to see them and stroke them. I've had cats all my life, but I'm a bit old now for looking after them properly."
Sheila is full of encouragement for anyone in a similar situation to her. "It gives a lot of comfort because you miss your pets," she says. "By all means come and make the most of it...all the things you're missing, you'll find here."
Thursdays at Paws Cafe
People 60+ and accompanying family and friends can visit the cafe for £5 for 30 minutes, 10am-2pm. Tea and biscuits included!