Age UK Trafford has been supporting older people with memory loss for more than 25 years. Keen to find innovative new ways to aid those with dementia, in recent years they've enlisted the help of some four-legged friends to spread some joy.
Joanne Gorton works as a Day Support Manager at Age UK Trafford. The specialised day support they offer encourages the independence of older people with dementia, while providing opportunities to socialise with their peers.
Researching new ways to promote physical and intellectual stimulation in their specialised day support groups, Joanne came upon articles discussing the benefits of using dogs in support for people with dementia.
"I thought we'd give it a go as we have some amazing family pets that I knew would be good with older people," recalls Joanne. "And two years on it's still working out brilliantly."
Meet Dave
They started off with the magnificently named Dave the chihuahua (pictured above), who belongs to Joanne's niece. Although chihuahuas are known for being a rather fussy and noisy breed, Dave is anything but, proving a cool customer and more than grateful for the attention lavished upon him by the members of the group.
"Some people occasionally think he's a cat though," laughs Joanne.
Owning a pet
Pets can be great companions as we get older, with studies suggesting they can have a positive effect on our health and wellbeing. Here are the things you need to plan for if you're thinking of welcoming a new arrival into your home.
The barking benefits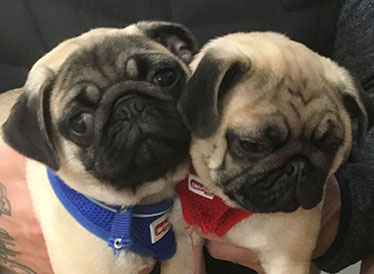 "It's hard to describe the moment when someone's face lights up and they have that connection with an animal," explains Joanne. "It helps in many ways. Some people had pets when they were children, so seeing a dog can help unlock those reminiscences and encourage the person to talk about those memories. Likewise, when the people were that bit older and had young families of their own, they may have had a pet then, so their minds go back to that time. They will tell you stories about their lives back then with great confidence, even if they're struggling with their short-term memory."
Access to these animals has another function, too. "When you get to a certain age, you may not be able give an animal the level of care and support it needs," explains Joanne. "So the people in these groups get the best of both worlds – they don't have the responsibility, but can still enjoy the cuddles and interaction available."
New recruits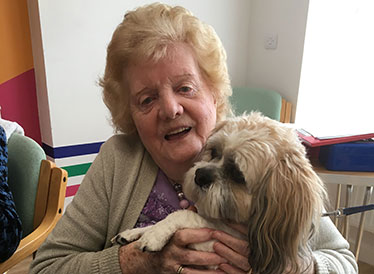 Keen to expand upon the success of these early efforts, Joanne recruited her sister's dog, a Shih Tzu named Louie. "He's perhaps a little bit too heavy for a couple of the people here, but that doesn't seem to matter because most of the people that meet him end up are rushing around the room after him."
More recently, the group has welcomed a couple of newcomers: a pair of pugs called Ron and Reg – named, of course, after the legendary East End gangsters The Krays. "Those names definitely tend to raise a smile, especially as they belong to such cute faces."
Hitting the road
It's a good thing dogs have a lot of energy, because the pooches at Age UK Trafford are very busy. Day support takes place on Monday, Thursday and Friday in Urmston and includes up to 33 people, while on Tuesday they make an appearance at Heightside in Timperley and Wednesday at High Lee in Sale where there are around 16 people. The dogs make appearances when their owners' schedules permit.
Plans for the future
"Going forward, the sky would be the limit if we didn't have any restrictions," says Joanne. "Chickens are supposed to be great for this kind of things – donkeys too. I'd be willing to bring a whole host of animals in because I've seen how much they can help, and being happiness to, people with dementia."
Specialist Dementia Day Support at Age UK Trafford
High quality support at Age UK Trafford's Urmston Centre, offering activities including quizzes and indoor bowls, as well as simple cookery, gardening and other life skills.