What makes a good volunteer for working with older veterans? We spoke to Judith Keegan, Volunteering Manager at Age UK Nottingham & Nottinghamshire, to find out.
Judith is currently seconded for a day a week to the Joining Forces project, a partnership with SSAFA, the Armed Forces charity, which provides assistance to veterans born before 1950, their families and carers. While Judith has spent the last two-and-a-half years recruiting people to the project, she has been involved "more deeply" in Joining Forces since July last year.
What is Joining Forces?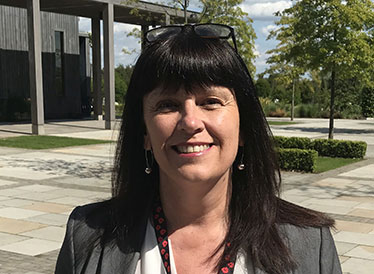 Joining Forces helps veterans in a diverse range of ways, whether that's advising them on benefits they may be entitled to but unaware of, helping them to apply for medals or a Veterans Badge, or providing face-to-face befriending services. Encouraging veterans to get out and socialise, through activities like regular coffee mornings and days out, is vitally important to combatting loneliness and gets veterans spending time with people with similar experiences. It's the latter activities that are most reliant on volunteers.
We caught up with Judith while she was leading a group of veterans on a trip to the National Memorial Arboretum, the UK's year-round centre of Remembrance featuring more than 360 memorials in tribute to those who have served their country. "Days out like these are helpful for two reasons," explains Judith. "They provide veterans with the opportunity to reflect on their military careers and pay tribute to friends they may have lost over the years. But it's also the chance to get out of those four walls, to meet people with similar interests and passions, to cement friendships and form new ones."
Do you know an older veteran in need of support?
Joining Forces provides news, information and advice, and opportunities for socialising with other veterans in your local area.
What makes a good volunteer?
"I can tell if someone is going to be a good volunteer within a few minutes of meeting them," says Judith of the key ingredients she's looking for. "Some people will tell you that having the free time to help out is the most important thing – and while that's certainly up there, there's also got to be a desire to want to help others – to selflessly want to be of assistance. You've also got to have patience and dedication too.
"Very occasionally we get people who start out with us, and then within a few weeks they drop out, which is very disappointing and confusing for the older person they have been helping. I always tell prospective volunteers that if you sense it's not for you very early on, stop immediately, as it's not fair to get an older person used to you being there, only for you to disappear a few weeks later."
There are, of course, some volunteers who are connected to the military community. Angie Beales volunteers for the Joining Forces project at Age UK Leicester Shire & Rutland, to honour the memory of her late husband Jack, who was a Spitfire pilot. "Helping here has actually helped me through," explains Angela. "To keep [Jack's] memory alive, and also help me through a very difficult time. This gives me the opportunity to talk about my husband, but also means that I'm not on my own. I enjoy it, and I hope it can carry on a long time."
A learning experience
Judith believes that volunteering is an experience as rewarding for the people helping out as the ones being helped. "It's another thing you notice when someone comes in for an interview," explains Judith. "It's more than just someone's social skills – it's a genuine desire to learn more from others, to hear their stories and better themselves through the experience. Given the incredible lives many of the people who are helped by the Joining Forces project have had – there are certainly lots of opportunities for that. It's a privilege."
Joining Forces is funded through the Aged Veterans Fund funded by the Chancellor using LIBOR funds.
Sign up for our Veterans Newsletter
Get updates on the latest advice, services, stories of veterans and much more.