Dame Penelope Wilton has been a star of stage and screen for more than 50 years. She's also supported several Age UK events, including our annual carol concert. We recently sat down with her to discuss some of her recent work and best-loved characters.
Dame Penelope Wilton is spending a lot of time in cinemas at the moment — and that looks set to continue. The 75-year-old actor is currently appearing in Operation Mincemeat, the big screen account of one of the fascinating episodes of World War II, as well as making a film version of the popular novel The Unlikely Pilgrimage of Harold Fry alongside Jim Broadbent. And this week, she's part of the ensemble in newly released sequel, Downton Abbey: A New Era, in which she returns as Isobel Crawley, Lady Merton.
A changing character
"She's evolved over time," Dame Penelope says of the character she's been playing since Downton Abbey, the television series, began in 2012. "Having been an outsider at the beginning, she's slowly been accepted and, more importantly, she's accepted them. She's always been her own woman. She is middle class, certainly not an aristocrat, so she's had to fight her corner." Over the years, that fighting has involved Lady Violet, the Dowager Countess, played with acid-tongued excellence by Dame Maggie Smith.
But while the relationship between the two characters has transformed from "very hostile" to "a great friendship", Dame Penelope admits to missing their more combative exchanges. "Sparring is always more fun than anything else," she laughs. "Especially when you're doing it with Maggie Smith because she's extremely good at it. It was like playing tennis with someone who's just slightly better than you, so you have to return the serve, and she often gives you a backhand that you've got to hit over the net."
A slow process
Speaking of backhands, the film, initially at least, takes a rather dim view of acting. When a film crew descends upon Downton, the characters played by Dames Penelope and Maggie find it all rather ridiculous. "It's amusing because those two characters couldn't be less interested," she laughs, while suggesting that real life filmmaking has its fair share of tedious moments.
"You can see from an outsider's point of view that the process must seem terribly boring. In fact, it's quite boring when you do it! When you're sitting around, doing one of those endless dinner scenes with the camera moving around, by the end you think: 'Oh, anything rather than do this again'. But in the end it works out."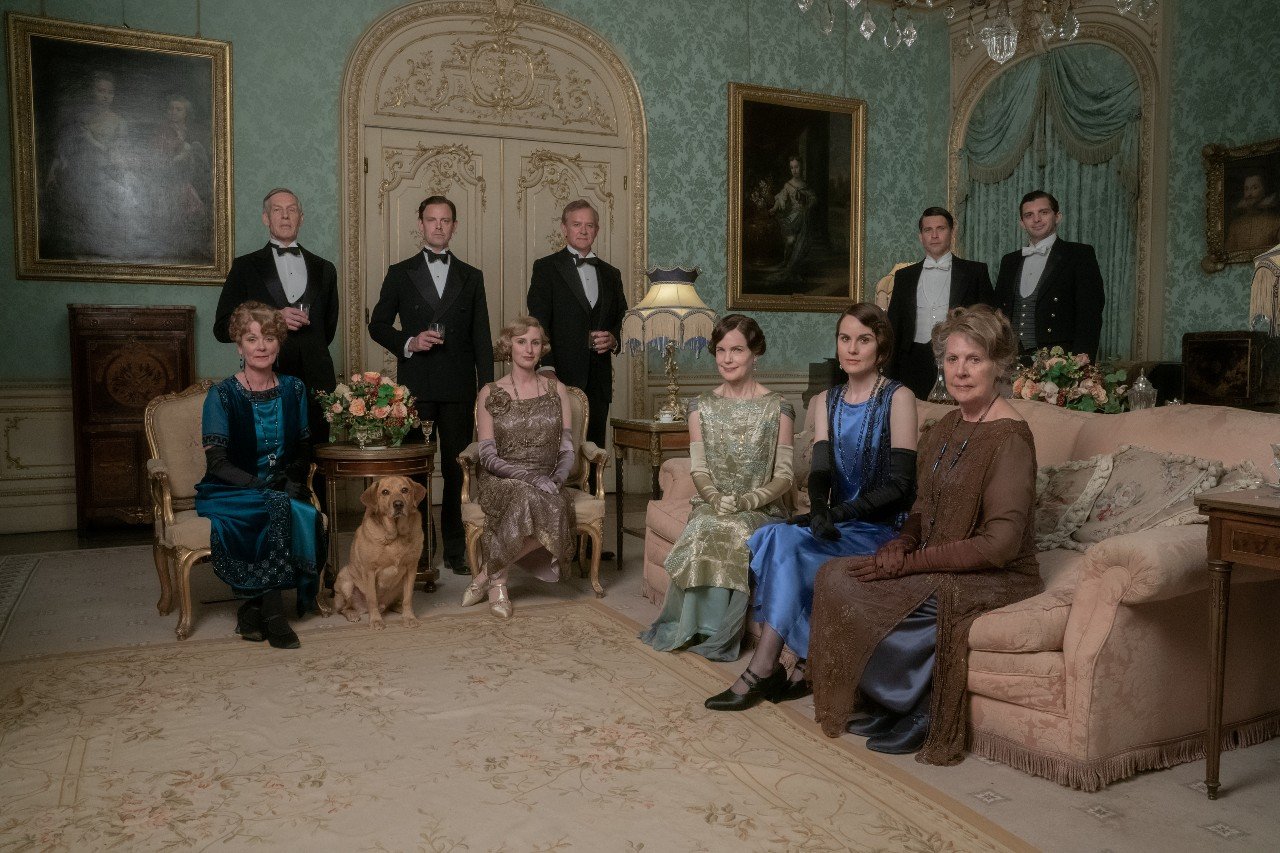 Periods of change
The film's subtitle, 'A New Era', has two meanings: the changes taking place in the lives of these characters as they prepare to enter the 1930s, and the new era of cinema emerging at the time. The fictional crew at Downton hits a snag when the studio loses faith in the film they're making, because silent films are being put out of business by the emergence of 'talkies'. With all these moments of transition, one wonders if Penelope had a similarly noticeable periods of change during her career?
"When it's happening to you, you just go along with it," she suggests. "I was a theatre actor most of my life, and certainly as a young person. When I started work, there were just two channels on the television — there was nothing like HBO or Netflix. I come from a generation where one learnt one's trade in a different way, so I suppose the transition was doing more films and television. But I'm hoping to transition back into the theatre at the end of the year to do a play."
After loss
Dame Penelope is no stranger to streaming services, of course, having starred in the Netflix series After Life. In it, she plays widow Anne, who offers Ricky Gervais' character Tony with advice following his wife's death. In a show that otherwise features some rather shocking humour, these scenes feel refreshingly real and honest, providing an emotional heart and source of reassurance for viewers dealing with loss. Those heartfelt responses, it turns out, changed the trajectory of the show.
"Ricky didn't think he was going to write it entirely about someone who had lost his wife and coming to terms with death. But the reaction to that first series was so strong that he felt a compulsion to continue with that theme. I think he wrote our scenes very well because they allowed [Tony] to be himself, while elsewhere he was putting up a front as he tries to deal with the world. I'm told people found that very moving and in many respects very helpful, as it's just two people talking about what they sincerely felt about the people they've lost. There was a lot of loss at that time and people recognised that, so hopefully it was in some way helpful."
The therapeutic power of cinema
Dame Penelope believes films like Downton Abbey: A New Era provide a welcome opportunity for older people to get out and about and reconnect with their love of cinema. The film was supposed to open in cinemas last Christmas, but COVID-19 put paid to those plans. "With the pandemic retreating, as it were, it's very important to be entertained," she explains. "This is a film that's truly there to entertain. It's got the same characters that people have enjoyed watching, and its storyline is about having to deal with the new world — a prospect that can have its amusing side as well as its difficulties."