As Jim Broadbent greets Age UK — his voice a warm, chucklesome purr — we're instantly reminded of the many iconic roles over the course of his career.
We think of Roy Slater, the antagonist of Del Boy in Only Fools and Horses. Of Bridget Jones' hapless but kindhearted father. Of Professor Horace Slughorn, Potions master in a couple of the Harry Potter films. And, of course, Mr Gruber, the lovable antique shop owner in Paddington and Paddington 2. The list goes on.
The Academy Award-winning actor also played an important part for Age UK, lending his support and gravitas to a video for our Emergency Coronavirus Appeal, in 2020.
Today, however, Jim is discussing his latest film, comedy-drama The Duke. Released in cinemas on 25 February, The Duke tells the true story of Kempton Bunton, a taxi driver from Newcastle turned Robin Hood-like figure, who in 1961 allegedly stole a famous painting from the National Gallery in London, then sent ransom notes to the Government in an effort to improve care for older people.
Despite Jim's storied career and the dazzling array of characters he's played, he suggests Kempton represents nothing short of the pinnacle. "It's the best character I've ever been offered," he reveals. "It's the most irresistible decision I've ever had to make. It's a lovely story, and the fact that it's a true story, made it very exciting."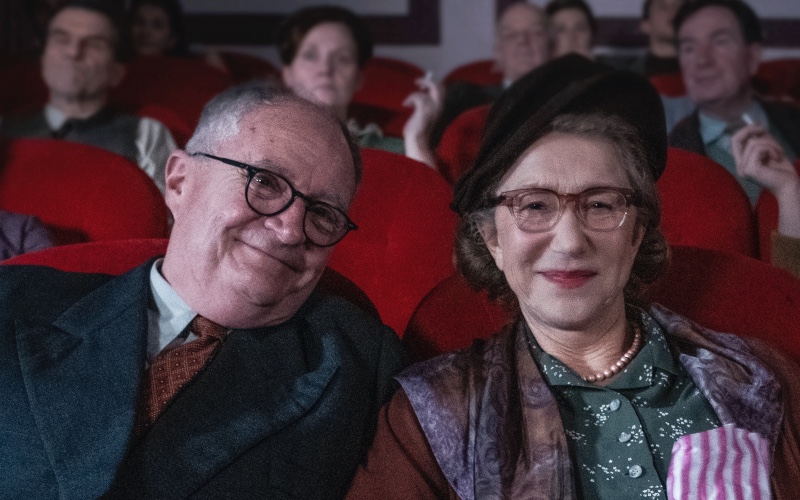 A match made in heaven
The Duke pairs Jim with another British acting institution, Dame Helen Mirren, an Age UK ambassador, who stars as Kempton's wife, Dorothy. While this isn't the first time Jim and Dame Helen have been in a film together, both were in the ensemble cast of 2008's fantasy adventure Inkheart, this is the first in which they're shared scenes together. This seems unusual given what prolific performers they both are.
"It was a thrill," says Jim of their collaboration. "We both enjoyed it enormously. We were slightly out of our comfort zones in terms of the geordie accent aspect of it, but we both relished it. It was very easy and natural and organic. She was lovely to work with and I was privileged."
The Duke is the final film to be directed by Roger Mitchell, who died in September 2021. Mitchell is arguably most famous for directing the Hugh Grant rom-com classic Notting Hill, but many of his other films have been characterised by fascinating roles for older performers.
In 2003's The Mother, for example, May (played by Anne Reid) struggles in the aftermath of her husband's death, with her disillusionment with the expectations of later life leading to an affair with her daughter's lover (played by Daniel Craig).
Powerful representation
Jim had worked with the late director before on 2013's Le-Weekend, co-starring Lindsay Duncan and Jeff Goldblum, which told the story of a married couple who return to Paris many years after their honeymoon there, in an effort to rejuvenate a marriage going stale.
So what was it like for Jim to work with a director so willing to put older people so prominently, as heroes, villains and lovers and fighters, rather than lazy stereotypes? "He was a wonderful director in every respect. He loved people, whether they were old or young, and he wanted to respect them and give them a voice. He was a unique and very special man."
Jim has suggested in previous interviews that he's tried to avoid the conventional grandad roles, but reminded of this today, his opinion is quite different. "I don't try to avoid them," the 72-year-old clarifies, before explaining why.
"I'm becoming part of a minority in terms of screen time these days. There are less parts for older people, less protagonists who are older. I think I welcome grandad roles actually. Bring them on! We need good grandad roles, rather than grandads who are perpetually in the background in rather anonymous supportive roles. Good grandad roles should be put front and centre, I reckon."