You wouldn't know it because he's very self-effacing, but my dad's had a hard life.
He grew up in India with not very much, and left college early to look after his mum and family. In his twenties he decided to come to the UK to better provide for them, and it was here that he met my mum. Soon, he was supporting not just his family back in India, but us too.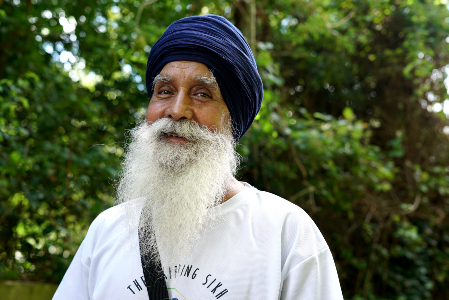 Even though he came to the UK with nothing, we never went without. Dad worked hard to give us everything he could, and he always encouraged me to focus on earning an honest living. He wanted me to study hard and he was sometimes quite strict when I was a child, but as an adult I appreciate that it was a good thing. It kept me out of trouble and on the right path, and Dad's work ethic has always been a positive influence on me.
It wasn't easy for him. He worked at Heathrow Airport for 25 years, but initially when he arrived in the UK in the 1970s, he found it difficult to get a job because of attitudes towards the way he looked and dressed. As a devoted Sikh, his turban is his crown, but it's only been later in life that he's felt he can really be himself in public.
Putting faith in a simple life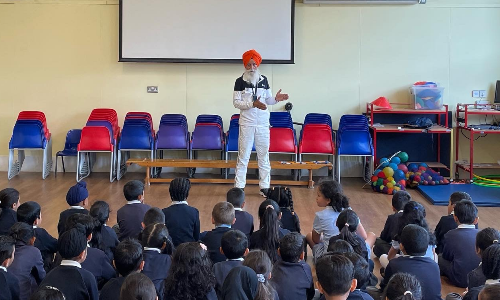 Dad's faith influences everything he does. He lives his life according to the Guru Granth Salib – the Sikh holy scriptures – and closely follows the Sikh values of serving others, being kind and living simply.
He's also passionate about staying active and looking after his health, and believes in living in the moment and never wishing for anything more. In his view, if you can serve a purpose in life and leave a legacy, that's the best thing you can really do.
Dad has never chased after the high life. He's never had or wanted the house of his dreams or any kind of luxury, and I think that's quite a rare quality. Instead, he's always focused on giving back to others.
That generosity doesn't end with family and friends. He's become a father figure not just to me, but to so many people in our community.
A role model for all ages
Dad began skipping in India at the age of six. He started by copying my grandad, who used to skip as part of his exercise routine for the army.
Dad is in his 70s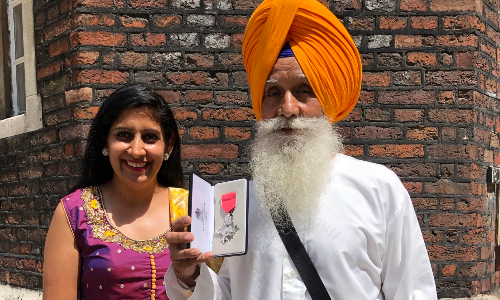 now, but he still carries his skipping rope around with him everywhere – so be prepared if you ever bump into him, because he'll get you to join in! He's built up so much stamina and strength and says that he won't be giving up anytime soon.
Dad wants to leave a legacy behind to others, through motivating younger generations. My parents have started going into schools to show children the benefits of skipping and hula hooping. Promoting positive energy through exercise has always been so important to him.
Dad received the MBE for his fundraising efforts during the pandemic, as well as the online content that helped many people to stay active. He felt very honoured and humbled by it. He never feels proud, and he said he didn't deserve it, but he did. He is a legend and a huge inspiration. He stands as an example of selflessness and living for other people, and he's always said he will continue serving others until his last breath.
Relationships and family
As you get older your relationships can evolve and carry more meaning. Age UK's dedicated section includes top tips for grandparents and much more.