'Men & Women in Sheds' is an initiative run by multiple local Age UKs that supports older individuals who want to get together and engage in woodworking, metalwork, gardening and more.
Although originally set up with men in mind, the initiative now welcomes everyone – regardless of whether someone's a complete novice or an experienced crafter – and in several Sheds across the UK, women have been eagerly learning DIY skills that have traditionally been more in the male domain. We recently spoke to some of the women attending Sheds in Penge, London and Rutland in the East Midlands to learn more about the impact of these workshops on their lives.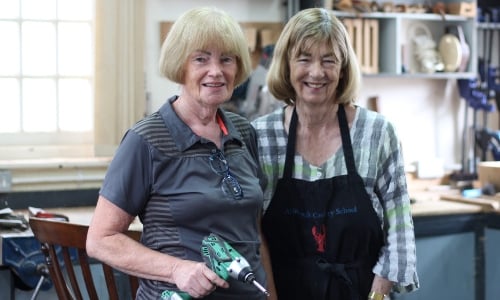 The Penge Shed, run by Age UK Bromley and Greenwich, welcomes participants two days a week to come together and work on projects. "It's really enriched my life coming here," says Jon-Paul, the Shed's co-ordinator. "We have rules, but I always say, rules are more like guides. You can be as creative as you like." Meanwhile the Rutland Shed, led by Age UK Leicestershire & Rutland, has created All-Woman Thursdays – a friendly environment for women to come together as a community of allies, providing a safe space for those with experience of trauma.
Following a short training period on health and safety practices, individuals are free to use all the machinery they desire to make their visions come true. From sanding chunks of wood into cutting boards, tables and stools, to using recycled materials to create intricate wooden toys and accessories – the Shed is an environment where creativity thrives.
Crafting confidence
The women of the Shed offer plenty of encouragement to each other while learning new skills. "I didn't know how to use any tools at all," reveals Bernadette, a member of the Penge shed. "We could never do this at school, we were never allowed, so I thought I'd go and learn so I can put up my own shelves and feel independent." Engaged in group sports all her life, Bernadette wanted to try something different. "The things I've really enjoyed are learning new skills, meeting new people, being supported whenever I've asked questions, so that's brilliant."
"I never thought I'd be able to do something like this," says Christine, who was new to the area and looking for a social hobby. She has now been a keen participant for more than 3 years. "It was a big step to come in," she says, admitting that the idea of taking on the challenge of woodworking was "daunting", but "meeting lovely people" helped her overcome her fears.
"It's the spirit of giving women an opportunity to learn skills that previously have been mainly the male domain," says Linda, 64, one of the first female members at the Rutland Shed. "The people here are kind and welcoming and hopefully we encourage people to try stuff because the biggest hurdle for them is stepping over the threshold," says Linda.
It's a huge confidence builder. Our confidence has been greatly enhanced, both in the Shed and outside in broader life.
A positive impact on wellbeing
The Shed also offers a unique opportunity for those struggling in their personal lives. There are members who have experienced bereavement, health ailments and loneliness or who have escaped negative living situations, who have gone on to find emotional support and a healthy distraction in the Sheds.
"[The Shed] as a mental health thing is invaluable," says Jon-Paul. "There are a few people who come around here who have things going on in their lives which I know about, and this is kind of like a holiday from their worries." Jon-Paul believes that the Sheds create a community – a place away from everyday stressors. It's also a space where participants come for support when they need it, creating friendships which evolve outside of the workshops. "It becomes a really great part of your life," he says.
Bernadette and Christine agree, and they both experience the benefits of attending and creating at the Shed on a weekly basis. "It's very important to feel good and to have a sense of achievement, no matter how small it is. Lots of small, incremental steps build up your achievement and that's a positive reinforcement," says Bernadette. "You can learn at any time, which is great, and I really enjoy it. No matter your background, there's something for everyone."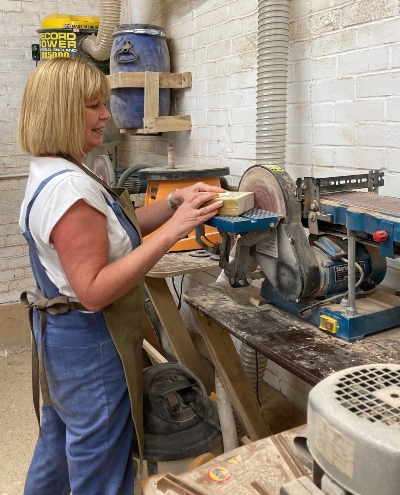 In the Rutland Shed, 'empowering women and enrichment of later life' is the motto shared with joining members. "It's my lifeline," says Sarah, 54, a dedicated member of the Rutland Shed. She calls the Shed her "happy place" which she looks forward to attending all week. "We embrace everybody's situation, you're mindful of it but then they absorb the positivity because there's a huge positivity that comes out of being competent and creative," she adds.
The sense of achievement experienced when creating something beautiful, functional, or just making a vision come to life from planks of discarded wood has a long-lasting impact on members' self-esteem and confidence. "You get to challenge yourself and if you do make a mistake, it's only a piece of wood – you can start again or rectify it. So, it doesn't really matter and there's always somebody who can help," says Bernadette. When mistakes are made, the community of the Shed embraces them as a learning curve – a part of the journey to enrichment in later life.
Find a Shed near you
Hone your DIY skills or learn something brand new – whatever you choose, you'll find a supportive community at your local Shed.