Christmas Raffle from Age UK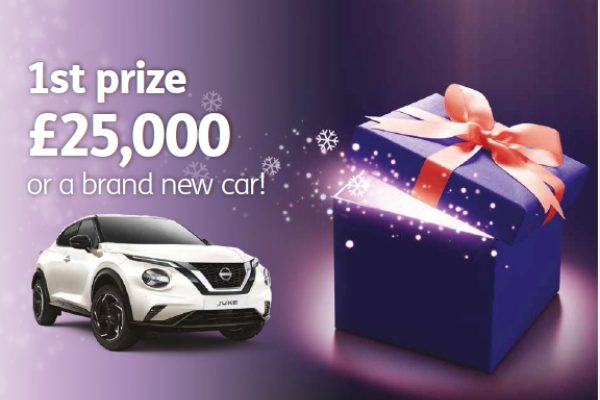 The Age UK Christmas Raffle is now open!
Never want to miss a raffle?
Sign up to the Raffle VIP Club and be automatically entered to all 3 Age UK Raffles per year. Click here to sign up.
Buy your Age UK Christmas charity raffle tickets today to be in the chance of winning £25,000 cash to spend as you like or a brand new car! If you're our lucky second prize winner you could win a cruise, or choose £5,000 in cash. There are 5,000 fantastic prizes to be won! And not only that, by playing today you'll be helping to provide vital support, advice and friendship to older people who need it most.
This could be a magical Christmas to remember and every raffle ticket sold goes towards our vital services in communities like yours.
Christmas can be the hardest day of the year for many older people, last year 1 million older people had nobody to spend Christmas with.* With your help, we are able to provide services such as our Advice Line and Telephone Friendship Services.
None of this would be possible without generous people like you, it's only with your support that we can help older people who need us most. The more tickets you buy, the more chances you have to win! The closing date for postal entries is 8 December 2023, for online entires is midnight 14 December 2023 and the draw date is 15 December 2023.
What is a charity raffle?
A charity raffle is a fun way to donate money to a great cause with the added bonus of having the chance to win a fantastic prize. Age UK run three raffles every year; a Spring Raffle, Summer Raffle and a Christmas Raffle.
*Age UK 2022