Spring Raffle from Age UK - Play Today!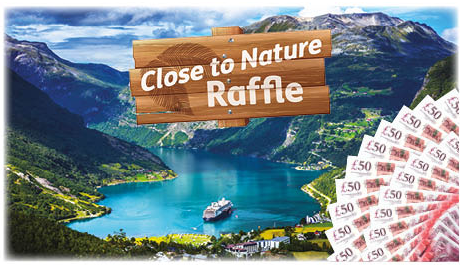 Buy your online Spring charity raffle tickets today
Buy your Spring raffle charity tickets today for a chance to win a stunning 14-night cruise through Copenhagen and the Norwegian Fjords, or choose £25,000 cash to spend as you like. If you're our lucky second prize winner you'll get to immerse yourself in nature for 7 days on the beautiful Isles of Scilly. Or choose £5,000 in cash. There are 5,000 fantastic prizes to be won! And not only that, by playing today you'll be helping to provide vital support, advice and friendship to older people who need it most.
Help more older people enjoy the great outdoors this Spring with Age UK's online charity Raffle
Whether it's door-to-door transport services or providing opportunities to get active outdoors – buying tickets helps the Age UK network to support those who want to get out and about. None of this would be possible without generous people like you, it's only with your support that we can help older people who need us most. The more tickets you buy the more chances you have to win! The closing date for postal entries is 9 June 2022.
What is a charity raffle?
A charity raffle is a fun way to donate money to a great cause with the added bonus of having the chance to win a fantastic prize three times a year. Age UK run three raffles every year; a Spring Raffle, Summer Raffle and a Christmas Raffle.