There's more to gardening than just potting plants and trimming your hedges - it's the perfect place to grow vegetables too. So why not create your very own kitchen garden to sow, plant and harvest crops that you can turn into delicious dishes, all the while helping you maintain a healthy, balanced diet?
To help you get to grips with the basics of kitchen gardening, we've looked at five nutritious vegetables and included tips on how you can grow them yourself at home.
Spinach
Packed full of antioxidants and vitamins A and K, spinach is widely known for its energy-boosting and anti-inflammatory properties, and it's thought to support healthy bones and heart health too.
To grow this leafy green vegetable at home, simply find a spot of fertile soil in your garden and sow a handful of spinach seeds about half an inch into the ground, covering the seeds with plenty of soil.
You should aim to keep the area well watered, especially during hot, dry periods in the summer. To ensure that you have a regular supply throughout the growing season, you might want to sow a batch every three to four weeks.
Your spinach should be ready to harvest about six to ten weeks after sowing, once the leaves are large and leafy. Spinach is perfect for creating healthy salads, or you could even wilt the leaves for use in delicious soups and stews.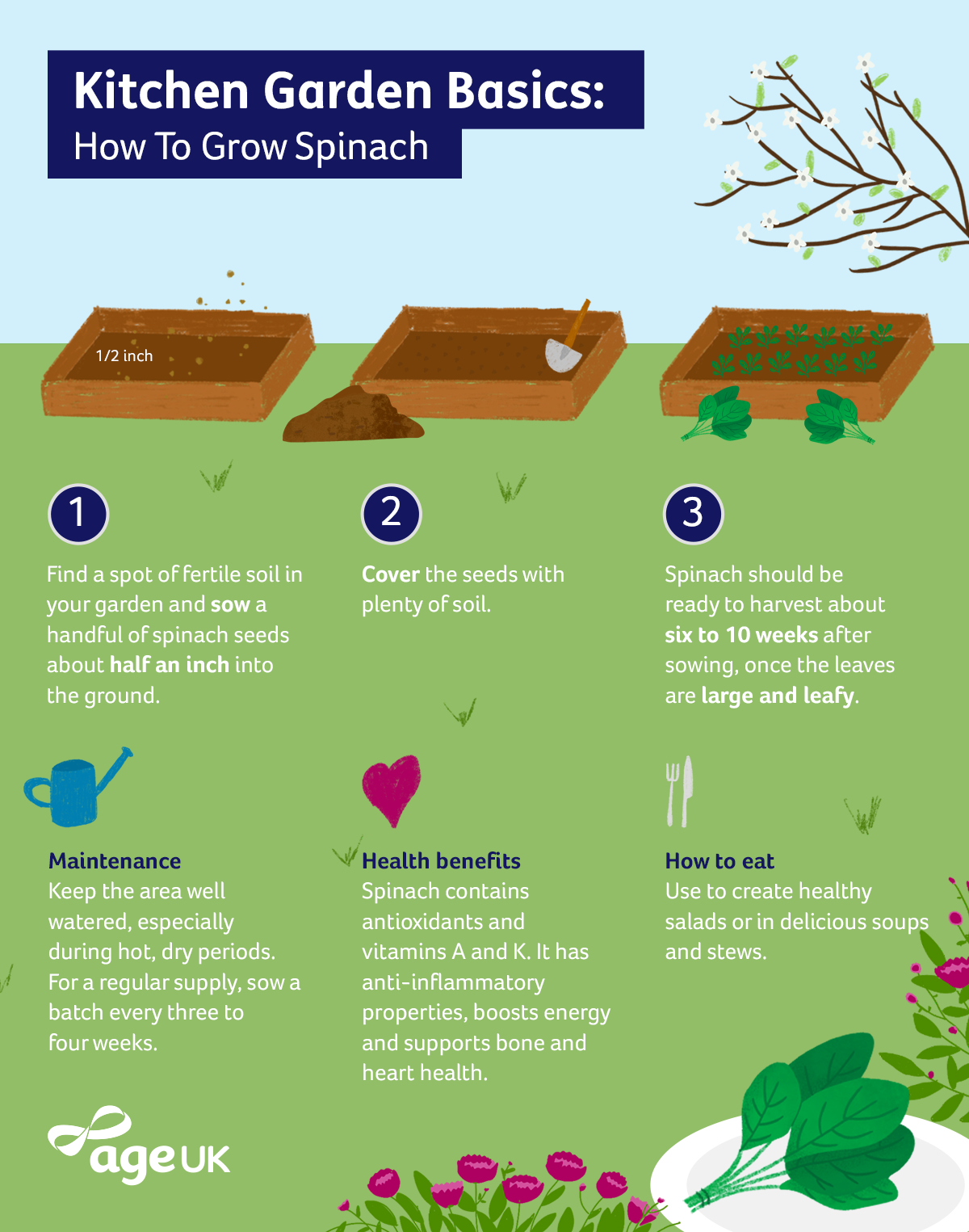 Brussels sprouts
Brussels sprouts are brimming with nutrients, including vitamin A to boost your body's natural defences against infection, and sulforaphane for reducing inflammation.
If you're keen to grow your own, Brussels sprouts are best sown in a modular seedling tray - trays divided into rows of individual cells - and planted outside four weeks later. They should be well watered, particularly in dry weather, and have enough space to grow.
Ideally, Brussels sprouts should be planted from early March to April. As a slow-growing vegetable, they can take between 21 and 31 weeks to mature, meaning your crop will be ready by autumn.
While they often take pride of place at the dinner table on Christmas Day, Brussels sprouts are not exclusive to the festive season. Roast yours with pancetta for a flavoursome side dish, or add it to a chicken tagine for a hearty meal.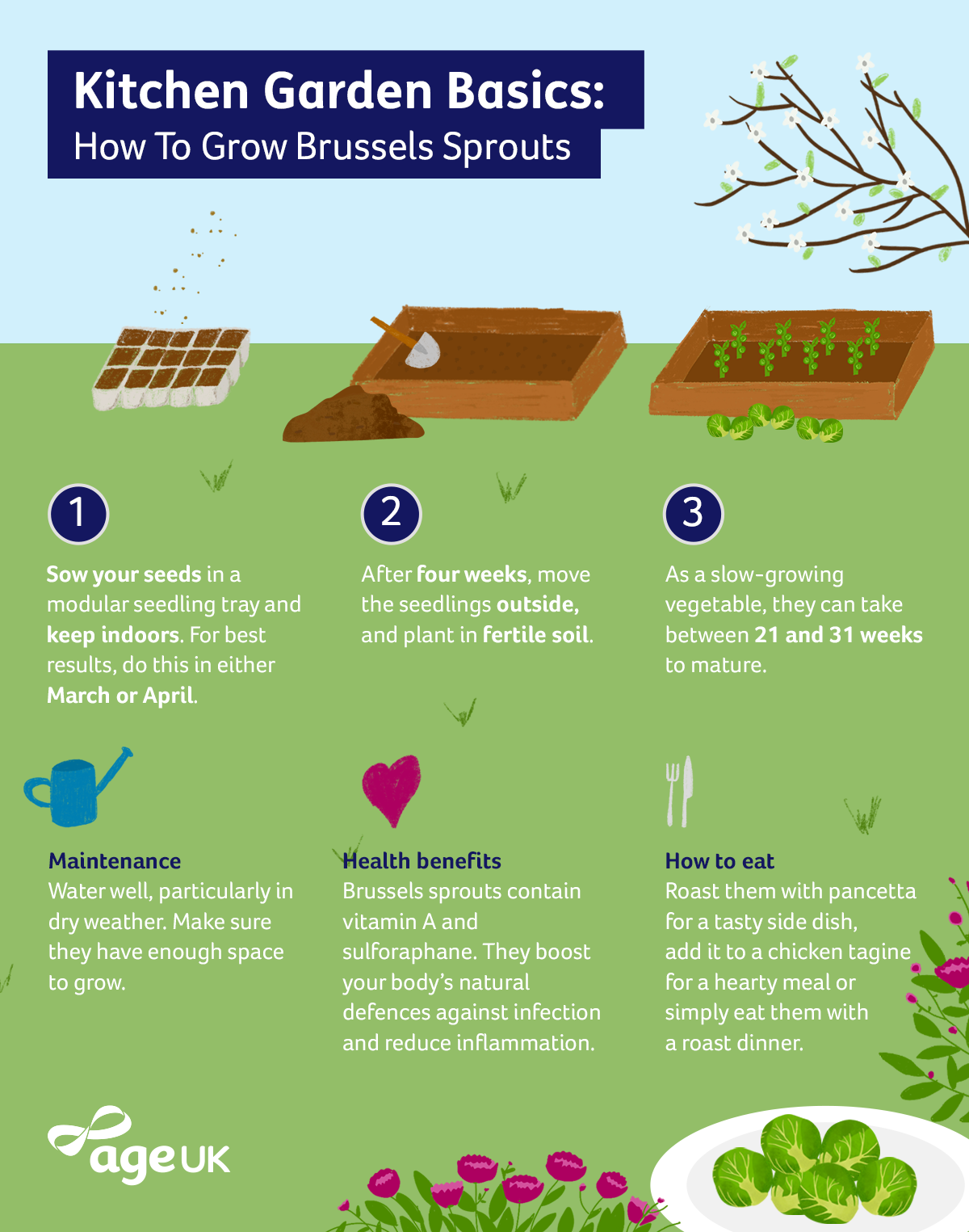 The allure of allotments
We visit Age UK Herefordshire & Worcestershire to find out how their allotment gardening group is transforming lives as well as land.
Sweet potato
Did you know that a sweet potato contains one and a half times the amount of vitamin C of a regular garden potato? They are also a rich source of fibre, iron and calcium, making this tasty vegetable part of a healthy, balanced diet.
Sweet potatoes are grown from 'slips' - long shoots that have been removed from the sprout of another sweet potato. To plant the slips, place each one into a small pot of multi-purpose compost, making sure that the entire stem is covered by the soil.
It's worth noting that sweet potatoes thrive in warm, humid conditions, and they can either be grown inside, such as in a greenhouse, or outside in a sunny yet sheltered position.
Your sweet potatoes will be ready to harvest after four to five months, at which point you can roast, boil, bake or even turn them into chips.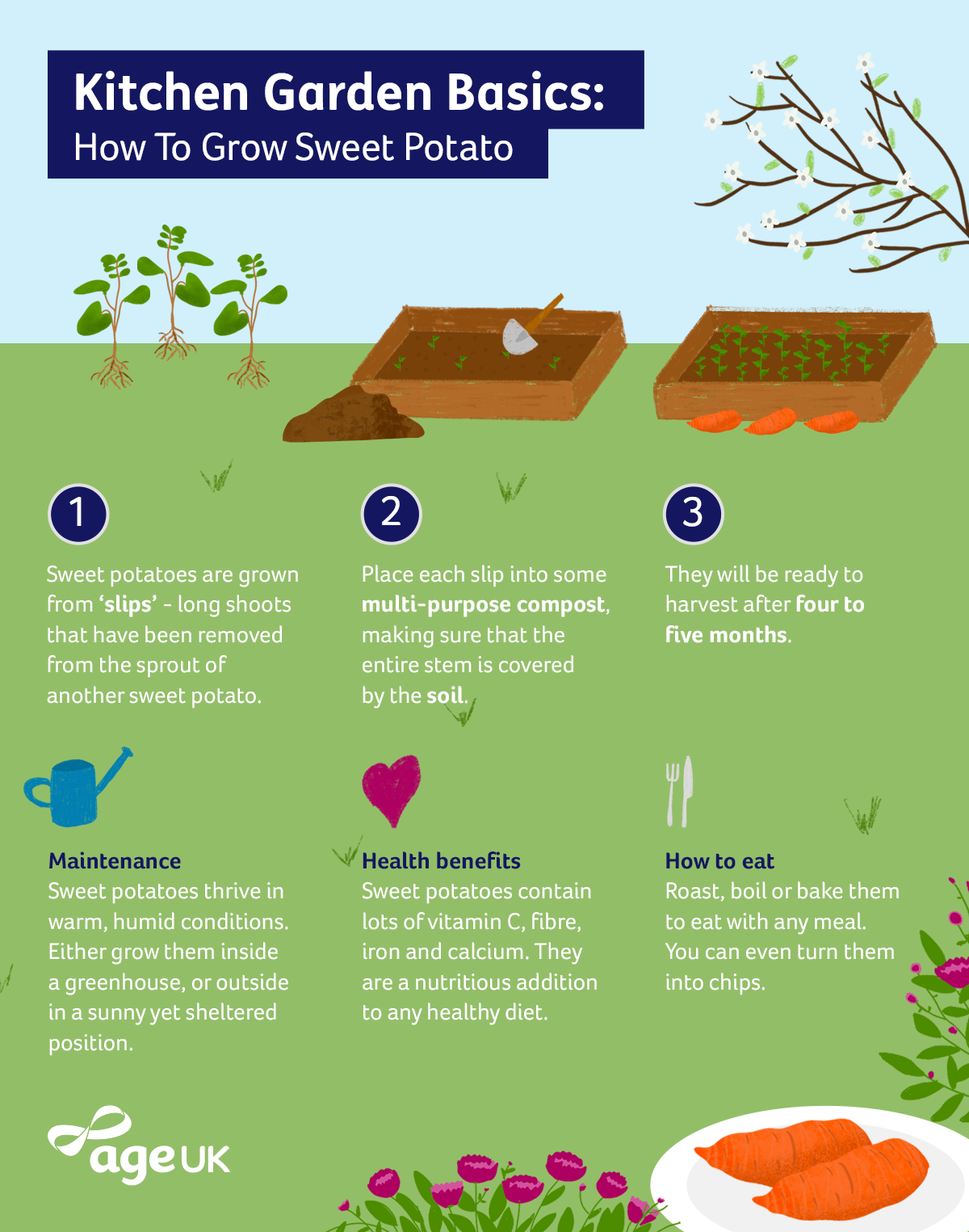 Carrots
Crunchy, tasty and highly nutritious, carrots are a particularly good source of beta-carotene, potassium and vitamins C and K, and it's thought that they can help lower cholesterol levels and improve eye health. Carrots grow best between March and June, and you should sow your seeds sparingly in drills in prepared soil. In fact, carrots thrive in light, well-drained soil that's moisture-retentive, so you might want to add some well-rotted organic matter too.
You should then cover them with a layer of soil and water the area using a watering can with a rose attachment. For a continuous supply, aim to sow seeds at two-week intervals.
The seeds should germinate within a few weeks, and you should be able to harvest your fresh carrots 14 to 16 weeks later. A versatile vegetable, carrots can be roasted to be served alongside your Sunday lunch, or chopped and peeled to be dipped into hummus.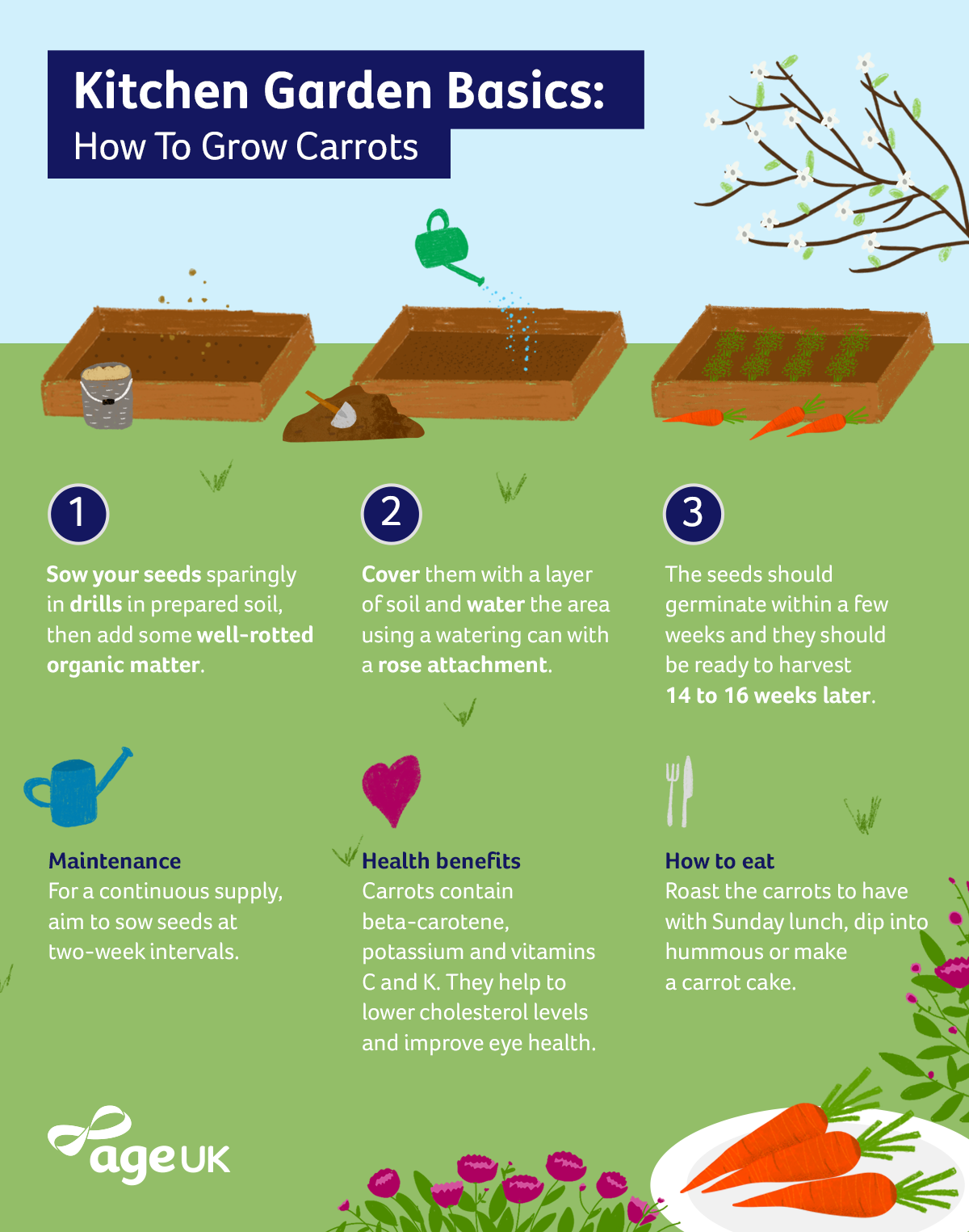 Asparagus
Including nutrients such as fibre, folate and vitamins A, C and K, asparagus offers a number of health benefits, such as improved digestion and lower blood pressure - and it's extremely tasty too. The good news is: asparagus is surprisingly simple to grow.
It can be grown from seed, but you might find it easier, and just as satisfying, to plant a one-year-old dormant plant, known as a crown. In order to grow well, asparagus should be fed regularly and kept weed free. When weeding the area, make sure to use your hand rather than a hoe, as the shallow roots can be easily damaged.
Unlike other vegetables which are ready within months, you should resist the urge to harvest asparagus for at least the first two years after planting. After the third year, you can harvest the spears and incorporate them into a range of different recipes from pasta dishes to omelettes.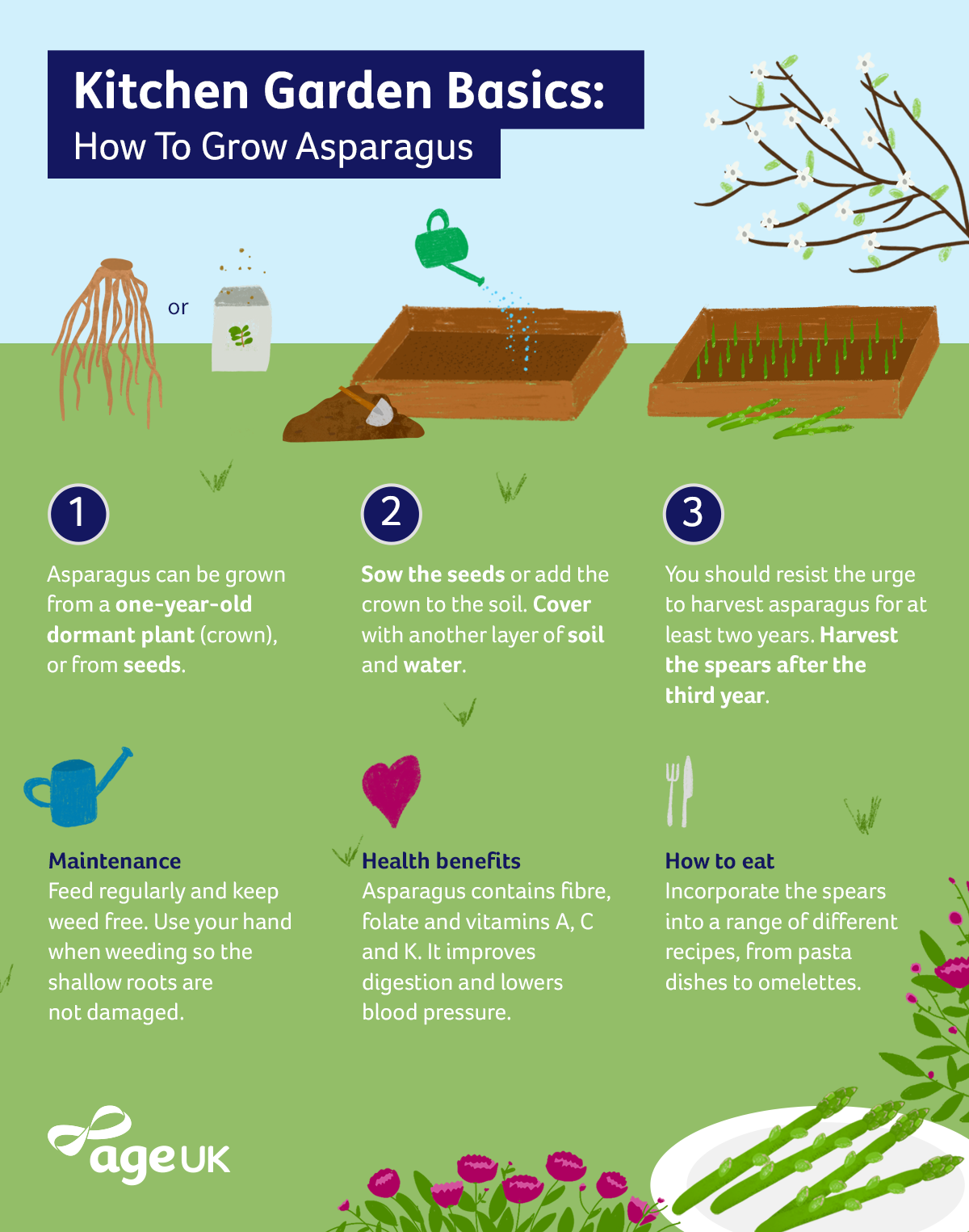 Seeing your own crops grow is extremely satisfying - especially as you can enjoy them afterwards too. Plus, it gives you the chance to get outside in the fresh air, move your body and even relax. So, what will you plant in your kitchen garden?
Birdwatching and photography
Watching birds can have a calming effect on us. Renowned zoologist Mark Carwardine introduces some of the more common feathered visitors to our parks and gardens, as well as offering tips on how to photograph them.