In his role as Coronation Street's Todd Grimshaw, actor Gareth Pierce is better known for wandering Weatherfield's cobbles than walking Welsh peaks.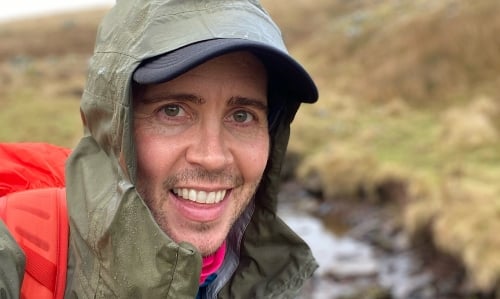 But on 8 July, Gareth will be heading to the hills for the SAS Fan Dance – a 24km mountain race up and down Pen y Fan, the highest peak in South Wales – all to raise funds for Age UK.
"The event is based on part of the SAS selection course," Gareth explains. "The original version is a proper military exercise – they've got boots on, and their backpacks have to weigh a minimum of 35 pounds. The race I'm competing in lets me wear trail running shoes, but I still have to carry a pack of essential kit while I run. I quite fancied the full load-bearing version, but I do also recognise that I'm 42 now! I thought I should probably have a go at this one first."
Ahead of his gruelling challenge, we caught up with Gareth to find out more.
Why did you choose to take on the SAS Fan Dance?
"I've done a few endurance challenges over the years, and I've always tried to tie it in with raising some money for charity. I started off with a 10k, then a half marathon, then some triathlons, so I've been wondering what to do next. I've wanted the challenges to get progressively harder, and of course you're asking people to sponsor you, so you want them to think: 'fair play, that does sound quite tough!'
"As well as that, my dad was in the army when I was growing up. So I suppose that, even though I didn't go into that field of work myself, it's always been in the back of my mind to prove that I can still do some of it!"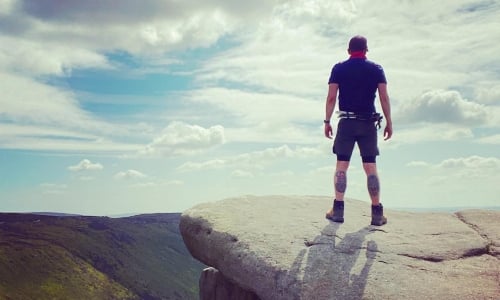 How has training been going so far?
"I've tried to spend as much time in the mountains as possible, and I've really enjoyed being able to discover new walks around the UK. Lots of my training has obviously been on Pen y Fan itself, but I've also gone to some of the less popular peaks in the Bannau Brycheiniog (Brecon Beacons).
"Sometimes I can be the only person hiking! But I quite like that, and the solo nature of it – getting time to think and the sense of being in a place where the landscape hasn't changed for thousands of years. There's something quite nice about that in the modern world.
"I'm also in Manchester a lot for filming, so when I get some time off from Coronation Street I like to go across to the Peak District as well."
Speaking of Coronation Street, what was it like joining such a well-known show?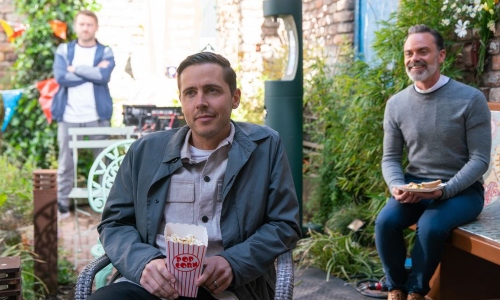 "It was quite a mad time because it all started at the beginning of the pandemic. I'd been in the running for the role, then Covid hit and Coronation Street stopped production for a period. So I didn't hear anything back for a while because there wasn't even a show to go into! Then around July 2020 they got in touch because they were starting production again and they wanted me to do a screen test. The role of Todd was a recast of a character who had been on the show for about 17 years at that point, on and off, so that was a bit of added pressure, because I needed to make sure the audience could get used to me playing him.
"When I first took over, there was quite a lot of drama going on in Todd's storylines. He was quite sinister and manipulative of other characters. But you always have to love and root for your character, even when they're doing some not very nice things! So I've tried to bring some humility to him, and some more comedy too. Todd's been trying hard to reinvent himself and prove to people that he really has changed. People seem to like him a lot more now.
What I've loved about being part of Coronation Street is that you do get a sense of belonging and of being part of a family.
"It couldn't have come at a better time in life for me, really. The variety of being a freelance actor is great, but there can be a loneliness to it as well. It's nice having friends and colleagues that you know you're going to spend a really long period of time with.
"Plus, it's such an iconic show – every now and again on set, I'm still struck by seeing the Rovers and Coronation Street itself. Everyone's heard of Coronation Street and knows what it is, even if they don't watch it regularly."
The show is particularly popular with older audiences. How much did that influence your decision to support older people through your fundraiser?
"Older people are at the heart of Coronation Street's audience. A friend of mine recently told me that his grandmother says she watches Coronation Street three times a week because she likes to 'check on her friends'. She really cares about what's going on in these characters' lives. So yeah, I feel a real sense of responsibility in that regard, because you can see how important TV in general can be.
TV can be a source of company for a really significant proportion of older people.
"So it's important to me for everyone to keep getting that sense of connection, because there are times when we can all feel quite isolated. Modern life can be busy, and families tend to be spread out across the UK or across the world. It's rare to have generations of one family living on the same street anymore. And for older people, I think the cost of living crisis and issues with the care system can also add to that sense of isolation. They're pretty big pressures, really.
"As well as that, I have parents who are entering their later years. There are lots of great charities set up around specific ailments and illnesses, but I like that Age UK's work feels broad and that it'll help with all the different types of challenges older people may face – not just health, but economic and social.
"Older age is a life stage we're all hoping to grow into. So it feels like Age UK could be of benefit to anyone as they age."
What advice would you give to anyone else thinking of fundraising for Age UK?
"Absolutely do it. Speak to older people in your life – whether that's family, neighbours or friends – about some of the worries, concerns and difficulties they're facing, so you feel like you understand more about the cause you're planning to raise money for.
"And in terms of what to do as a challenge, it's all about finding something that feels like a genuine challenge to yourself but that's already an interest. Enjoying what you're doing will help with motivation and will keep you positive, because if it's a tough challenge there'll definitely be days when you can't be bothered!
"After the Fan Dance I'll probably have a nice little rest, but it's always worthwhile having another challenge on the horizon. As a family, we love getting out to the beach and in the sea, so I might do a swimming challenge next!"
Gareth's challenge
Keep up-to-date with Gareth's fundraising progress and track his challenge on his JustGiving page.