New Cooker for the Sedgley Hub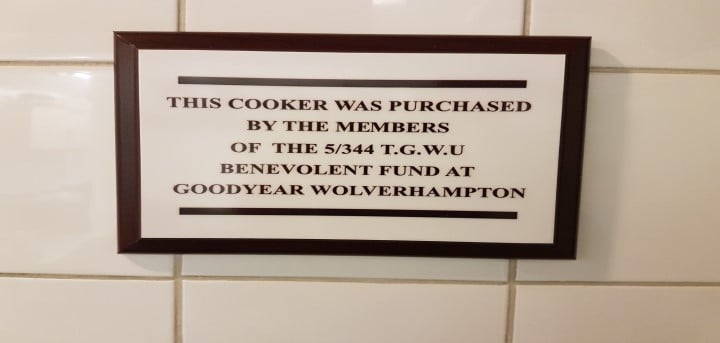 Published on 13 April 2018 02:14 PM
Age UK Dudley's Sedgley Hub has recently had a new cooker brought by Goodyear workers' 5/344 Transport and General Workers Union Benevolent Fund. The Hub is in the centre of Sedgley where local people are invited to pop in for a bite to eat and a hot drink encouraging friendship and helping reduce loneliness and isolation.
Thanks to the new equipment we can now offer hot meals at an affordable price, it's a local meeting place for activity groups, where a fortnightly Information and Advice Service is provided, Foot Care, a monthly Will Writing service, Shop, and Dementia Friends sessions are held.
Those who attended the cooker presentation enjoyed a free cup of tea and bacon sandwich, among those who came was benevolent fund chairman, Cyril Barrett, who worked at Goodyear for almost 40 years, and former shop stewards.
"When Goodyear announced in 2015 it was closing, to most people it was the closure of a factory but from our point of view it was the closure of a massive big family. The members want to create a living legacy to the workforce in Wolverhampton and the Black Country by helping those facing difficulties and challenging times"
The Goodyear workers' fund was built up over more than 30 years from sickness and distress pay and now this fund has helped support over 40 projects offering registered charities that are helping vulnerable people in our communities.
Age UK Dudley is very grateful for the donation of the cooker which will prove invaluable.
The Sedgley Hub is open Monday – Friday 9:30am – 3:30pm.
Phone number 01902 883847