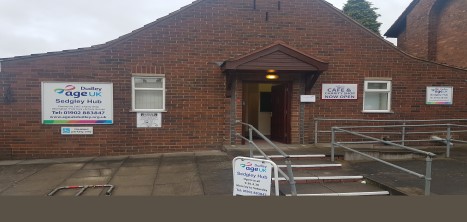 Sedgley Hub
Sedgley Hub building where you can also sit down and have a coffee and a light lunch or browes the chairty shop and pick up a bargin.
We have TV, music and weekly community events such as Demetia friends sessions, Infomation and Advice sessions, clubs and fortnightly footcare services for the hub.
Our Sedgley Hub has a charity shop in it which has a wide range of items in store, including lots of bargain books and homewares, donations always welcome.
The hub is situated in the heart of Sedgley right next to Weatherspoons and is open 9:30am - 4:00pm, Monday to Saturday.
We also have a small community room at the Hub that can also be booked out.
Contact Marie for any more infomation on: 01902 883847