Small Tasks - practical help
The project provides practical help in preventing accidents and particularly falls in older people.
We offer advice, information and services to ensure older people stay safe:

Distributing an advice booklet called "Falls: how you can avoid them". A new issue has just been published and we are looking for people having contact with older people to help in distribution.
Talks/presentations on accident prevention, crime prevention, general safety and the work of Age UK Dudley delivered to groups, luncheon clubs or organisations.

Handyman scheme whereby small aids and adaptations, for example grab rails, additional stair rails, bathing aids etc. can be arranged as well as small gardening tasks.
Upgrade of security, fitting of window locks, door chains, door viewers etc. arranged in areas where crime is prevalent or the occupier is particularly vulnerable.
Fitting of smoke alarms.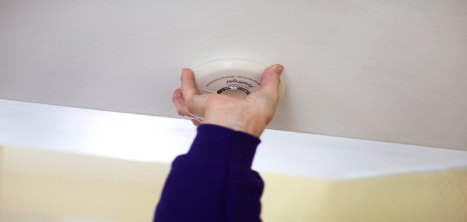 Small Tasks
A team of volunteers will undertake small D.I.Y jobs, for example fitting shelves, changing light bulbs, changing curtains, draft proofing doors etc. within the household where the occupant is no longer able to do them themselves or do not have anyone to assist.
This service operates on a chargeable basis at a rate of £25 per hour . Tasks that do not require a full hour to complete will be charged at half hourly increments of £12.50. For example, a small task that takes 25 minuets to complete will be charged at £12.50. A task that requires 45 minuets to complete will be charged at the full hourly rate of £25.
Small Task Gardening

We are now offering a small tasks gardening services with small gardening tasks such as Lawn mowing, Trimming of lawns and low level hedges, weeding etc. We provide all the equipment for these jobs and all gardening jobs will have a pre assessment and overall price given to you before you/ we accept the work. This part of the service is not priced on time to complete the job, but on the job. We do not take on landscape gardening project or work above ladder height. Please see our leaflet at the bottom of this page or contact us on 01384 267002.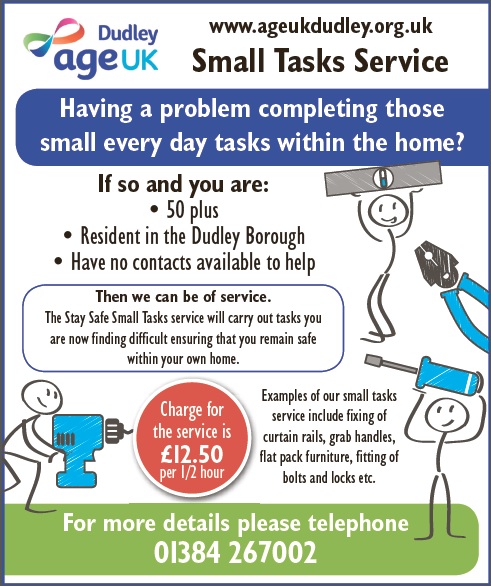 Contact us
Brian Rudd
Telephone: 01384 267 002
* Please note this service is contactable Monday to Wednesday only.
Due the service being out and about most of the days please leave a phone message if the service does not answer your call and the team will get back to you asap.
Partnership working in action

This project works closely with Dudley Metropolitan Council Environmental Services Department, West Midlands Fire Service, Social Services and Community Health Nurses.

The project also works closely with Age UK Dudley's Leap over 50 Project.