2017 Virgin Money London Marathon runners
This year Age UK had over 80 incredible runners taking part in the Virgin Money London Marathon, raising money for vulnerable older people.
What made our runners decide to take part and what are their tips? Find out their stories below.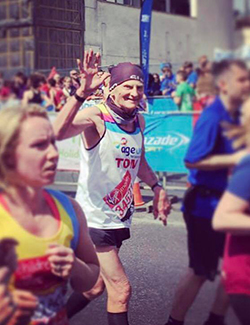 Tom Harrison, 80 - Reading
At 80, Tom was the oldest runner in Team Age UK at the 2017 London Marathon. He is a long-time supporter of Age UK and during his time running for us, he has raised an incredible £12,000 for older people.
2017 marked his thirteenth marathon. As an experienced distance runner, in his spare time he coaches others on marathon running.
He also hopes to start volunteering as a befriender at his local Age UK.
Tom's top tips for marathon day
Eat breakfast three hours before the race - you risk getting a stitch any closer to race time.
Your body needs to be full of carbohydrates, fluid and electrolytes before you go. Porridge with bananas (a source of potassium) and bananas is an ideal choice.
Add pineapple for its anti-inflammatory properties.
Take it easy on the first two miles, your body needs time to warm up.
You can't store more than 16-18 miles of energy so will need to refuel along the way. On the run, replenish as you go with plenty of drinks and carbohydrates.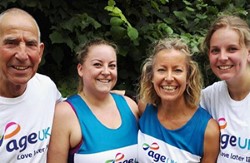 The Armes-Burnett family, 26, 27, 49 and 74 - Norfolk
For all three generations of the Armes family, running the London Marathon had been a long term goal. With loved ones who are getting older and needing extra support, they all felt passionate about raising awareness of the issues facing people in later life.
For this reason, as a family, they decided to run the 2017 Virgin Money London Marathon for Age UK and its work in inspiring, enabling and supporting older people.
Will you run for Team Age UK?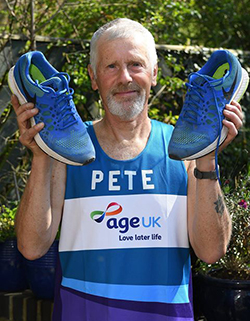 Peter Watkinson, 64 - Wilberfoss
Peter, who's nearly 65, chose to run the 2017 London Marathon in support of Age UK as he recognised the struggle the country faces supporting its ageing population. Alongside his wife Sue, he has hosted various fundraising events to reach his target.
Peter says that he had 'let himself go' until he took up marathon running aged 41. The 2017 London Marathon was his 23rd marathon, which he finished with a time of 4:14, qualifying as good for his age group in next year's event.
Photo: Paul Atkinson / Pocklington Post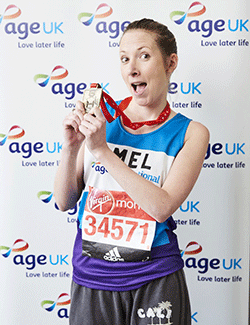 Melanie Pearson - London
In 2012, Melanie volunteered in a small community in Cambodia, in which many of the residents were older people in poverty looking after grandchildren. She described the experience and the poverty that people lived in as 'eye opening', and this led to her decision to run the marathon for Age UK's sister charity, Age International.
She raised an incredible £2,850 for the charity by organising various events with friends, family and colleagues.
Melanie's fundraising ideas
Car boot sale (with friends and family donating things to sell)
Coffee morning with a book swap and bring and buy sale
Bake sale at work
Raffle, plant sale and material sale
Facebook posts with running updates, linking to your JustGiving page for donations
Andy Radford, 45 - Shrewsbury
Andy ran the London Marathon in memory of his Nan, who passed away last year. She had a very difficult year before she died, with a lack of care available to her from local authority. He chose to fundraise for Age UK and the support they give people to help maintain their independence at home as they get older.
Although he is a keen cyclist, he had not run for over 20 years so admitted that training for the marathon was a challenge. To meet his fundraising target he gave regular progress updates on social media and hosted a bingo night with work colleagues.