Paying for residential care
Paying for residential care in a care home is expensive. There is some help available to meet the cost, but the care system can be complicated and difficult to find your way through.
You may be eligible for financial help from your local council or, in some circumstances, from the NHS.

---
Will the local council pay for my care home fees?
If you are eligible for funding support, your local council could pay some or most of the fees. the council will carry out a care needs assessment. If this concludes you need care in a care home, they will carry out a financial assessment to work out whether you qualify for help with the cost. This will look at your income and capital.
Where do I start in arranging care?
The first step to getting care, whether you need home adaptations, home care or a care home place, is to get a care needs assessment from your local council.
---
How much will I have to pay for care?
Care home fees will vary depending on the area that you live in, the individual care home itself, plus your own personal financial circumstances. Costs average around £600 a week for a care home place and over £800 a week for a place in a nursing home. You can use this cost of care and eligibility in England tool to get an estimate for care costs in your area.
Your local council must calculate the cost of your care and how much you have to contribute from your resources. This figure must be realistic and allow you to access an appropriate local care home.
You will be expected to pay towards the cost from all your eligible income, however you must be left with £24.90 per week. This is known as your Personal Expenses Allowance.
If your needs are primarily health-based the NHS may contribute towards the cost of your care. If you're eligible for NHS continuing healthcare, your care home placement will be free.
NHS continuing healthcare
Find out if you qualify for NHS funding towards your care home fees
---
How could my finances and property affect my fees?
If your local council carries out a care needs assessment and finds you need a care home place, they will do a means test. This may take into account the value of your property, if you own one, as well as your income and savings.
Here's how the means test for social care will look at your capital (your savings and property) and how this will affect your care home fees.
| | |
| --- | --- |
| Your capital | What you will have to pay |
| Over £23,250 | You must pay full fees (known as being self-funding). |
| Between £14,250 and £23,250 | The local council will fund some of your care and you'll contribute to the rest. |
| Less than £14,250 | This will be ignored and won't be included in the means test – the local council will pay for your care. However, they will still take your eligible income into account. |
Certain types of income, such as money from certain disability benefits, may not be counted in the means test. This is the same for certain types of capital. All other income and capital can be taken into account.
Will I have to sell my home to pay for care?
Find out how your property will be valued and in what situations it may not have to be included in the means test.

We're here to help
We offer support through our free advice line on 0800 678 1602. Lines are open 8am-7pm, 365 days a year. We also have specialist advisers at over 140 local Age UKs.
---
Will costs of care vary by location?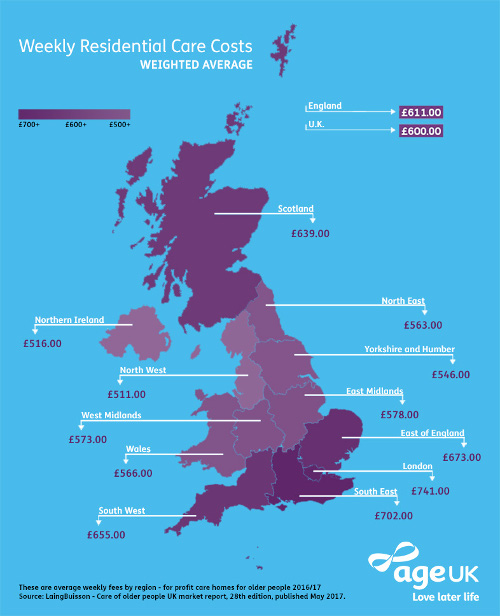 Research indicates that the average cost of residential care varies drastically depending on where in the UK you live, creating a postcode lottery for vulnerable people in need of care.
In 2016/7, the divide between counties in the North and South of England was as much as £230 a week in some cases. Perhaps unsurprisingly, London was found to be the most expensive region to obtain residential care, at a weighted average of £741 a week, whereas the North West was the least expensive at £511. Funding support may be available from your local council if you need help paying for your care.
---
Frequently asked questions
What if I give away some of my money?
What if I run out of money?
How do I pay my part of the care fees?
Do I get a choice about which care home I live in?
What if I prefer a more expensive care home than the local council will pay for?
What if I only need to stay in a care home temporarily?
For more information
If you need any more detailed information on any of the above topics, visit other pages or download one of our factsheets