Accessible days out in the Scottish Borders and Edinburgh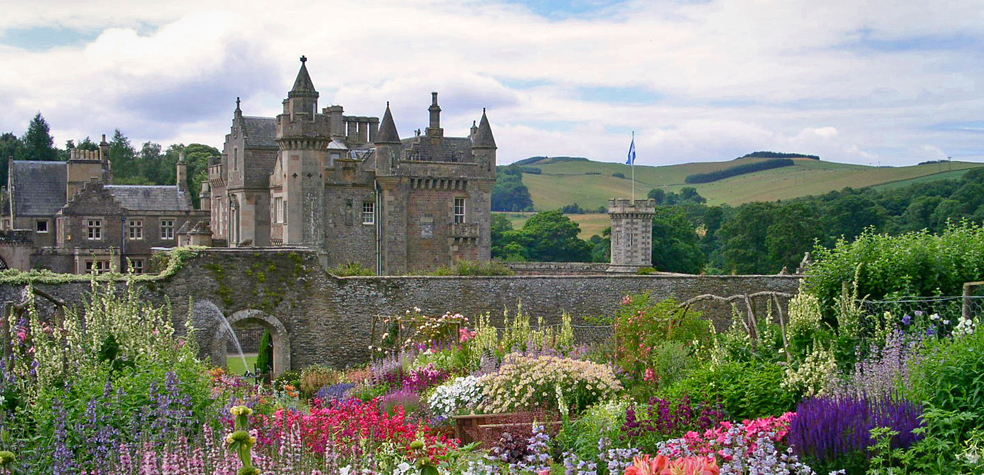 The Silver Travellers have been visiting attractions in the Scottish Borders and Edinburgh. They're looking for great places for a day out that cater for those with limited mobility. Here are some of their highlights.
---
Abbotsford House and Gardens
Sir Walter Scott, one of Scotland's most celebrated writers, owned this house on the edge of Melrose town. This magnificent building displays Scott's personal belongings, beautiful furniture and some of his unusual objects.
The house is open to visitors with different requirements to come and learn about his life and work. The formal gardens are also quite accessible.
Available: disabled car parking, wheelchairs & mobility scooters welcome, wheelchair hire, assistance dogs welcome, respite seating, hearing induction loop, audio tours, large print information available, disabled toilets, concessions
---
Edinburgh Castle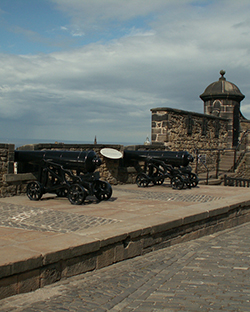 From its position high up on Castle Rock, Edinburgh Castle looks daunting. Yet, much work has gone into making the historic fortress accessible for people with limited mobility.
For starters, it has parking for blue badge holders on the Esplanade (you have to pre-book by phone).
When you arrive, staff will show you where to park before taking you on their mobility vehicle to the Castle. The vehicle can accommodate a wheelchair, there and back.
Inside, there's good access around many of the main sights, such as the Crown Square and The Great Hall. But, you need to be careful with the cobbles and uneven pavements - they can be hard work for walking or pushing a wheelchair!
Available: accessible restaurants, shops and toilets, disabled parking, wheelchair hire, concessions
---
The Scotch Whisky Experience
The Scotch Whisky Experience is at Castlehill on the Royal Mile. The place offers good facilities for people with different requirements.
You get shown round a replica distillery and get to look at the world's largest whisky collection. The tours last 90 minutes, and you can chose from 5 options at different prices.
The building is spacious, giving you plenty of room to move around. There's also a bar, shop and restaurant - all providing full wheelchair access.
The guides are knowledgeable and the tours include printed materials and sensory aromas.
Available: lifts, accessible toilets, transport within the building, some parking
---
Royal Yacht Britannia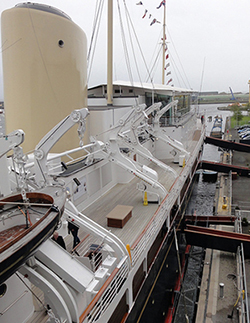 You can visit the Royal Yacht Britannia at the Ocean Terminal in Leith, not far from Edinburgh's city centre.
There are lifts and ramps throughout, so wheelchair users can enjoy tours around the yacht. Some areas are not accessible for some electric wheelchairs, but you can borrow a regular one for free from the visitor centre.
The tours show you round the private living quarters of the Royal Family and the State Rooms. You can see what life is like below deck and view the operational rooms where all the work happens.
The tearoom also caters for gluten- and lactose-free diets, and you can park for free at the Ocean Terminal.
Available: wheelchair friendly toilets, audio tour handsets and tablets in sign language, disabled parking, wheelchair hire, concessions. Assistance dogs welcome
---
Scottish Seabird Centre
The Scottish Seabird Centre is in North Berwick, just 30 miles east of Edinburgh.
It's a treasure trove of interesting information on local marine and birdlife, with interesting displays, films and live webcams. It also has an accessible shop and cafe.
Available: wheelchair access throughout, low-level displays, lifts, respite seating, disabled toilets, limited blue badge parking (ring in advance)
---
Gunsgreen House, Eyemouth
Gunsgreen House is a magnificent mansion with its roots in the smuggling trade. It's reputed to have many secret hiding places for contraband, some of which are waiting for us to discover.
You can learn about the history of smuggling in Eyemouth at the informative exhibition.
Note: Our Silver Travellers got around the property well, but noted that the cellar had uneven paving and poor lighting. There's also no disabled access to the second floor, which holds the upper bedrooms of the house.
Available: disabled parking, lift, respite seating, disabled toilet, concessions
This article was brought to you by our partners Silver Travel Advisor.

Free accessible holidays mini-guide
Our partner Silver Travel Advisor understands the challenges of restricted mobility. Their free mini-guide brings together holiday companies and cruise lines who provide accessible option, along with a selection of accessible places to visit around Great Britain.