Meet 87-year-old John Starbrook: This year's oldest Virgin Money London Marathon runner
By: Age UK
Published on 17 April 2018 09:00 AM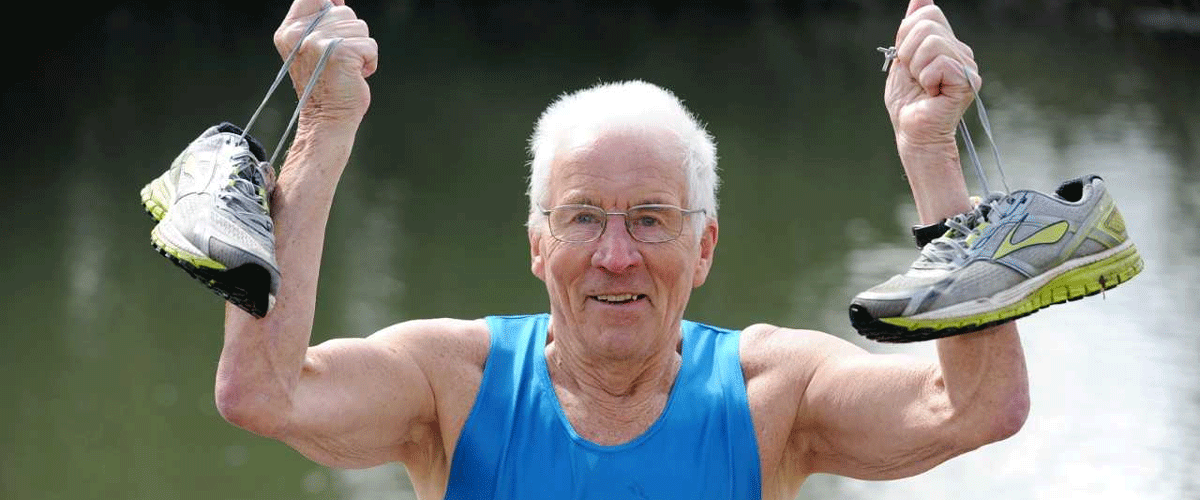 Age UK fundraiser, John Starbrook, will be the oldest runner at the 2018 Virgin Money London Marathon. Aged 87, John will be taking on the prestigious London event on Sunday, 22 April for the 33rd time.
John, who began running for Age UK back in the '80s when he was aged 53, has raised an incredible amount since then, hitting more than £40,000.
Do you want to support John's fundraising?
Visit John's Virgin Money fundraising page
John, who turns 88 in September, is grandparent to four grandchildren along with his wife, Judy, of 54 years. He is a member of a local running club and is also a keen swimmer and gym-goer.
I've always loved sports and I've been active since a young age. I've also done sky dives in between marathons – it's all a bit of fun!
John said: 'I'm so pleased to be this year's oldest runner. I'm really looking forward to Sunday, it means a lot to me to be doing this for Age UK – they do brilliant work and they've supported me so much in everything I've done.
'I love doing events like this, they keep me fit and healthy and even better it's all raising money for something that's so important to so many people.'
Caroline Abrahams, Charity Director at Age UK, said: 'We're so honoured to have John running for us - he's a huge inspiration. Keeping active in older age is so important and John is doing just that. Marathon running isn't for everybody but there are plenty of other things we can all do to keep moving whether it's walking, dancing, gardening – the list is endless, as are the benefits.
'John's an incredible fundraiser and we are so grateful for all the support he has given Age UK over the many years – we can't wait to cheer him and all of our fantastic runners along on the day!'
'Good luck to you all!'
John shares his good luck messages with everyone running for Age UK.
How John's fundraising helps
The money raised by John and the charity's other fundraisers will help Age UK tackle the barriers many older people face in living well and enjoying their later lives. Principal among these are the loneliness and isolation that make life so miserable for millions of older people every year.
Age UK helps make lives better for older people in all sorts of ways. The charity provides essential information and advice, and supports vital services such as friendly telephone calls, weekly visits and social activities like lunch clubs, exercise classes and tea-dances.
When an older person has nowhere to turn to for friendship and support, the Age UK network offers advice and the chance to get out and about in the local community, all of which play a crucial part in helping make later life better.
Want to know more?
Visit John's fundraising page to support his fundraising efforts or head over to our Virgin Money London Marathon page for updates for the race weekend.