Cyclone Idai Appeal
Published on 25 March 2019 10:49 AM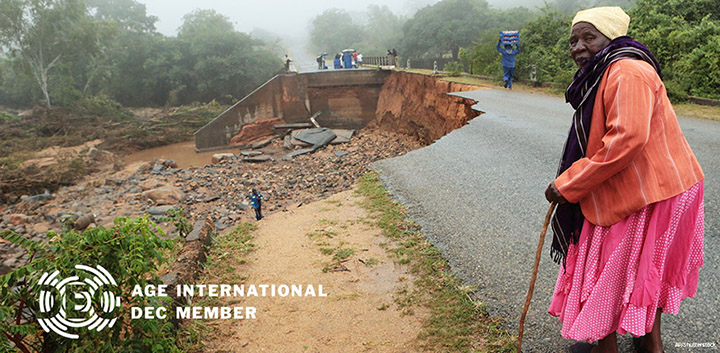 Age International provide support following Cyclone Idai
On 15 March 2019 a tropical cyclone hit Mozambique, Malawi and Zimbabwe.
At least 2.6 million people have been affected by the damage and devastation it has left in its wake. Hundreds are missing, villages have been cut off from the mainland by floods, farmland and livestock have been destroyed or swept away.
There is a real and desparate need for clean water, food, and shelter.
Age International are working with the Disasters Emergency Committee to identify vulenrable and isolated people over the age of 60 in Malawi and Mozambique. They will be supplying solar lamps, water purification kits, shelter building tools and materials, and aid to help buy food and medicines.
Older people are more vulnerable to the cold and to water-borne diseases such as cholera. Many have mobility issues that mean they cannot travel long distances easily, or carry heavy aid packs. Age International recognise the importance of taking aid to people, and making sure that it is the right kind of aid.
You can make a difference
Follow the link to donate to the Cyclone Idai Appeal