Age UK Mid Devon offers a free and confidential information and advice service for older people, their families and carers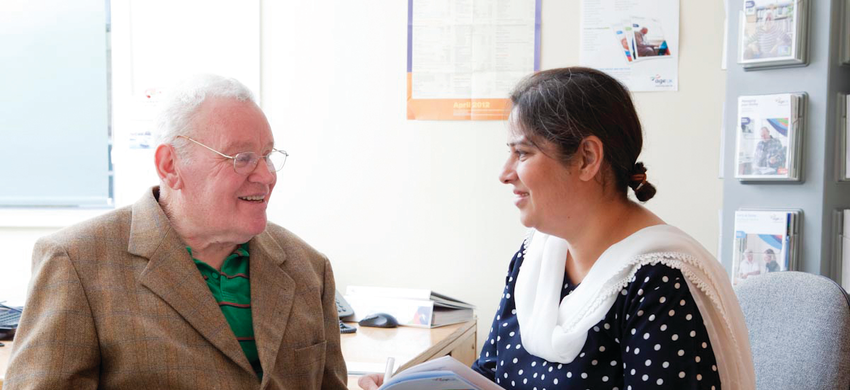 Our Information & Advice service offers free, impartial advice on a wide range of issues, providing you with easy access to information and support, and enabling you to make informed decisions. Our trained advisors are able to support you with financial matters, such as checking or applying for benefits and pension advice, social care, finding a care home or support in your own home, and information about local services, leisure and education.
How to access the service
You can access our Information and Advice service in a number of ways, including at one of our drop-in centres.
By phone: 01884 242052
By email: enquiries@ageukmiddevon.org.uk
At our office: book an appointment by phoning 01884 242052
Home visits can be arranged by request.
Our Information & Advice officers are available Monday to Friday, 9am to 2pm.
Drop-in opening times:
Information & Advice can also be accessed at our drop-in centres:
Tiverton Town Hall on Tuesdays and Wednesdays, 9:30 am - 12:30 pm
Cullompton Integrated Centre for Health (College Surgery) on the last Thursday of the month 9:30 am - 12:30 pm
Frequently asked questions
To help you get an idea of the sort of issues we can support you with, there is a list of enquiries we are often asked below.
What will happen to my house if I have to go into care?
I'm having difficulty with day-to-day living. Is there any extra money I can claim?
I'd like to go out more. Is there anything going on that I can join?
I'm looking after my Mum - its getting too much, where can I go to get help?
How is care at home paid for?
The answers to questions like these depend on indivual circumstances. If you have questions like these, or any other queries, please contact us on 01884 242052
Financial and Legal Surgeries
We can also offer an appointment at our Financial or Legal Surgery - this is a free half hour session with a qualified professional, taking place in the office at the Haven Centre. Attendance is by appointment only.
Please call 01884 255369 or 01884 242052 for more information
Make an enquiry
Follow the link to a brief form, and one of our advisors will get back to you. Alternatively, call us on 01884 242052
Free booklets and online information
Age UK produces free information guides and factsheets on a wide range of topics, including home adaptations, dementia, and advice for carers. You can find a complete list of guides and factsheets below.

If you prefer to read information online, the Age UK national website has information and advice on many topics, including how to find a care home, how to avoid scams, and Power of Attorney.
Health & Care Videos
If you have questions about health or care, you might find our online library of short instructional videos helpful
Statement of Service
You can download our full Statement of Service here, which outlines everything we offer and what will happen if we are unable to advise you.
Other information you might find useful