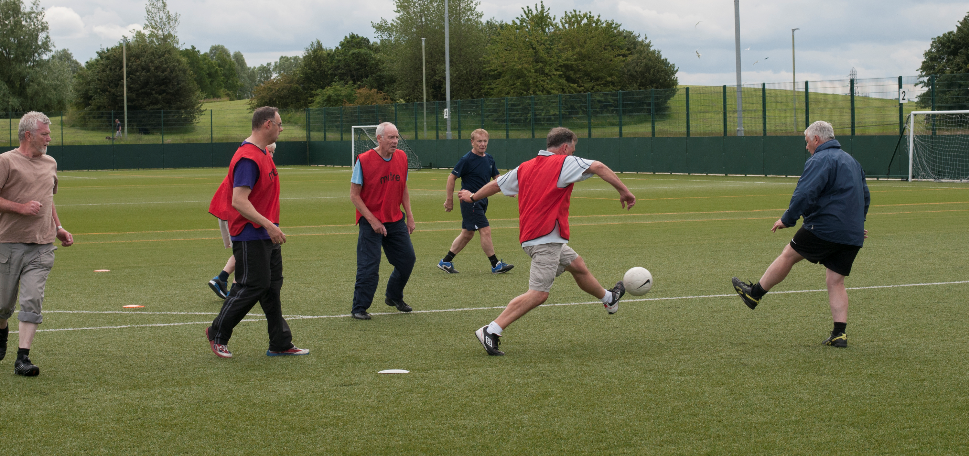 Walking football is a great way for men and women over the age of fifty to stay active and keep fit, and offers both a gentle way to exercise and an opportunity to socialise
It is an informal and accessible form of the game – the crucial difference being that if anyone runs with the ball, they must concede a free kick to the other team. This more leisurely approach to football reduces the risk of injury and produces less stress on the body, whilst still bringing all the benefits of sustained physical activity.
Walking football can help to strengthen muscles and bone, and is good for cardiovascular systems – helping to lower blood pressure and heart rate, and improving the bodies' ability to absorb oxygen.
Because your mind is on the game and your attention is elsewhere it doesn't even feel like a workout, and for the players is much more about just enjoying playing the game.
Skill levels and ability don't matter – the complete novice can enjoy playing as much as someone who has played for years, but find they will benefit from the slower, more measured pace of walking football.
Age UK Mid Devon currently runs a walking football group in Uffculme.
Anyone over the age of fifty is welcome to join our Walking Football group - no need to register, simply turn up and play.
Magelake Culmstock Road Uffculme EX15 3DP
On the first Thursday of each month, 11:15-12:30
£3.00 per session
Related links
Links to information on other websites