Attendance Allowance campaign
Plans to pass responsibility for Attendance Allowance to local councils put this vital support for older people under threat.
Thank you to everyone who supported our campaign to stop this from happening - it has helped to protect the future of this benefit for thousands of older disabled people.
---
What is Attendance Allowance, and why does it matter?
As we get older, many of us will find ourselves having to cope with illness and disability. And very often this comes with a higher price tag for things like specialist food, equipment, clothing, and paying for transport to get out and about.
Attendance Allowance is a weekly payment that helps older disabled people meet some of the extra costs they face. It's a vital means of support that allows hundreds of thousands of older people stay healthier and independent in their own homes, without having to turn to local authority social care for help.
The choice is mine
Our campaign report explains why Attendance Allowance is so important to older people.
---
Why was Attendance Allowance under threat?
Like other disability benefits, such as Personal Independence Payment (PIP), Attendance Allowance is managed nationally by the Department for Work and Pensions (DWP). But the Government proposed passing responsibility for Attendance Allowance to councils, which would create a postcode lottery of support for older disabled people and put the future of the benefit under threat.
As well as taking away the freedom for older disabled people to decide what help they need to maintain their independence, we were worried that council budgets wouldn't be able to keep pace with the needs of their ageing populations. And this would have meant many older people who become disabled in future could be left to struggle by with less help or even no support at all.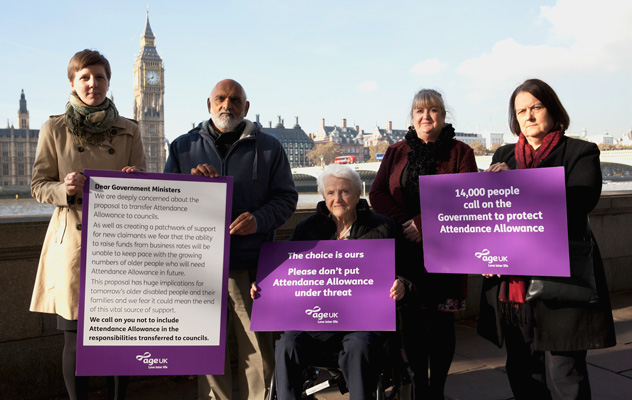 On 16 November 2016, we delivered an open letter to the Government, signed by more than 14,000 people. This letter voiced your concerns about the proposals and called on the Government to protect Attendance Allowance. More than 2,000 of you also emailed your MPs asking them to call on the Government not to go ahead with the changes.
Local Age UKs also worked incredibly hard to represent the voices of older people in their areas and discuss the issues with their MPs in their area about the impact changing Attendance Allowance would have on older people locally.
All of this sent a strong message to the Government, and on 19 January 2017 the Secretary of State for Communities and Local Government, Sajid Javid, announced that Attendance Allowance will not be transferred to councils.
A massive thank you to everyone who helped support our campaign - we couldn't have achieved any of this without you.