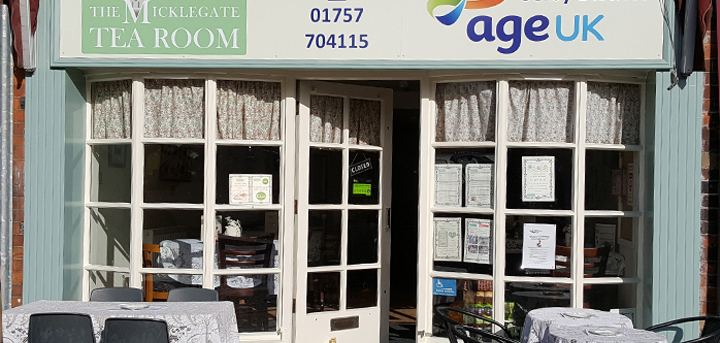 Whether you need a well deserved cuppa after doing your shopping, you're a mum with a toddler who fancies a treat or you just want a tasty takeaway from the mouth-watering menu, then Age UK Selby District's Micklegate Tea-Room is the place to be.

Located at 53 Micklegate, Selby, opposite Age UK Selby's main charity shop and offices you can be sure of a warm and friendly welcome from manager Maureen Greaves and her staff.

They serve fabulous afternoon cream teas – some say the best in town – and can cater for individuals as well as small groups and parties which need to be booked in advance. You can contact Maureen Greaves on 01757 704115

The tea-room is open 10am to 4pm Monday to Saturday and always has an excellent selection of sandwiches, cakes and much, much more.

If you'd like to keep up to date with what the Tea Room is doing then join their Facebook page or take a look at the menu link below – breakfast or lunch, Micklegate Tea-Room has something for everyone.

If you'd like to keep up to date with all the information about our new Tea Room. Join the Tea Room Facebook page.
View our delicious menu
Toast (2 slices)

£1.00

Toasted teacakes

£1.50

Crumpets(2)

£1.50

Scrambled eggs on toast

£3.00

Porridge

£1.50

Beans on toast

£2.50

Soup, bread & butter

£3.00

Jacket potato with butter

£3.00

Jacket potato with additional cheese, beans, tuna or ham

£3.50

PANINI

TOASTIES

Ham

£2.75

Ham

£2.50

Ham & cheese

£3.75

Ham & tomato

£2.75

Ham & tomato

£3.00

Ham & cheese

£3.50

Cheese

£2.50

Cheese

£2.25

Cheese & onion

£2.75

Cheese & onion

£2.50

Cheese & tomato

£2.75

Cheese & tomato

£2.50

Tuna & cheese

£4.00

Tuna & cheese

£3.50

SANDWICHES

SALAD

Ham

£2.25

Ham

£2.75

Ham & tomato

£2.50

Tuna

£3.25

Ham & cheese

£3.00

Cheese

£2.50

Tuna mayo

£3.00

Cheese

£2.00

CAKES & SCONES

Cheese & onion

£2.25

Cream scone

£2.45

Cheese & tomato

£2.25

Fruit scone

£1.75

Cheese salad

£2.75

Fruit cake

£1.75

Ham salad

£3.00

Toffee or Lemon drizzle slice

£1.75

Tuna salad

£3.50

Assorted cakes

£2.45

COFFEES

TEAS

Small Pot of Coffee

£1.95

Small Pot of Yorkshire Tea

£1.30

CafetIere (2 cups)

£2.50

Medium Pot of Yorkshire Tea

£2.30

CafetIere (4 cups)

£4.50

Large Pot of Yorkshire Tea

£3.30

Americano

£1.75

Small Pot of Flavoured Tea (various available)

£1.40

Cappuccino / Latte

£1.95

SOFT DRINKS

HOT CHOCOLATE

Bottled water

£1.00

Plain

£1.75

Cans

£0.85

With Cream & Marshmallow

£2.00

Milk

£0.75

SNACKS

Fruit Shoot

£0.65

Crisps

£0.60

Squash

£0.55

Chocolate bars (small)

£0.30

Fresh juice (bottle)

£1.50

Biscuits (packet)

£0.50
To enquire about Micklegate Tea Room please contact Maureen Greaves on 01757 704115