The Martlesham Heath Woolly Wonders.
Published on 22 July 2019 12:58 PM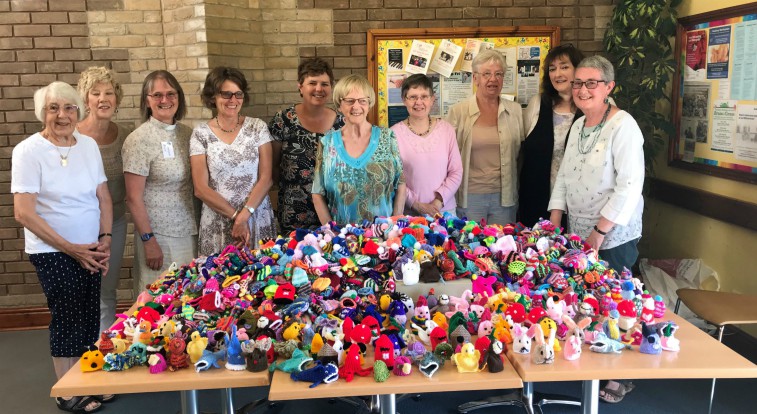 We would like to say a BIG thank you to Lydia, Rachel and their fellow knitters who attend the Martlesham Heath knitting group the Woolly Wonders.

The group have been taking part in the Innocent Big Knit campaign and have made over 3000 knitted hats. Each hat raises 25p for Age UK Suffolk and their total raises £750. These hats will go onto Innocent drinks bottles and will be in various shops and supermarkets in October 2019.

A special mention must go to Gill who has made 2500 hats! Gill finds the knitting 'relaxing' and it makes her 'feel good.'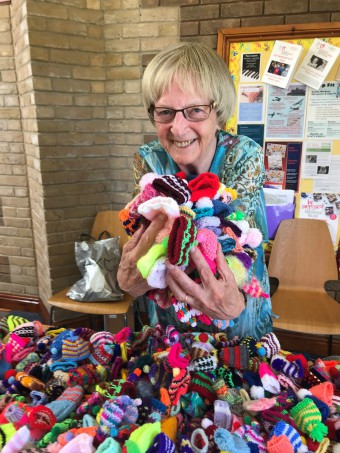 The group has recently celebrated its fifth birthday and meets on a Thursday morning from 10am – 12 at the Runway Café, Martlesham Heath. From starting with five members they now have over 20. New members are always welcome and a recent joiner travels from Copdock to enjoy the knitting, chat and refreshments the group and café offers.
We are very close to meeting our target of knitting 25,000 hats. If you have any hats at home please get them back to us by 26th July 2019.
For more information contact the Fundraising Team on 01473 298683