Slip into Slippers!
Published on 30 September 2019 03:00 PM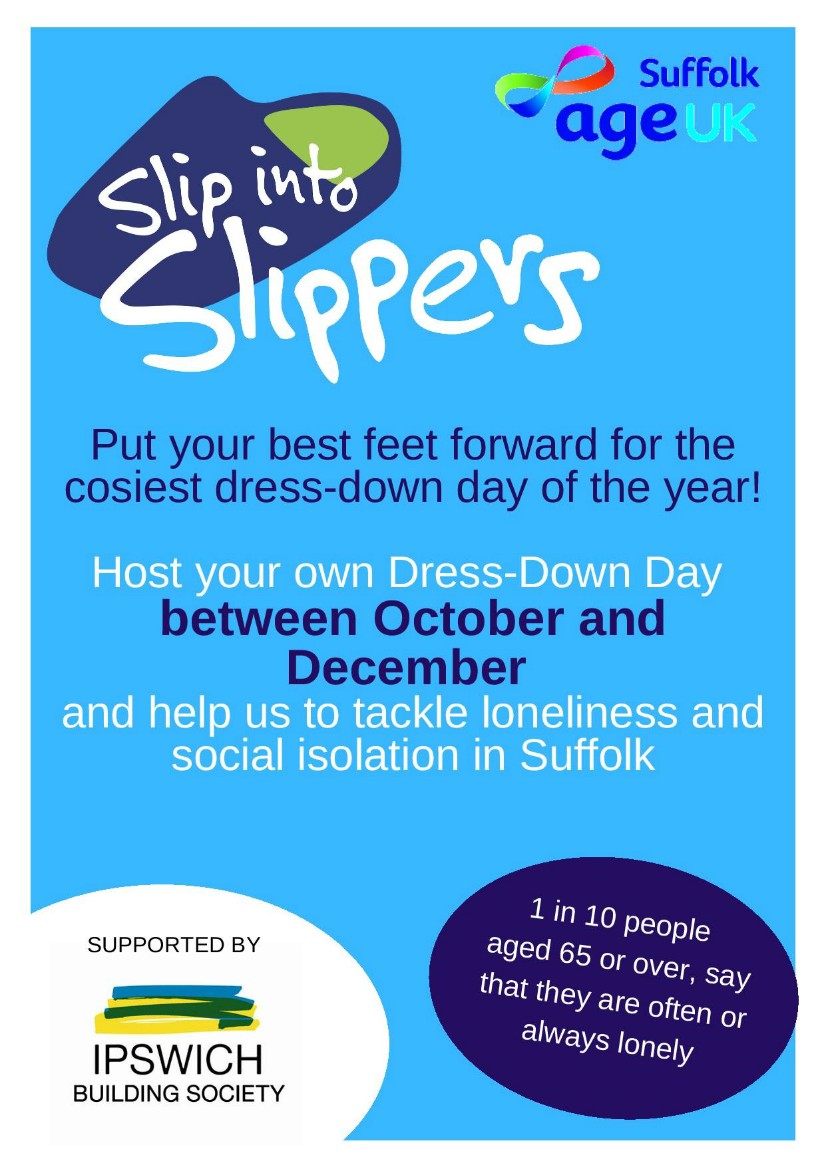 We are calling for people across the county to don their slippers or pyjamas for the day, anytime between October – December, and help to raise funds to support services for the older people of Suffolk.
Slip Into Slippers has become an annual fixture in our fundraising calendar and is a simple way of pledging support to the vital work that we carry out, tackling loneliness and social isolation both now, and for older people in the future.
Supported by Ipswich Building Society, Slip Into Slippers is essentially a "themed dress down day" with a difference – encouraging people to simply donate £1 in their workplace, school, social group, or even at home as an incentive to don their comfiest clothes for the day.
Jo Reeder, Head of Fundraising & Marketing for Age UK Suffolk said "We understand the demands on organisations to support charities, and wanted to create a campaign that was easy to take part in, and could be tailored to the individual, workplace or school. Slip into Slippers is a fun, simple and rewarding way of supporting a local charity and raising awareness of the needs and challenges of older people".

Why does your fundraising make a difference?
£50 could pay for a telephone befriender for one year, providing friendship and support through a weekly call to a lonely older person.
David says "She's a very nice woman to talk to. No matter how long I go out for, I come home and I am still alone - regular calls help that"
Making your fundraising fun!
Wearing your slippers and pyjamas for the day is great fun, but there are lots of other ways you can get involved too:
Guess who's slippers
Slipper bake sale
Sweepstake
Slipper hunt
Slipper selfies
We can send you posters, stickers and ballons to help you in your fundraising efforts.
Tell us about your plans
We'd love to hear about your fundraising plans. Tag us and share pictures through social media @ageuksuffolk and we'll share with our networks too!
Whilst Slip Into Slippers is a fun event to take part in, we recognise that there can also be health & safety implications to people wearing their slippers for the day, and would urge people to check with their workplace or school to ensure that there are no additional risks in doing so.
If your school, business, community group or household would like to take part in this year's Slip Into Slippers campaign contact our Fundraising Team:
Email fundraising@ageuksuffolk.org, or call us 01473 298688.