31 Day Challenge Exercise2Energise
Published on 01 May 2020 11:31 AM
So, who's up for a Challenge? We have created a 31 Day Exercise2Energise Challenge for the month of May, supporting our Good Day Calls Emergency Appeal.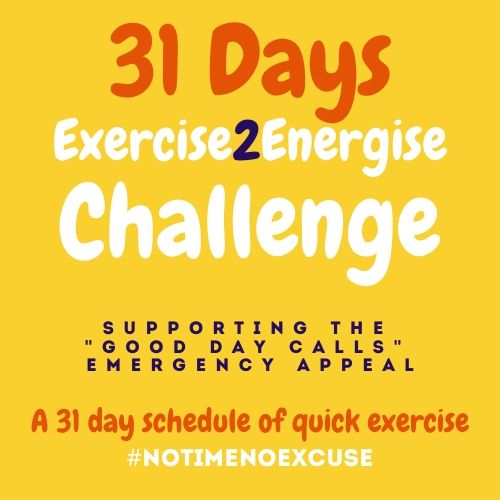 We will suggest a simple a daily exercise challenge, each taking no more than 30 minutes - ranging from yoga to arm workouts, walking to a 10 minute Bootcamp challenge.
All we ask is that for each activity you complete, you make a donation of a minimum of £1 to our appeal - and if you can, share a picture of you doing your challenge through our Facebook, twitter or Instagram page using the hashtag #31gooddaychallenge #notimenoexcuse
Of course, if you want to mix and match the challenges to suit your lifestyle, that's fine too!