Good news stories from our "Good Day Calls"
Published on 07 April 2020 04:18 PM
The statistics behind our appeal...
Out of the 758,566 people living in Suffolk, 176,063 are aged 65 and over, this is our 'most vulnerable' age group; the people we have been called upon to most 'shield' from COVID-19.
We already know that around 17,000 of people aged 65+ say that they are "often or always lonely. That was before the COVID-19 pandemic…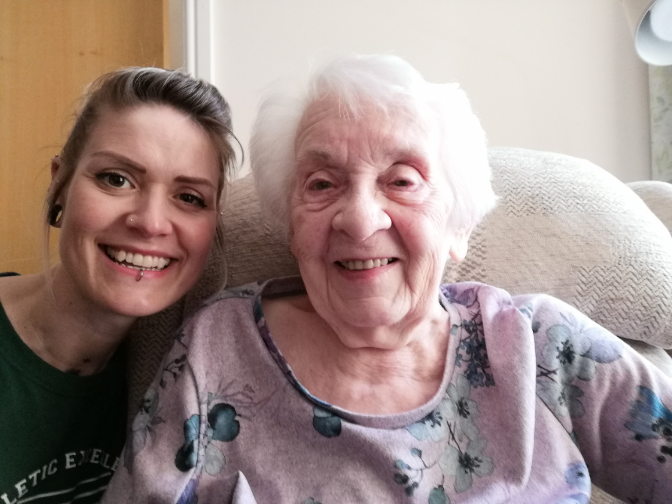 Marjorie will no longer be able to have Abbie visit her face-to-face because of the social distancing in place to shield those who are most vulnerable. However, Abbie will be able to continue with regular contact, albeit by telephone instead.
In Marjorie's own words: 'You have to accept what happens don't you? We must all adapt and adjust.'
In these difficult times for everyone, older people in our communities are being faced with the reality of no social contact for an extended period of time.
The picture shows Abbie visiting Marjorie on her 94th birthday at the beginning of March
With your help, our "Good day calls" are really making a difference!
We aim to provide "Good Day" calls to older people across Suffolk - existing clients and those who contact us during this time, through our telephone befriending service. We want to ensure that any older person who is struggling, will receive a regular call from a DBS checked and suitably-matched befriender.
Brian, one of the regular Kesgrave Chinwaggers (of whom there are 97 at the last count!) received a call from Tracey in our Fundraising Team, "Thank you so much for all the information. We are lucky to have such a caring team. Take care, stay safe."
Another grateful Chinwagger, this time from the Needham Market group, was also grateful of the call and said it was 'a lovely thing for Age UK Suffolk to be doing at this time.' Christine, a lady for whom we are shopping, joined in with the praise saying: "I hardly know you and you have done so much for us already".
Whilst we are not running the Chilton Day centre in its usual physical way, we are keeping a virtual service going with regular calls to our guests and carers. A wife of a client who attends 5 days a week said "Just knowing you're still there even if he can't be makes it easier". A local school who have formed a lovely relationship with our Day Centre have emailed letters and messages to our clients to pass on "to bring them a little company"
Following our coverage on BBC Radio Suffolk, a radio guest talking about an Age UK Suffolk telephone befriender said: 'It's so wonderful to speak to someone while my husband is in a residential care home'.
The Suffolk community is certainly right behind us, as Rachael, an Illustrator who produces some fantastic artwork for us including Bruce the good day-o-meter told us: "Age UK Suffolk is right at the front line helping the vulnerable at the moment at this time, never has the cause been more relevant. Well done. I clapped for you and the team on Thursday night"
The welfare calls are resulting in recipients requesting all sorts of services from us which we would never have thought of specifically offering, but have made all the difference to the daily lives of those needing them. Here's one experience from CEO, Andrew Gardner, who regularly calls a local couple:
'Over Easter I made a call to a lovely couple. When I first spoke to them they had a food delivery scheduled but were really worried that they had a full sharps' box and the local GP surgery had told them to come and collect another one. They don't have access to transport and didn't want to go out, other than for an essential hospital appointment.
On Easter Monday, thanks to our community contacts, they got an empty sharps' box.
I've been checking on them every day and they told me that I was the only person who cared about them because I called them regularly.
This is a constant reminder for me of why we do what we do.'
Our Befriending service is seeing a 40% increase in requests for telephone befrienders.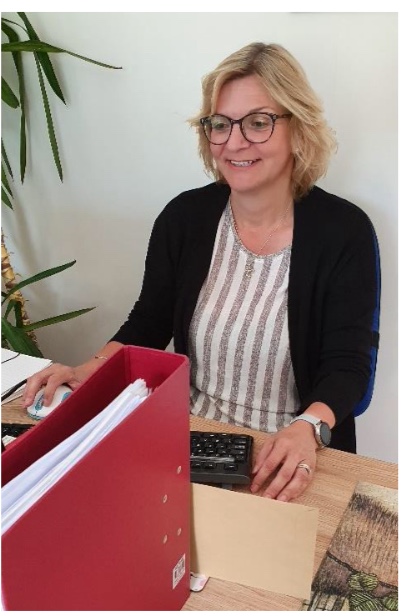 As COVID-19 took hold, it was clear that visiting befriending would have to be suspended and telephone befriending would take it's place until face to face contact is possible once more.
Our Befriending team have been working tirelessly behind the scenes to make sure that our existing clients are being looked after, and all new enquiries are suitably matched with a DBS checked volunteer.
Our team have some amazing conversations and have been talking about the recent VE Day celebrations, and how hard it was hearing the old songs which bring back recollections for many of our clients.
One client recommended a 1989 Barry Manilow song – 'When the good times come again' and how perfect it is for now.
We couldn't agree more.
To find out more about Befriending call our team on 01473 353061
To find out about becoming a volunteer call 01473 298684
Thank you so much to everyone who has donated to our emergency appeal so far.
Please help us to raise £33,000 each month to support older people.