Suffolk Scouts Sunflower Challenge
Published on 01 June 2020 02:16 PM
We are delighted to announce a brand new partnership between Age UK Suffolk and Suffolk Scouts.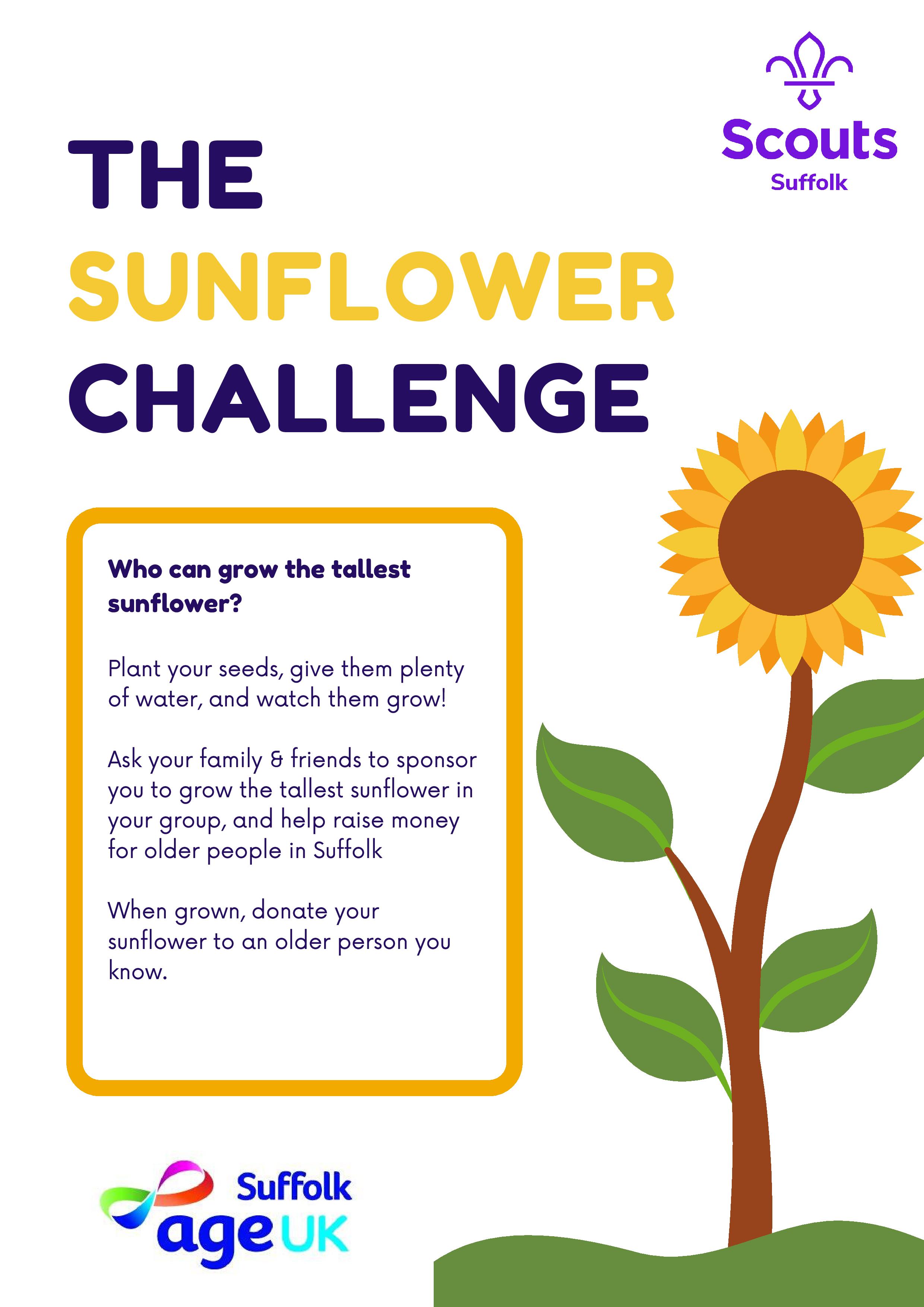 We often hear about how important it is to recognise the value of intergenerational engagement, and Age UK Suffolk and Suffolk Scouts together, are keen to encourage this, particularly through the difficult times we are now facing.
With the country starting to think about a "new normal", the reality is that for many thousands of older people, this could be a while away. Older people are by nature of their age, in the more vulnerable pockets of our society and could face longer periods of time in their own homes, or with restrictions in going out and about – and this contributes to an already desperate problem in Suffolk around loneliness and social isolation.
Since the very start of lockdown, we have been focusing on not only improving the lives of older people across Suffolk, but also reacting to current need by launching an Emergency Shopping Service and Good Day Calls services.
To help raise funds to support these activities, we are partnering with the Suffolk Scouts to launch the Suffolk Scouts Sunflower Challenge
We are encouraging Suffolk Scouts of all ages, of which there are over 6,000 in Suffolk, to take part in a simple growing challenge – to plant, grow and measure their own sunflower. Once the sunflower is fully grown it can be donated to an older person they know, or who lives in their local community. Scouts will be encouraged to raise sponsorship per centimetre of growth for their flower, and will be supported with regular tips and useful facts to help them on their way.
To help the scheme to get started, the East of England Co-operative Society will donate a packet of seeds to any scout showing their badge in one of the stores listed below:
Holbrook - The Street, Holbrook, Ipswich, Suffolk, IP9 2PZ
Hadleigh - 72 High Street, Hadleigh, Ipswich, Suffolk, IP7 5EF
Wickham Market - 14-18 High Street, Wickham Market, Woodbridge, Suffolk, IP13 0HE
Framlingham - Market Hill, Framlingham, Suffolk, IP13 9AN
Aldeburgh - 8 Saxmundham Road, Aldeburgh, Suffolk, IP15 5JD
Leiston - Sizewell Road, Leiston, Suffolk, IP16 4AE
Capel St Mary - The Street, Capel St Mary, Ipswich, Suffolk, IP9 2EB
Combs Ford - Combs Lane, Combs Ford, Stowmarket, Suffolk, IP14 2DA
Elmswell - Ashfield Road, Elmswell, Suffolk, IP30 9HG
Sean McLaughlin, Head of Commercial Retail at East of England Co-op commented:
"We love supporting projects that encourage co-operation in our community, and this is a great example. Now more than ever we need to encourage people to support each other, and we're pleased we could play our part in this by making a donation to this fantastic project."
For more information about the Sunflower Challenge call Jenny on 01473 298688 and for scouting information call Keith Gleen on 07843 211922