Make a donation - "Good day"calls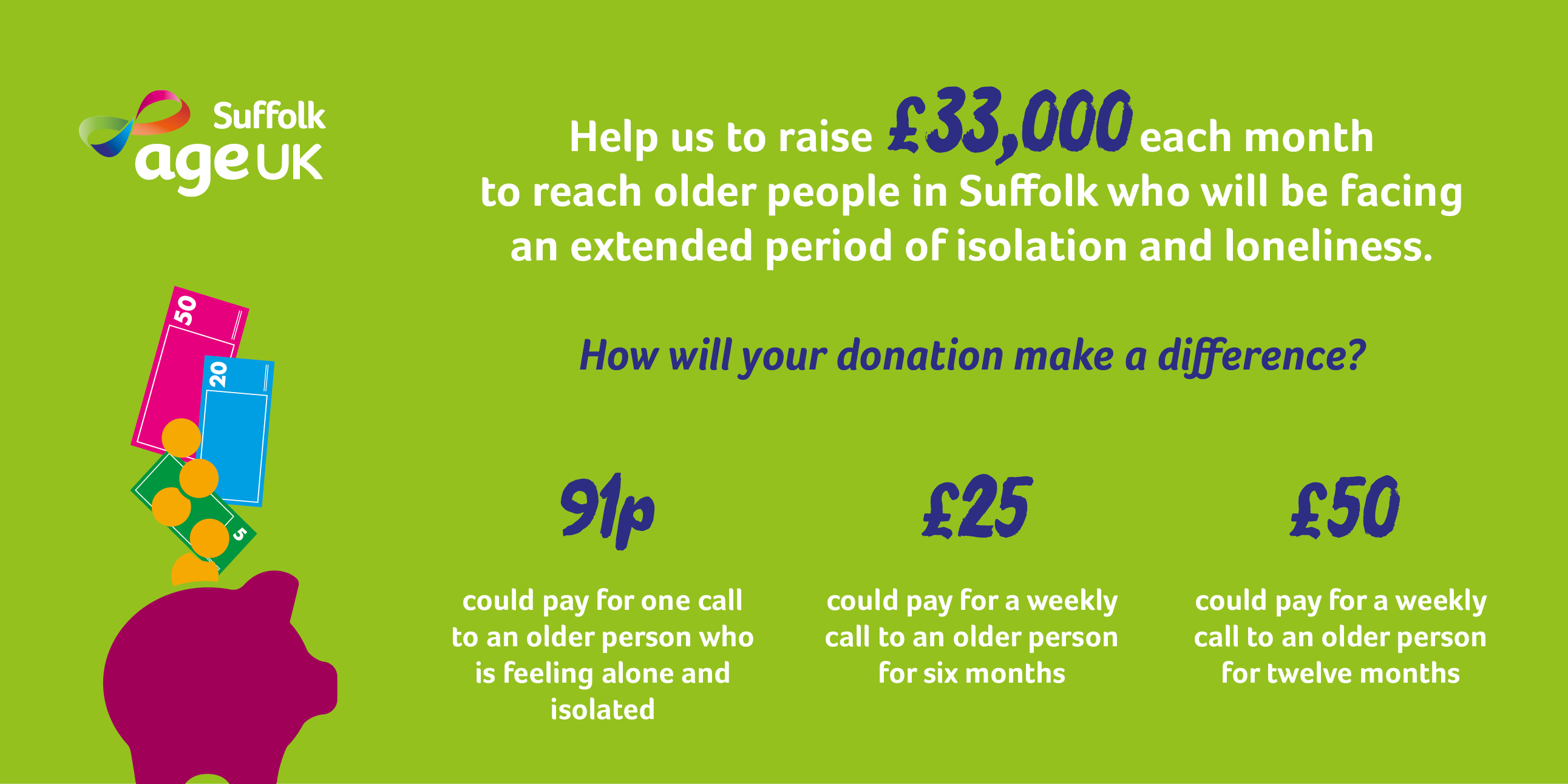 We need your support NOW to make sure we can help any older person who needs us through a regular "GOOD DAY" call. This means checking in to make sure they are okay; have everything that they need and often, simply for a chat.
We are also supporting people with shopping delivery and prescription collection.
Emergency Fundraising Appeal - "Good Day" calls
Every single one of us is affected by the current COVID-19 pandemic – but for many older people across Suffolk, social isolation is a daily reality.
There are over 170,000 people aged 65 and over in Suffolk - and we know that on a daily basis, 17,000 of these people are affected by social isolation - that was before the current crisis - this number is going to increase enormously, at levels never experienced before.
In these difficult times for everyone, older people in our communities are being faced with the reality of no social contact for an extended period of time, often alone in their home and sometimes living with additional health conditions. The wellbeing and health of older people is at the very core of our being, and our staff and volunteers are working hard to ensure that we can extend our support to those that need it over the coming weeks and months.
Our core services - Information & Advice, Befriending and Home Help - are already stretched and we are already seeing an increase in calls – nationally there has been an increase of 30% of calls to Information & Advice and 40% of calls to Befriending – we expect this to be the same, if not higher in Suffolk.
How you can help
The ask is simple – please DONATE whatever you can to make sure that older people in our communities are supported through these difficult times.
Age UK Suffolk's Information & Advice and Befriending services are free of charge to everyone over the age of 65 in Suffolk and in normal times, would be supported by the income generated through our Home Help and Day Care services – this is no longer the case – quite simply, we have never needed your help more.
All of the money raised through this Appeal will go directly towards supporting the immediate needs of older people across the county – however large or small, every penny will make a difference.
If you would like to make a substantial donation towards the work of Age UK Suffolk, please contact Andrew Gardner, CEO on 07979 741552 or Jo Reeder on 07885 512210.
"It's great to have someone to confide in and have a laugh together. Seen me through some tough times"
"Even though the call was only an hour I felt like we had become friends"
"I felt tons better after the call"
Quotes from our Befriending clients
Contact the Fundraising team for further information