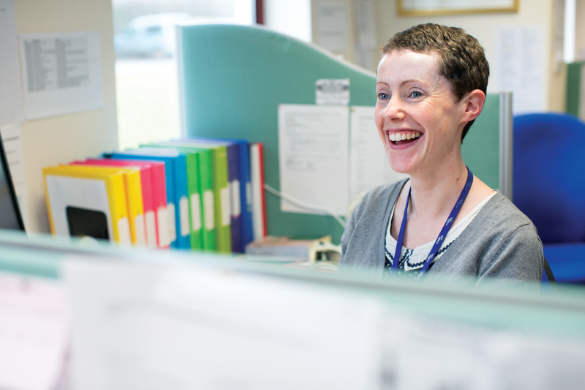 Age UK Suffolk is a great place to work. Could you bring your skills to our team?
See our latest vacancies below.
Trustee Vacancy - This is a voluntary position
We are looking to strengthen our Board with new Trustees who have proven and significant achievements on their work areas. In particular, we are seeking to increase our expertise in Finance, Fundraising and the Care Industry however we would also be interested in applications from individuals who have previously held Trustee/Board positions or feel they have relevant experience to offer.
As the population of older people in Suffolk grows, our services are needed more than ever so you will have an opportunity to make a difference when it is needed most. As a Trustee you will oversee the performance of the charity during challenging times
and use your knowledge and expertise to help drive forward our strategy to ensure the charity is able to meet the growing needs and challenges facing our ageing population.

Please do not hesitate to call Cathy Paxon directly if you wish to speak to an existing Trustee or if you have a question about the selection procedure on 01473 298681.
Home Service Assistants
Due to expanding the Home Service we are currently looking to recruit in Woodbridge (IP12 ) and Felixstowe (IP11).
Location: Variable and as allocated by the local Co-Ordinator
Salary: £8.22 per hour (plus travel time and 40p per mile mileage)
Status: Part-Time. 4-12 hours per week. Flexible hours available dependant on our needs.
We need caring people to join our Home Service team delivering domestic support involving general housework, shopping and laundry to older people in their own home. The service is offered Monday to Friday 9am to 5pm. You must have a friendly manner and your own transport. There is no personal care involved.
There is no closing date for this application.
Home Services Area Co-ordinator
Location: Based in Claydon
Salary: £11379.55 Pro Rata
Status: Flexible working hours - 25 hours per week
We are looking for someone to assist the Area Leader in ensuring the smooth running of the patch, alongside other Area Co-ordinators, in the hub office. To ensure the effective deployment of Home Service staff, arranging holiday and sickness cover appropriately.
Ensuring that Home Service staff pay and client invoicing are processed in a timely and efficient manner. To deal with client enquiries and quality calls in an efficient, professional and pleasant manner providing customer focused service at all times.
Closing Date: 7th November 2019
Interviews likely to be: w/c 18th November 2019
For more information please contact:
HR Department
Phone: 01473 353528
Email: recruitment@ageuksuffolk.org
Age UK Suffolk
HR Department
14 Hillview Business Park
Old Ipswich Road
Claydon
IPSWICH
IP6 OAJ
We have a wide variety of volunteering opportunities
Volunteering is very rewarding - you can make new friends and learn new skills.
General Data Protection Regulation
Age UK Suffolk take the privacy of applicants very seriously and is committed to high standards of data privacy, security and transparency. We are reviewing all of our systems and policies to comply with the GDPR Regulation 25th May 2018.
When you apply to us for a job we need your personal details to assess your suitability for a role. We also ask that you complete monitoring forms which are separate to the recruitment process. We process this data which allows us to monitor the way we attract and recruit staff. We will only use this information for the purpose requested as explained above. We keep applicant details securely in HR for 6 months after application and after this records are shredded or taken to confidential waste collection.