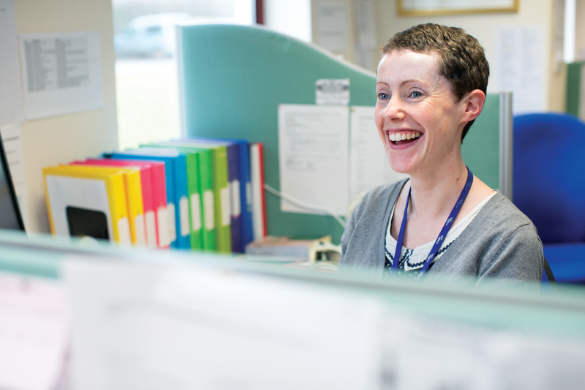 Age UK Suffolk is a great place to work. Could you bring your skills to our team?
See our latest vacancies below.
Client Services Director
Based in Claydon, Ipswich
35 hours per week
Salary circa £45K
Age UK Suffolk is embarking on a programme of radical transformation which will mean significant changes to the way it provides services to older people in the future. The Client Services Director will lead on the development and ongoing management of services for older people working closely with the Chief Executive Officer and Finance and Management Services Director to drive the charity forward.
The post holder will contribute fully to the development of strategy across all areas of the Charity, challenging assumptions and decision-making as appropriate and providing service-led analysis and guidance on all activities, plans, targets and business drivers.
The post holder will be a key member of the senior management team and is expected to bring a modern, business-like approach to the leadership of the client facing services ensuring impact and outcomes are demonstrable, achieving income targets for fee paying services and ensuring costs are kept within agreed budgets, whilst ensuring the needs of older people are being met and acting as the Safeguarding Lead for the Charity
Closing date: 4th March
Interviews TBC
Home Service Assistants - No personal care
We are looking for Home Service Assistants to offer domestic support and companionship.
We are currently recruiting in Botesdale (IP22).
Please note client hours may vary and that it may take time to build up a work schedule.
If you are looking to make a difference to older people in your community, why not become a Home Service Assistant? Weekdays only, no evenings and no personal care involved.
Hourly rate £8.22 plus travel time and holiday pay.
We offer flexible hours, so tell us about the hours you can offer.
Working usually within a 5 mile radius of your home, own transport is preferred.
You will be working for Age UK Suffolk, a trusted charity, supported by an office based team.
Together we are making a difference to the lives of older people in your community.
Closing date 28th February 2020
For more information please contact:
HR Department
Phone: 01473 353528
Email: recruitment@ageuksuffolk.org
Age UK Suffolk
HR Department
14 Hillview Business Park
Old Ipswich Road
Claydon
IPSWICH
IP6 0AJ
We have a wide variety of volunteering opportunities
Volunteering is very rewarding - you can make new friends and learn new skills.
General Data Protection Regulation
Age UK Suffolk take the privacy of applicants very seriously and is committed to high standards of data privacy, security and transparency. We are reviewing all of our systems and policies to comply with the GDPR Regulation 25th May 2018.
When you apply to us for a job we need your personal details to assess your suitability for a role. We also ask that you complete monitoring forms which are separate to the recruitment process. We process this data which allows us to monitor the way we attract and recruit staff. We will only use this information for the purpose requested as explained above. We keep applicant details securely in HR for 6 months after application and after this records are shredded or taken to confidential waste collection.