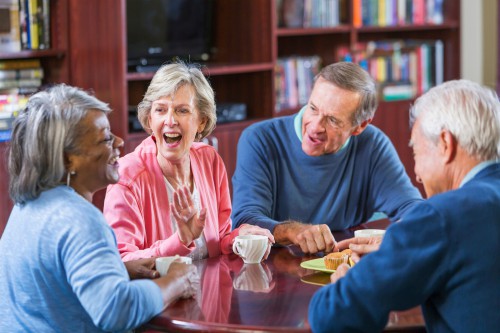 In your community
As an organisation, Age UK Suffolk is committed to improving the lives of older people across Suffolk. To do this, we are focusing on some key activities and events across the county that will engage and involve individuals and groups in the areas in which they live.
Community Links
Community Links is a volunteer-led scheme, to ensure that older people, all across the county are aware of the support and services that Age UK Suffolk can provide, how they can have their voice heard on issues that are important to them, and to find out about events and activities in their local community that may be of interest to them.
We are currently recruiting volunteers to be part of our exciting new Community Links project.
If you enjoy talking to people and have a passion for helping to improve the lives of older people, then this could be the perfect role for you!
Our network of Community Links Ambassadors will help us to reach more of the people who need our services by giving talks and sharing information in their local communities. This is an interesting and varied role with flexible hours (approximately 8 per month). Full training and support will be given, including Presentation Skills and Dementia Friends training.
We are looking for volunteers in the following areas, with a view to expanding into other parts of the county in the future:
Beccles, Felixstowe, Ipswich, Needham Market, Shotley Peninsula, Southwold, Stowmarket, Sudbury, Wickham Market, Woodbridge.
Please see the Community Links Role Description and Person Specification for more information.
If you are interested in this role, please contact Lucy Evans, our Community Engagement Worker on 07525 817984, or community.links@ageuksuffolk.org to request an application pack.

Pop Up Chinwags
Organised as a monthly social afternoon, these events benefit people who may be feeling lonely or socially isolated – giving them the opportunity to meet other people who live locally to them, and to enjoy an afternoon of entertainment and refreshments. It also gives individuals the opportunity to speak to a member of the Age UK Suffolk team about support and services that may be available to them.
These events are supported by volunteers (including Community Links), offering an opportunity not just for older people in the community to meet and get together, but also for volunteers to socialise and engage.
Kesgrave
This group meets on the third Friday of every month between 2pm – 4pm at the Kesgrave War Memorial Community Centre. The group is for people aged 65+ who live in the Kesgrave, Martlesham and Rushmere areas and is free of charge. There is no need to book, you can just turn up on the day and be assured of a very warm welcome.
We are going to be launching groups in the following areas over the next three months:
Needham Market, Woodbridge, Wickham Market, Beccles and Southwold.
Keeping Connected
We know how important it is to keep in touch with the world and how challenging that can be for some people. At Age UK Suffolk, we currently run two digital projects that can help older people to learn basic digital skills that can help them to keep in touch with friends and family and to carry out some every day tasks such as internet banking or shopping. Whilst this does not in any way, replace social contact, it can help to alleviate loneliness and social isolation and provide a link for many people to help them stay connected.
Tablet Courses
Throughout the year, we work in partnership with Realise Futures to provide ten-week courses to people aged 55+, teaching them basic tablet skills. This scheme includes the provision of a free tablet to each user and we ask for a £25 donation to Age UK Suffolk. These courses usually take place in Ipswich, Lowestoft, Bury St Edmunds and Stowmarket. For details on the courses or for future dates, please call the Fundraising Team on 01473 298683.
Deidre Rozier attended all 10 of the tablet training sessions and was keen to explain what she had learnt
"I have an old second-hand tablet at home and wanted to learn more about how to properly use it. Henry has been brilliant at tutoring us; he can take a joke and doesn't make you feel a fool if you don't know anything.
Just learning what all the symbols mean and what they can do has given me more confidence, not just with the tablet either, I am more confident in using my laptop and iphone now. We have learnt about the safety aspect of using the internet – looking out for fake addresses and making sure that there is https on it. We've covered: use of apps, emails, online shopping, security, using calendars, contacts and bookmarks which is all so useful.
My new-found knowledge and confidence will now help both me and my husband in the future, although it has made me more confident with online shopping, so…I can now read my electricity meter online and can sort out payments; I may even progress to online banking, especially as the banks seem to be closing their high street branches. It's given me options and that's what it's all about as you get older isn't it?'