We run campaigns to get public support and influence government and other decision-makers to help make later life better for older people today and tomorrow.
How we spend our money
We spent £8.2 million in 2016/17
We use evidence from policy, research, practice and the experiences of older people to understand the challenges of later life and develop ways to help older people to overcome them. We then influence government and other decision-makers to help make later life better for older people today and tomorrow.
Speaking out about loneliness

In November 2016, we launched our second 'No one should have no one at Christmas' campaign. It encouraged people to volunteer with Age UK, and we saw a significant increase in volunteer enquiries. From November 2016 until March 2017, we processed over 36,000 volunteer enquiries (a 200% increase on the previous year).
Age UK is a member of the Jo Cox Commission on Loneliness which is raising public awareness of this issue. Age UK led the spotlight month on older people, which secured national media coverage and we held a Parliamentary event attended by 59 MPs, who pledged to fight loneliness.
Campaigning on social care
We have kept the crisis in social care high up on the political agenda. In February, our annual report into the Health and Care of Older People in England reported that 1.2 million older people are now living with an unmet need for care - a fact which has been widely quoted in Parliamentary and public debates.
We welcomed the additional £2 million for social care announced in the Spring Budget, while pointing out that this would do little more than allow the system to keep pace with demographic and cost pressures. A much more ambitious programme of reform and investment is required. We look forward to working with the Government on their proposed Green Paper.
Find out more about Age UK's campaigns
Improving incomes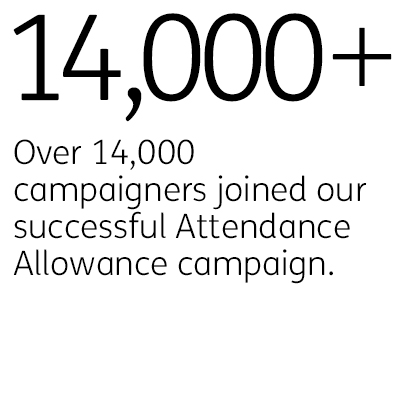 This year, Age UK successfully campaigned against the Government's proposal to transfer the funding of Attendance Allowance to local councils. Age UK and more than 14,000 of our campaigners, asked the Government to change their mind about the proposal, which threatened the future of this essential benefit and would, in effect, have been a substantial stealth cut. We were delighted when the Government announced that they were not going to go ahead with the change.
Find out more about our Attendance Allowance campaign
Researching wellbeing
Together with Professor Ashgar Zaidi of the University of Southampton, we developed a new Index of Wellbeing in later life as a single measure of the wellbeing of older people.
The most striking finding was the importance of maintaining meaningful engagement with the world around you in later life. We are now looking into what lessons can be learnt from older people who are able to sustain their wellbeing, even in adverse circumstances.
Staying sharp in later life
Age UK is raising awareness about the changes we can make to aspects of our lives to 'stay sharp' as we age. This year we have developed Staying Sharp a new online resource which brings together the latest research and advice from experts in this field. This includes findings from the Disconnected Mind project, a world leading research project funded by Age UK at the University of Edinburgh.
Annual report
For more information about our work, download Age UK's Report of Trustees and Annual Accounts for 2016/17.