A pet can be a loyal companion as we get older, particularly if we live alone or don't have regular contact with friends and family. For this reason, it's not unusual to decide to keep a pet - or get one for the first time - later in life.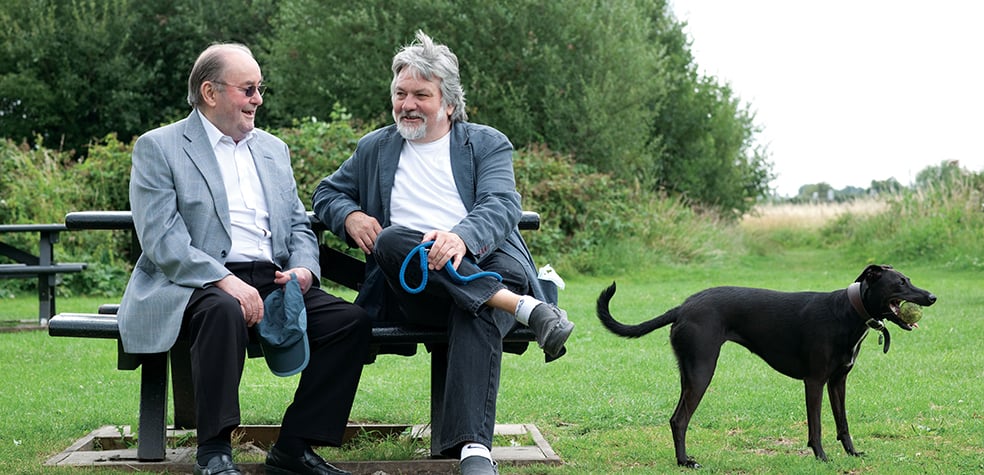 ---
Health benefits
Quite aside from the joy of having a cat or a dog, studies show that pets can have a beneficial effect on our health and wellbeing.
A study at Cambridge University found that owning a pet can improve our general health in less than a month, with pet owners reporting fewer minor ailments such as headaches, coughs and colds.
According to the Pet Health Council, simply stroking a pet or watching fish swim can help us to relax, thus reducing our heart rate and lowering blood pressure.
Other studies indicate that owning a pet can reduce cholesterol, reducing the risk of heart attack - and one US study found that people who do suffer a heart attack have a better change of survival if they have a pet.
Not only that, pets can help to lift depression, as well as reducing loneliness and isolation. This is true for some pets more than others.
For example, walking a dog not only helps to keep us fit but also gives us more opportunity to meet new people while we're out and about. Also, many of us feel safer when we're walking, or sharing our home, with a dog.
'There's no doubt that keeping any kind of pet can help us to feel happier,' says Elaine Pendlebury, Senior Vet at PDSA. 'They can help us in all sorts of ways, but it's a two-way thing as we have a responsibility to take good care of them, too.'
---
Thinking ahead
Whether you're thinking of getting a pet, or have one already, it makes sense to plan for the future so that you can cope with any unexpected expenses and know that your pet will be well cared for if your circumstances change.
Lifestyle choice
If you're keen to get a pet, think carefully about which one best suits your lifestyle. Different types of pets require different levels of care:
a dog needs regular exercise
birds and small animals like rabbits and guinea pigs have to be cleaned out regularly
cats need little more than regular meals and affection.
Care costs
It's also easy to underestimate how much it will cost to keep a pet. Elaine Pendlebury says that the 2012 PDSA Animal Wellbeing Report found that over the course of a lifetime. It costs £16,000 - £31,000 to care for a dog, around £17,000 for a cat and about £9,000 for a rabbit. This sounds like a lot, but when you consider that it costs about £400 per year to feed a small dog and up to £2,000 to feed a large one, it's easy to see how it adds up.
Vet's bills
Vet's bills are another significant expense. For this reason, it's wise to take out pet insurance.
This video from MoneyHelper, formerly known as the Money Advice Service, explains what your pet insurance policy should cover.
Although pet insurance won't cover the cost of routine check-ups, vaccinations or dental treatments, it will save you a great deal of expense if your pet becomes ill or has an accident.
Price comparison websites will help you to find a policy that suits your needs, or you can ask your vet for advice. You can pay annually or monthly, with basic cover costing from around £5 per month.
On top of this, expect to pay £50-£100 for a typical visit to the vet for booster vaccinations, along with flea and worming treatments - you'll need to do this at least once a year.
If you receive Housing Benefit or Council Tax Benefit, you may be able to qualify for PDSA-funded veterinary treatment, so check the PDSA's website for more information on eligibility.
---
If your circumstances change
Many of us worry about what would happen to our much-loved pet if we had to spend time in hospital or needed to move into sheltered accommodation.
Then there's the worry that our pets might outlive us and end up without a home or, even worse, being put to sleep.
Fortunately, there are several steps that we can take to ensure that our pets are well looked after if we're no longer able to take care of them.
Volunteer pet carers
The Cinnamon Trust is a national charity which seeks to keep pet owners and their pets together for as long as possible. A national network of volunteers can help when any issues arise with day-to-day care, and can arrange for your pet to be fostered if you become ill or have to spend time in hospital.
The Trust can also arrange long-term care so that you know that your pet will be looked after in the event of your death.
'We can help with things like dog walking, grooming, cat care and transport to the vet,' says Averil Jarvis MBE, Founder of The Cinnamon Trust.
'We ask pet owners to fill out a form giving details of their pet, so that we can quickly organise suitable foster care in the event of emergency. When a pet owner dies we aim to find a long-term foster home for their bereaved pet, often matching them with a bereaved owner.'
'We also have two sanctuaries for home-from-home care - there are no kennels or cages, just sofas and cushions so that pets can live in comfort.'
Re-homing your pet
If you need to move into sheltered accommodation, The Trust maintains a list of local options where pets are allowed, so there's a good chance that you can find somewhere suitable in your area.
If you don't have the option to take your pet with you, The Trust can arrange foster care so that you can still see your pet on a regular basis, as well as receiving letters and photographs.
It's also important to talk to friends and family about how you would like your pets to be cared for in the event of your death. If someone close to you agrees that they will look after your pet, write this into your will.
Alternatively, you can specify that The Cinnamon Trust, or a similar organisation such as the National Animal Welfare Trust, can care for or re-home your pet. Both of these organisations provide pet care cards that you can carry with you as you would an organ donor card.
Once you've made a provision for your pet's future, you can relax and enjoy your time together, without having to worry about what the future holds.