Hundreds of older people are helping reveal how and why our thinking skills change with age. They're at the heart of The Disconnected Mind, a world-leading research project funded by Age UK at the University of Edinburgh.
We all want to age as well as we can. We want to stay fit and healthy for as long as we can, and keep our mental sharpness. The Disconnected Mind research project aims to discover why and how our thinking skills change with age and what we can do to protect them in later life. Ultimately, that knowledge could help us stay sharp as we grow older.
Extraordinary beginnings
On 4 June 1947 in Scotland, 70,805 11-year-old school children born in 1936 sat the same intelligence test in a standardised way as part of the Scottish Mental Survey 1947. The intelligence test results for every child were recorded in ledgers.
After the Survey, the ledgers were archived and all but forgotten. Around 50 years later, Professor Ian Deary of the University of Edinburgh and Professor Lawrence Whalley of the University of Aberdeen found out about the Surveys and re-discovered them.
Scottish Mental Survey 1947
The survey was organised by the Scottish Council for Research in Education using a validated intelligence test, the Moray House Test No. 12. There was also an earlier Scottish Mental Survey, in 1932, that tested 87,498 children at age 11 born in 1921 using the same test.
The all-important baseline
To understand how our thinking skills change age across life and into later life, it is very useful to know where they started from in childhood. Ian Deary realised that the Scottish Mental Survey 1947 intelligence test results provided that baseline information – and are rare and valuable, because Scotland is the only country in the world that has ever tested the intelligence of an entire age group.
By the early 2000s Ian Deary also realised that the 'children' who took the test in 1947 were then adults approaching age 70, an important age for studying thinking skills in later life.
Older people step forward
So, with funding from Age UK, Professor Deary and his team contacted those adults living in Edinburgh and the surrounding Lothian area, inviting them to take part in The Disconnected Mind research project starting from 2004. Over one thousand – 1,091 exactly – agreed to take part. This special group became known as the Lothian Birth Cohort 1936 (LBC1936).
Testing the Lothian Birth Cohort 1936
The Disconnected Mind project uses the LBC1936 participants' intelligence test scores from the 1947 Scottish Mental Survey and puts the participants through a huge raft of additional testing to discover why and how our thinking skills and brains change as we age, from childhood and through later life.
So far, they've been tested four times by Professor Deary's research team, every three years, at ages 70, 73, 76 and 79.
The participants repeat the same Moray House Test No. 12 that they sat at age 11 and 15 additional tests of their thinking skills. They take medical and physical tests, provide blood for genetic and biological testing, and give a huge amount of information about their lives and lifestyles – exercise, diet, activities, home life, personality, mood, wellbeing and much more. Most also undergo a long brain scan in an MRI scanner.
Chris van Tulleken meets The Lothian Birth Cohort
In October 2015, BBC presenter Chris van Tullekan visited Edinburgh to meet the Lothian Birth Cohort 1936 (LBC1936). The LBC1936 have been taking part in this study of brain ageing since the age of 70, and at the time of filming were 79 years old. Chris van Tulleken met with the LBC1936 as part of the BBC mini-series 'How to Stay Young'. In this video Chris van Tulleken and Ms Jean McKirdy, an LBC1936 member, are interviewed about the project.
The Lothian Birth Cohort and the BBC
An information goldmine
This wealth of information collected from the LBC1936 participants is entered into a database. It's then analysed in myriad ways by Professor Deary's team and other collaborating researchers to find out how well or otherwise our thinking skills and our brains change with age, and what factors are involved.
Discoveries
Brain white matter matters
The brain's white matter is the wiring network that enables thinking by connecting up brain cells in different parts of the brain. The Disconnected Mind project has found that the health of white mater and thinking skills are linked. The better the white matter, the sharper we tend to be in later life. Research is now looking at what protects white matter from age-related wear and tear.
Physical activity is good for thinking skills
LBC1936 members who are more physically active and fitter have better thinking skills and better integrity in their white matter.
Smoking
Smoking is associated with damage to the grey matter in the brain but there are signs of recovery in people who have quit.
Staying Sharp
Read more about white matter and grey matter and the other factors that affect our thinking skills, and what we can do to help protect them.
The LBC1936 becomes famous
The Disconnected Mind project has inspired writers and artists to use their creative talents to tell the story of the LBC1936 and the secrets about healthy cognitive ageing that the research is revealing. Here are two examples, from Fionna Carlisle and Ann Lingard. Both have been Knowledge Exchange Fellows with CCACE, home to The Disconnected Mind project at the University of Edinburgh.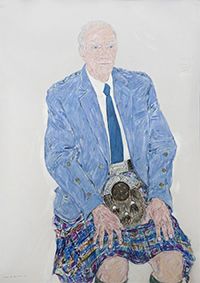 Portrait of Mr Colin Easton, an LBC1936 participant, by Scottish Artist Fionna Carlisle. This is one of a series of portraits painted by Fionna of participants in the LBC1936 and LBC1921, and the researchers who study the cohorts. www.fionnacarlisle.com
Listen to Fionna and Lothian Birth Cohorts study Director Professor Ian Deary discuss how they came to collaborate on an exhibition of portraits of the Lothian Birth Cohort participants, which is showing at the Edinburgh College of Art from 28 October to 24 November 2018. Listen now.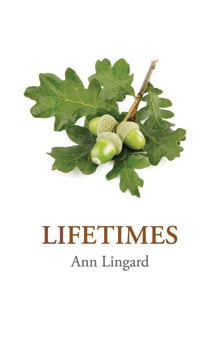 LBC Lifetimes: Lifetimes of the Lothian Birth Cohorts 1921 & 1936 tells the story of people involved in the research, written by writer and broadcaster Ann Lingard (University of Edinburgh CCACE, 2014, www.lbclifetimes.org).
Suggested reading
Deary, I. J., Gow, A. J., Taylor, M. D., Corley, J., Brett, C., Wilson, V., & Starr, J. M. (2007). The Lothian Birth Cohort 1936: a study to examine influences on cognitive ageing from age 11 to age 70 and beyond. BMC Geriatrics, 7, 28.
Deary, I. J., Gow, A. J., Pattie, A., & Starr, J. M. (2012). Cohort profile: The Lothian Birth Cohorts of 1921 and 1936. International Journal of Epidemiology, 41, 1576-1584.