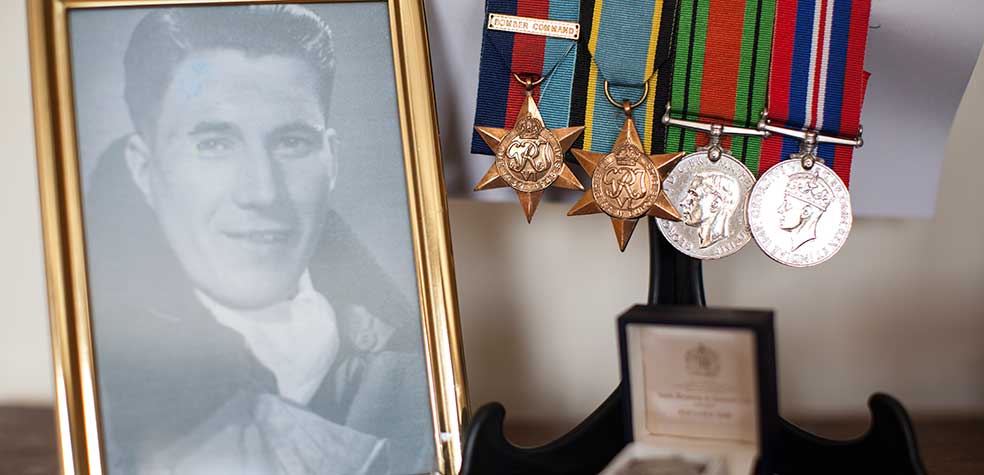 ---
How do I know if I'm eligible?
If you were awarded a medal for service in any of the following forces, then you can apply.
the army
the Royal Navy
the Royal Marines
the Royal Air Force (RAF)
the Home Guard
the reserve forces
There are eligiblilty requirements for each medal, that you have to meet.
Read a list of the eligibilty requirements on the GOV UK website
---
I want to apply for a relative
You are able to apply for a medal on someone else's behalf.
If they are still alive, you must have lasting power of attorney.
If your veteran relative has died, you can only apply if you're the next of kin; in other words the veteran's partner/spouse, eldest child or eldest grandchild.
---
How do I apply for a medal?
You can download the form from the GOV UK website and then return it to the address listed on the form.
If you're applying on behalf of someone else, please include a copy of your power of attorney or the veteran's death certificate.
Apply for a medal
Download and fill in the form from the GOV UK website
---
How long do I have to wait?
Providing all the eligibility criteria have been met, the medal will arrive within 12 weeks of applying.
If you have any questions about your medal applcation, then you can email the MOD on: dbs-medals@mod.uk
Apply for a Veterans Badge
You can get an armed forces veterans badge if you've served in any of the UK armed forces.
For more information call Age UK on 0800 055 6112
---
Partnering with SSAFA

As part of Joining Forces, Age UK is partnering with SSAFA, the Armed Forces Charity, to deliver 12 local projects across England.
---