D-Day veteran receives Legion d'honneur
The Joining Forces programme has now ended
Joining Forces was an Armed Forces Covenant Fund Trust supported programme in partnership with SSAFA, the Armed Forces charity. It was delivered by 12 local projects across England by local Age UKs and SSAFA branches. After 3 successful years, the programme has now ended. Many of the pages in this section will still be useful for information and advice. Alternatively, you can look at the relevant sections of the Age UK website.

This D-Day anniversary is the perfect opportunity to share one of our favourite stories from this year – that of Mel Wallace, the D-Day veteran awarded the Légion d'honneur, the highest French order of merit for military and civil merits.
Mel, 97, who's known as a character, was unaware of his entitlement to this great honour until he spoke to the Joining Forces team at Age UK North Yorkshire & Darlington, who visited the care home he was in to identify veterans and provide them with support.
The presentation
A bout of ill health had prevented Mel from receiving the award last year, so he ended up receiving it in January, at Riverside View care home in Darlington, in the presence of Mel's son (also named Mel) and standard bearers. Mel was presented with the award by Darlington's then mayor, Councillor Jan Taylor – accepting it "on behalf of all the men who didn't come home."
Mel's service
Mel had first volunteered to serve in the Northumbrian Division Signals Regiment of the Territorial Army in May 1939, after hearing the radio reports of what was happening in Germany. He was called to active service that September, part of the landings on Gold Beach during D-Day, before being rescued from the Bray Junes in Dunkirk. Mel served throughout the war, in a variety of countries, including France, Germany, Italy, South Africa, Yemen, Egypt, Libya and Tunisia.
A remarkable period of service for a remarkable man, now recognised with this prestigious honour.
"We are delighted to play a part in helping our veterans to claim the honours that they are entitled to, it's an important part of honouring the sacrifice they have made for us all," says Simon Davidson, CEO of Age UK North Yorkshire & Darlington. "We're also happy to help with a range of activities to support veterans including information and advice, veteran's cafes and activities to help them make the most of later life."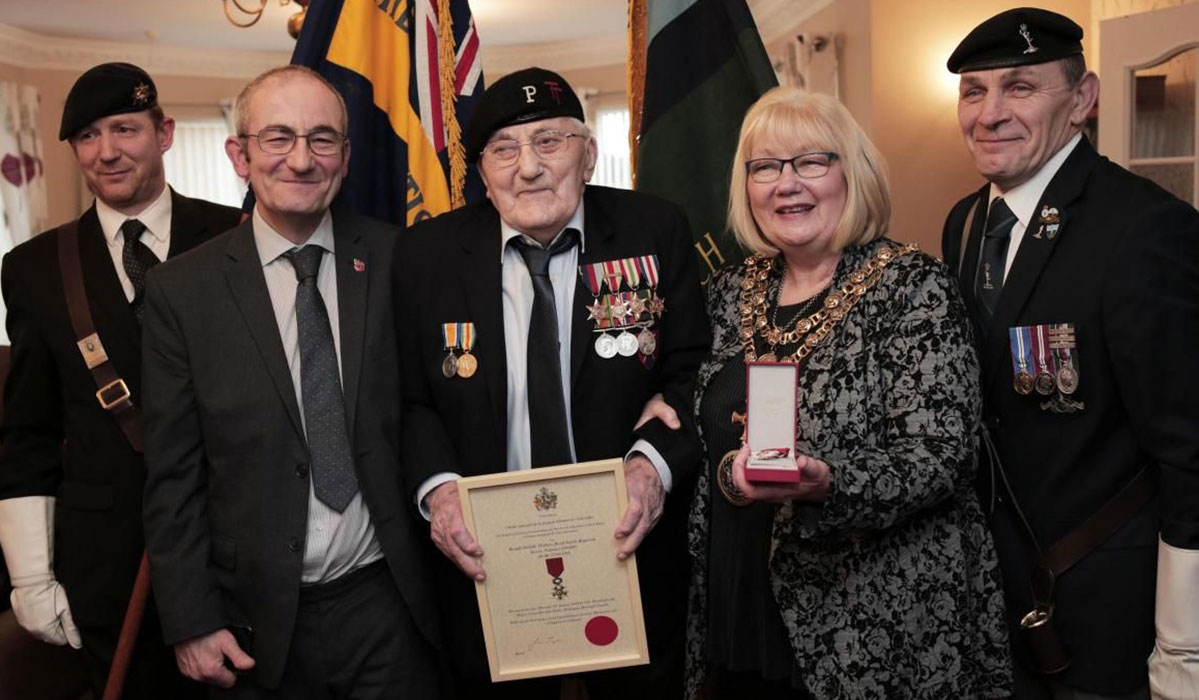 Age UK North Yorkshire & Darlington
A local, independent charity, committed to delivering quality-assured services to older people in North Yorkshire & Darlington, and part of the Joining Forces project.