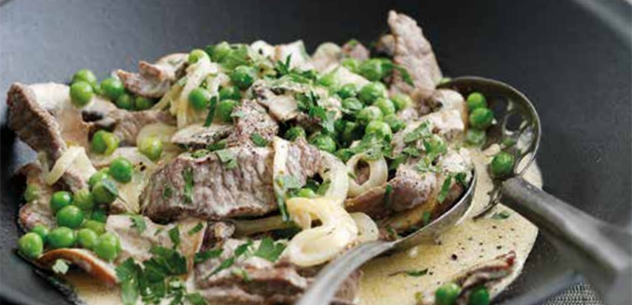 Traditionally stroganoff is made with beef, but this can be replaced with turkey or chicken if you want to keep costs down or prefer less fat in the meal. Brown rice contains more fibre than white and takes a little longer to cook. You can substitute with noodles or pasta which are also good sources of carbohydrates.
Preparation time: 15 minutes | Cooking time: 20-30 minutes | Serves: 2
Ingredients
1 cup of rice (a normal drinking mug filled to the top is usually a good amount of rice for two people)
1 onion, thinly sliced
3 cloves of garlic, crushed
300g rump steak or frying steak
125g frozen peas
125g chestnut mushrooms, sliced
4 tbsps sour cream
A splash of olive oil
A bunch of fresh parsley, chopped
Method
Boil a saucepan of water. Rinse the rice in a sieve then add to the water. Leave to simmer for about 15 minutes or until the rice is cooked (if using brown rice add another 10 minutes to cooking time).
Chop the onion into small pieces and peel and crush the garlic.
Using a different chopping board and knife, trim any fat off the meat, then cut it in to thin strips (about 1cm across), and season with pepper.
Heat a large frying pan, add a splash of olive oil and fry the onions and garlic for 2–3 minutes over a medium heat.
Add the beef to the pan and simmer for 3–4 minutes until browned.
Add the mushrooms and keep stirring until they are browned and soft.
Add the peas and stir into the mixture with a wooden spoon. Keep the pan on a medium heat and let everything cook.
Take off the heat and stir in 3–4 spoonfuls of sour cream, and some finely chopped parsley. Drain the rice in a sieve and pour boiling water over it to remove the starch. To serve, spoon the stroganoff on top of the rice.
For more information call the Age UK Advice Line on 0800 678 1602.
We're open 8am to 7pm, every day of the year.