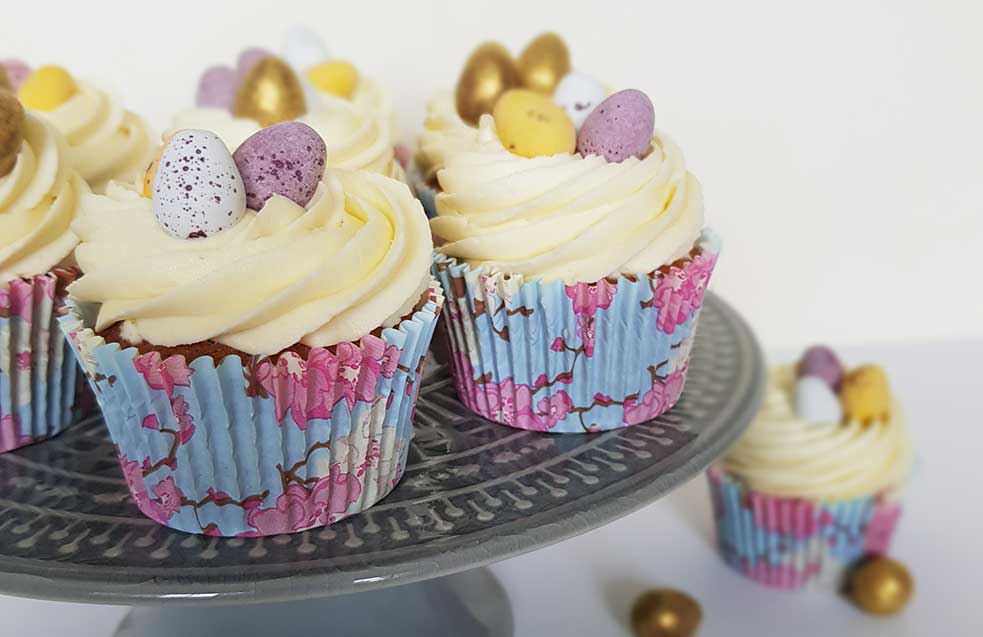 Treat your family and friends to a decadent afternoon tea this Easter weekend with our really easy vanilla cupcake recipe.
Preparation time: 20 mins | Cooking time: 20 mins | Makes: 12 cupcakes
Ingredients
For the cake:
125g flour
125g sugar
2 tsps baking powder
¼ tsp bicarb
125g butter (room temperature)
2 free range eggs (room temperature)
1 ½ tbsps milk
½ tsp vanilla
For the icing:
300g butter
480g icing sugar
1 tsp vanilla extract
1 tbsp cream or milk
Easter chocolate to decorate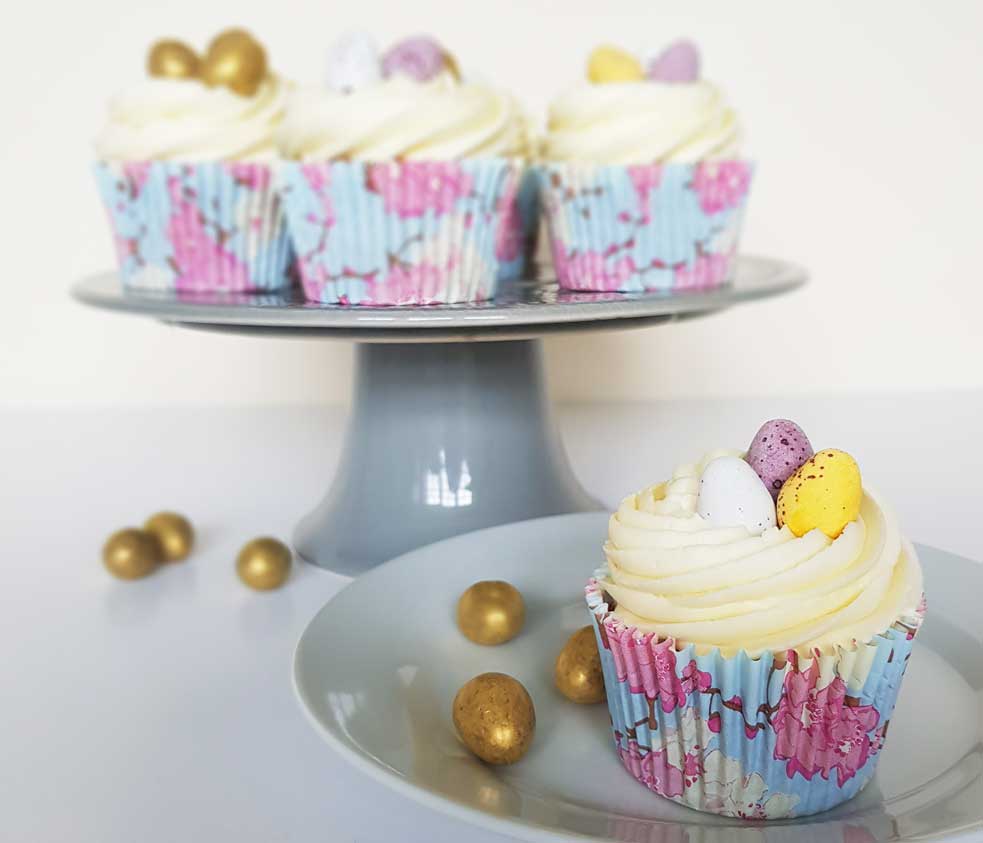 Method
Line a cupcake tin with 12 cupcake cases. Preheat your oven to 170°C/150°C fan/gas mark 3.
Sieve the flour, sugar, baking powder and bicarb into a large bowl.
Add the butter and eggs. Beat the ingredients with a hand whisk or stand mixer for about a minute, until there are no lumps.
Add the milk and vanilla, and mix again until combined.
Divide the mixture evenly between your cupcake cases using 2 spoons. Each case should be about two thirds full.
Bake for 20 minutes until golden brown. Insert a skewer into the centre of one the cakes to make sure they're cooked. If it comes out clean, you're good to go! If it comes out with cake mix on, pop the cakes back in the oven for a couple more minutes. When done, place on a wire rack to cool.
While your cakes are cooling, start making the icing. Beat the butter until it's very light and fluffy (almost white).
Add the icing sugar in 4 batches, mixing well each time.
Keep trying the icing while you're making it – you may need more or less icing sugar depending on how much of a sweet tooth you have.
Once the icing sugar is all added, beat in the vanilla and cream/milk, to make the icing smoother and easier to spread.
Once the cakes have cooled completely, ice them using a piping bag with a star nozzle. Or, if you don't have any of that, simply add the icing with a knife.
Top with your favourite Easter chocolate and decorations. Enjoy!

Help us be there for older people with no one to turn to
Age UK supports older people through some of their toughest times. With your help, we can continue to be there.