Sheila's sweet potato and butternut squash soup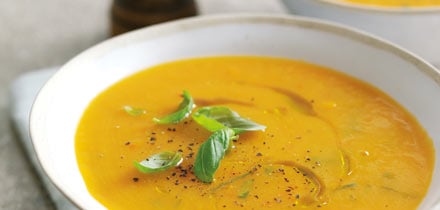 'My husband loves this soup. It's so tasty and makes enough for a week. You'll need to freeze some of it.' Sheila
This is a fresh colourful soup which, once cooled, can be kept in the fridge until the next day or frozen in portions. It's quick to prepare and only needs a chopping board and a large saucepan.
Sweet potato and butternut squash are good alternatives to normal potatoes, having less starch but the same thickening action. Along with the peppers, butternut squash contains a variety of vitamins and minerals.
They can be difficult to peel and chop, but you can buy them readily cubed in most supermarkets.
Preparation time: 10 minutes | Cooking time: 15 minutes | Serves: 4-6
Ingredients
1 sweet potato, peeled and diced
1 butternut squash, peeled, deseeded and cubed
1 red pepper, deseeded and chopped
1 orange or yellow pepper, deseeded and cubed
Fresh or dried coriander or basil
Black pepper
Method
Cover the vegetables with boiling water in the saucepan and simmer until soft.
Add a pinch of herbs and black pepper to taste.
When cooled, blend until smooth. A stick hand blender is great for this as you can leave it in the pan, but be careful that you don't get splashed.
Serve with a granary roll or sprinkle some sesame seeds on top.
For more information call the Age UK Advice Line on 0800 678 1602.
We're open 8am to 7pm, every day of the year.