Fairly fat-free fruit loaf recipe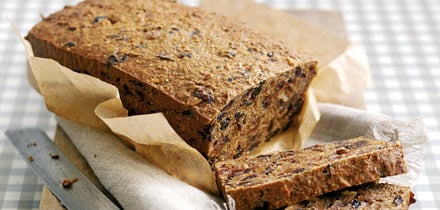 Natural fruit sugars are present in the dried fruit, so there is no need to add any other sugars or sweeteners. No fat is needed as the dates keep it nice and moist. Along with the wholemeal flour, the ingredients provide a slow release of energy and even some vitamins and minerals.
Preparation time: 5-10 minutes (excluding overnight soak of some ingredients) | Cooking time: 1½ hours
Ingredients
340g/12oz mixed dried fruit
170g/6oz chopped dates
2 oranges
A mug of hot brewed tea
340g/12oz wholemeal flour
1 egg
Method
In a mixing bowl, stir the fruit with the zest and juice of both oranges. Pour in the hot tea and leave covered overnight to soak in a cool, dry place.
The next day add in all the other ingredients and mix together. Pour into a greased/lined loaf tin.
Turn your oven on to gas mark 2/150°C/300°F and bake the cake in the middle of the oven for about 1½ hours until the sides start to shrink from the side of the tin and a knife comes out clean from the centre of the cake.
Leave to cool and slice like a loaf.
For more information call the Age UK Advice Line on 0800 678 1602.
We're open 8am to 7pm, every day of the year.